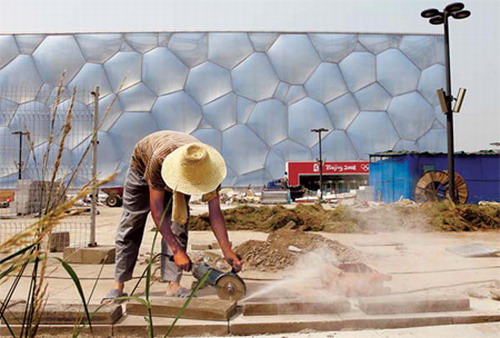 Finally something worth going to at the Olympic Park? The Water Cube's indoor water park, which we initially blogged about back in May, has entered the final stage of construction and is set to open on August 8, according to today's China Daily.
The park will be one of four attractions at the Water Cube and with 12,000 square meters of space, and 11 slides, it looks like the park will be a hit especially during China's hot summers.
No word as to whether the water slide Aqualoop featuring a 40-foot vertical free fall drop will actually come to fruition, but according to the China Daily article, thrill seekers should be satisfied anyway. The Water Cube's park is set to have slides topping out at 23m (76 feet), although it will come at a price. Tickets will be sold at RMB 200 for adults, and RMB 160 for children (children below 1.2 meters will receive free admission), although groups of 10 or more will be able to purchase discounted tickets.
Additionally visitors can pay RMB 30 just to tour the Water Cube and as always, RMB 50 to swim in the warm-up pool for two hours.
The park will be open every day 10am to 10pm.