If while you were reading William Shakespeare in high school you thought, "This would work better as a cooking show," you're in luck. The Complete Works of William Shakespeare (Abridged) just may be the play for you.
Coming to the British School of Beijing (Shunyi) from May 8-21, the capital's answer to Broadway, Beijing Playhouse, tackles all 37 of William Shakespeare's works. "One work of Shakespeare is brilliant; all 37 at once is 37 times as good," according to Kobus Van Der Colff, one of production's four cast members. the American Today Show once said of it.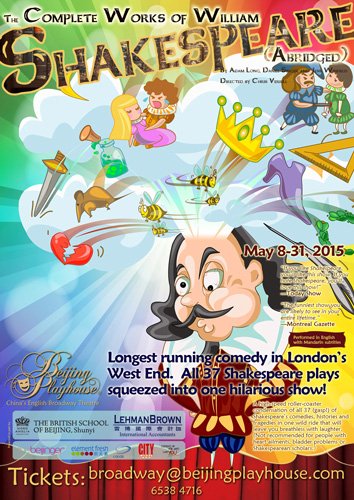 This isn't your average community theater. "With only four actors in the show, they all had to be really good," said Beijing Playhouse Director Chris Verrill. Normally, "We can take someone very green, put them in a small part, and make them good," Verrill said, but for this show, the actors needed prior experience, with all four having done Shakespeare before at some point.
One of the longest running plays on London's West End, The Complete Works of William Shakespeare (Abridged) is a comedy about Shakespeare production. "We all play versions of ourselves," Van Der Colff said. The characters are not gender-specific to the actor, said Nicole Payne, who plays, among others, a nurse, a king, and Laertes. Men play both Romeo and Juliet in this particular case. The complicated bit is not the parts, but that "every character change requires a costume change," Verrill said.
The bits of the play that are actually from Shakespeare are played as straight as possible, so when it gets messed up, it's funny, the cast said.
To demonstrate how unseriously the play takes itself, Hamlet's famous "To Be Or Not to Be" speech is performed first at normal speed, then at twice normal speed, then four times faster, and then finally, backwards. Be to not or be to?
All four of the cast and their director lamented what a bad rap Shakespeare has. "A lot of people are turned off because their first experience with it was in an English class," Verrill said. Payne was fortunate to first encounter the Bard by acting in one of his plays. "If I had read it first, I don't know if I would have enjoyed it as much," she said.
Beijing Playhouse's next production will be a charity readers' theater performance of 12 Angry Men on August 1. For the budding performer, the next play will be Charles Dickens' A Christmas Carol in December. Despite the difficulties of producing English-language theater in Beijing, Verrill said that after nine years, the Playhouse is still "pushing forward."
The Complete Works of William Shakespeare (Abridged) will be performed at the British School of Beijing in Shunyi from May 8-21. For tickets and information, visit www.beijingplayhouse.com.
Photos: Courtesy of Beijing Playhouse