There'll be a new Burger Cup champion this year as upstart Slow Boat has toppled the only winner we've ever known in the Burger Cup – three-time champ Home Plate – in a close Final Four race. Meanwhile, in the other match of the Final Four, The Local avenged last year's loss to Great Leap Brewing by narrowly outpolling them this year.
This sets us up for a final battle featuring The Local vs Slow Boat to see who will be the next champion … and you have a mere three days to decide: thebeijinger.com/2015Burgercup
Get in there and vote before noon Thursday (September 17) to crown the new champ.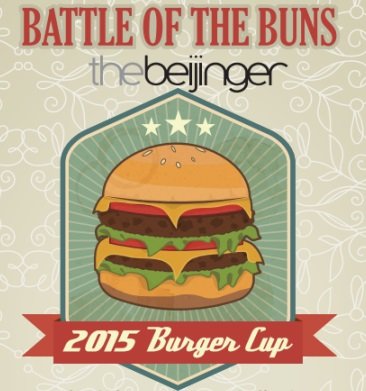 Home Plate, meanwhile, takes on Great Leap for the bronze in the same ballot.
On its path to the final match, Slow Boat sailed past Nola, 4corners, Union, and finally, Home Plate. The Local, meanwhile, survived challenges from Café Flatwhite, Q Mex, Blue Frog, and Great Leap.
And now for a closer look at the two burgers vying for the title: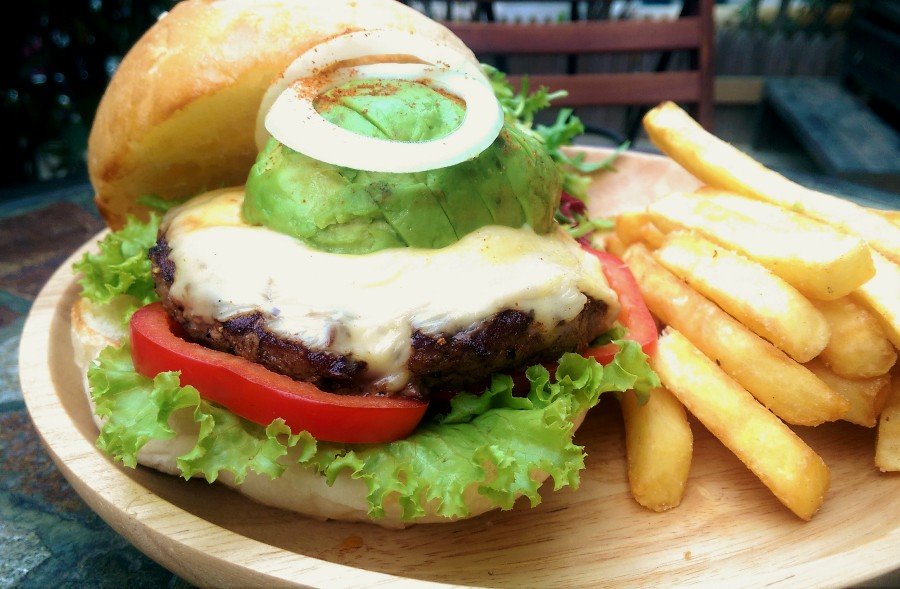 The Local Bar and Grill's The Dry Rub Avocado Burger
One hundred percent imported Aussie beef, seasoned with The Local's mildly spicy dry rub, topped with lettuce, house salsa, cheese, and half a ripe avocado, served on a buttery, not-too-sweet bun. Served with a small salad and a choice of fries, onion rings or sweet potato fries. Best accompanied by a beer margarita.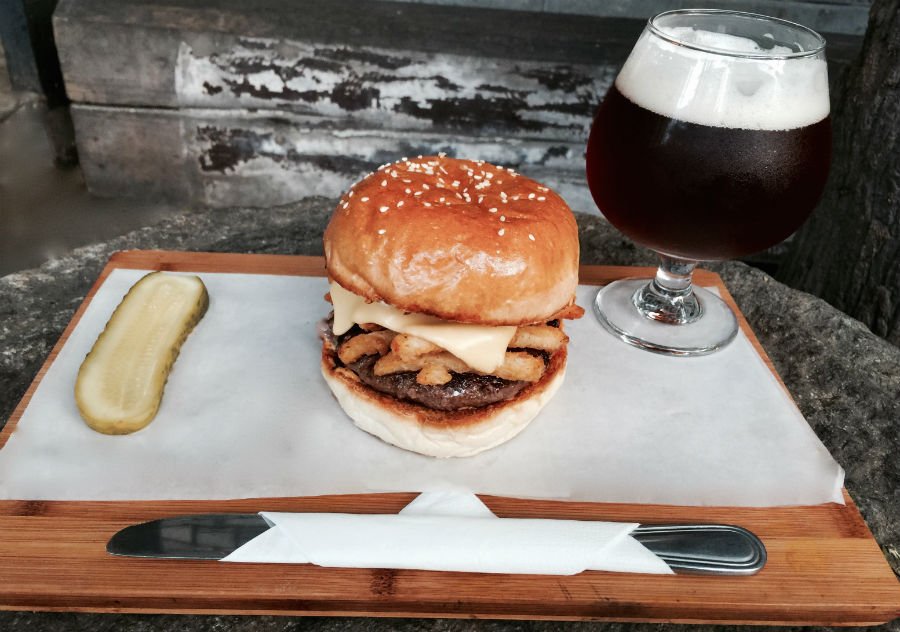 Slow Boat Brewery & Taproom's Fryburger
An all-beef patty topped by beer-battered fries and a blanket of cheese, dressed with Slow Boat's home-made "Ayi-ioli," served on a lightly grilled sesame seed bun. Served with a generous slice of pickle. Best served with one of Slow Boat's own brews, such as the Captain's Pale Ale, Monkey's Fist IPA or the Slutty Mermaid Triple IPA (10.8 percent).
For those of you keeping track at home, here is our updated wall poster: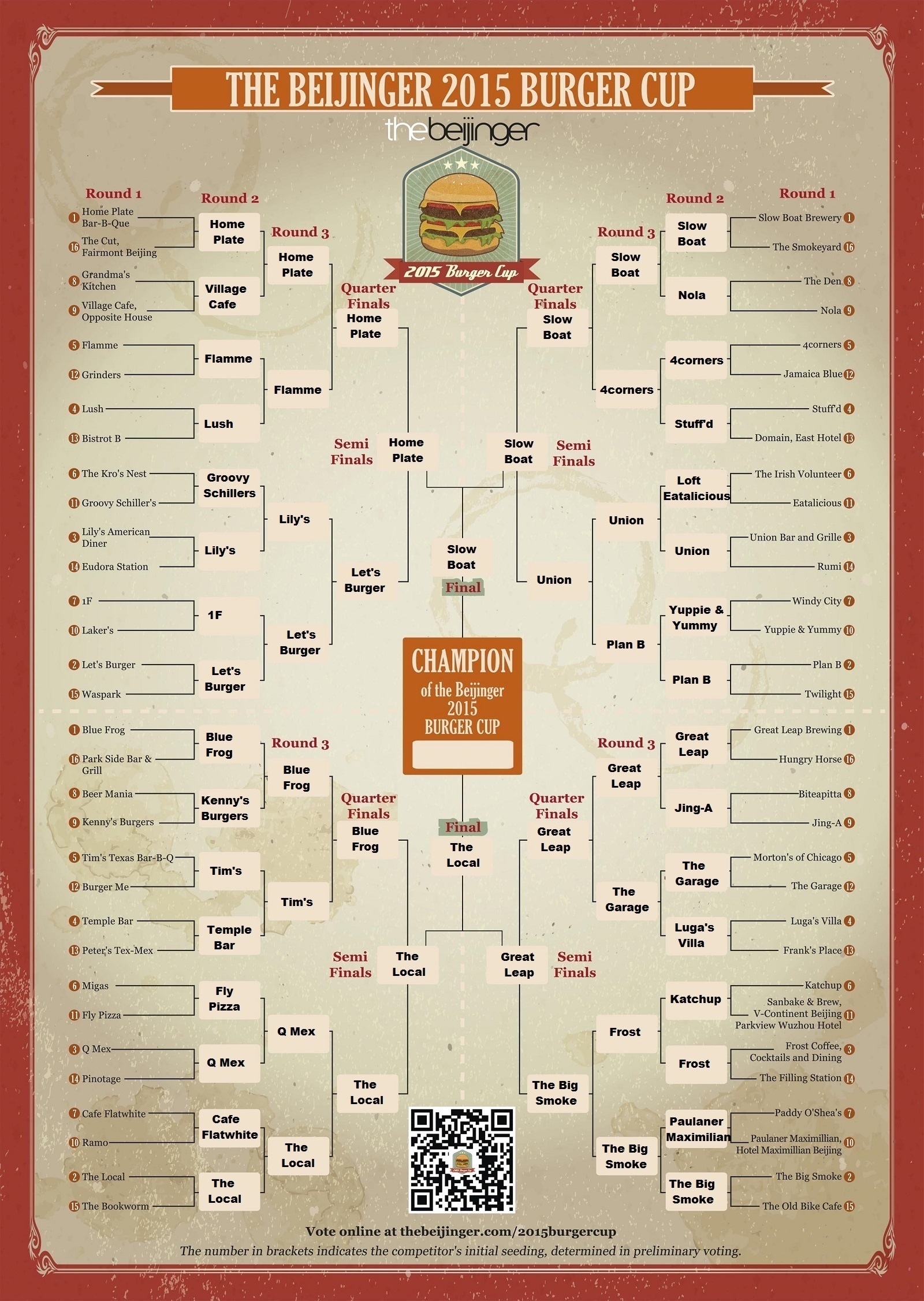 We also asked you to rank the competitors that did not make it into the Final Four this year, to serve as initial seedings for next year's Cup. Here's the rankings, #5 to #8:
5. Blue Frog
6. Union Bar & Grille
7. Let's Burger
8. The Big Smoke
Add this to the data we collected earlier and you have our list straight through to #83:
9. Q Mex
10. Frost Coffee, Cocktails and Dining
11. Plan B
12. Lily's American Diner
13. Tim's Texas Bar-B-Q
14. 4corners
15. Flamme
16. The Garage
17. Jing-A
18. Katchup
19. Luga's Villa
20. Stuff'd
21. Village Cafe, Opposite House
22. Loft Eatalicious
23. Kenny's Burgers
24. Lush
25. Groovy Schiller's
26. Temple Bar
27. Cafe Flatwhite
28. 1F
29. Yuppie & Yummy
30. Fly Pizza
31. Nola
32. Paulaner Maximilian
33. Biteapitta
34. The Filling Station
35. The Cut, Fairmont Beijing
36. Morton's of Chicago
37. Ramo
38. Paddy O'Shea's
39. The Den
40. Pinotage
41. The Bookworm
42. The Irish Volunteer
43. Beer Mania
44. Grandma's Kitchen
45. Domain, East Hotel
46. Hungry Horse
47. Windy City
48. Grinders
49. Bistrot B
50. Jamaica Blue
51. Frank's Place
52. Eudora Station
53. Laker's
54. Peter's Tex-Mex
55. Rumi
56. Waspark
57. The Old Bike Café
58. Sunbake & Brew, V-Continent Beijing Parkview Wuzhou Hotel
59. Burger Me
60. Park Side Bar & Grill
61. The Smokeyard
62. Twilight
63. Burger Break
64. Helen's Café
65. Park Square
66. Burger Counter
67. XL Bar
68. Angry Burger
69. Craft, Crowne Plaza Lido
70. Pebbles Courtyard
71. Food Studio, Renaissance Beijing Wangfujing Hotel
72. The Corner
73. One East
74. The Kitchen Table, W Beijing Chang'an
75. The Golden Era 50's Diner
76. Nasca Café
77. Uncle Sam's
78. Must Guette
79. Little Britain
80. Steak Exchange, InterContinental Hotel
81. Fuel, Langham Place
82. MRL
83. Pentalounge, Penta Hotel
To get you in the mood for voting, read up on all the action and develop a healthy appetite via our Burger Brief series or take a look a last year's final seedings.
This post first appeared on thebeijinger.com on September 14, 2015
Images: the Beijinger