I love to cook with my 8-year-old daughter, but working in an office means that by the time I fight my way through the subway to arrive home in the evening, there's not a lot of time left in the day before her bedtime to fire up dinner from scratch.
As a consequence, our family has been known to order Annie's on consecutive nights for weeks on end … not good for the wallet nor the waistline.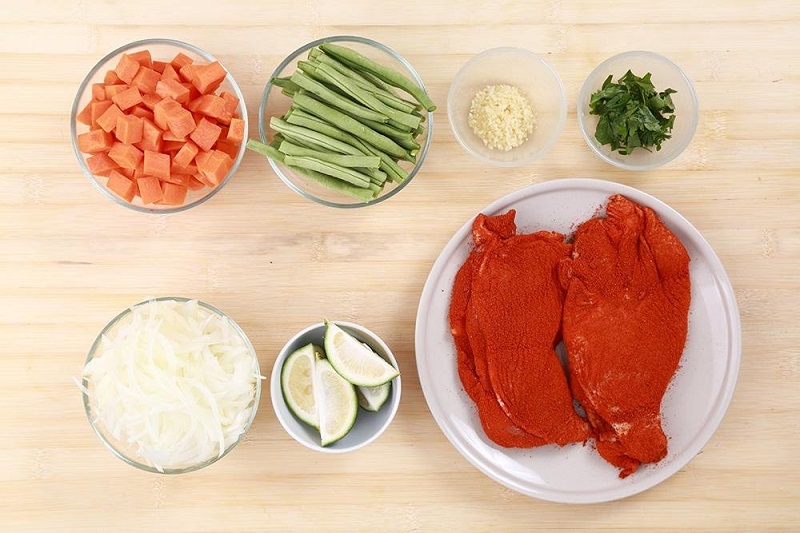 So I looked at the arrival of cook-at-home meal delivery service Kitchen Show with anticipation… pre-portioned and pre-packaged ingredients, delivered to your home, and cooked in a under a half an hour? Sounds like a perfect daddy-daughter cooking project that could be completed in a reasonable amount of time, even on a school night.
Kitchen Show's pictures made each meal look fantastic, but you know how that goes: what looks good prepared by a chef and photographed by a professional could be a major disappointment when cooked up in your own home.
So I set out to give this service a whirl. I ordered two kits and cooked them under actual conditions. The Ethiopian Berbere Chicken Legs with Green Beans and Parsley-Lime Couscous sounded yummy, was reasonably priced at RMB 88, and required only 30 minutes of prep time. Deal.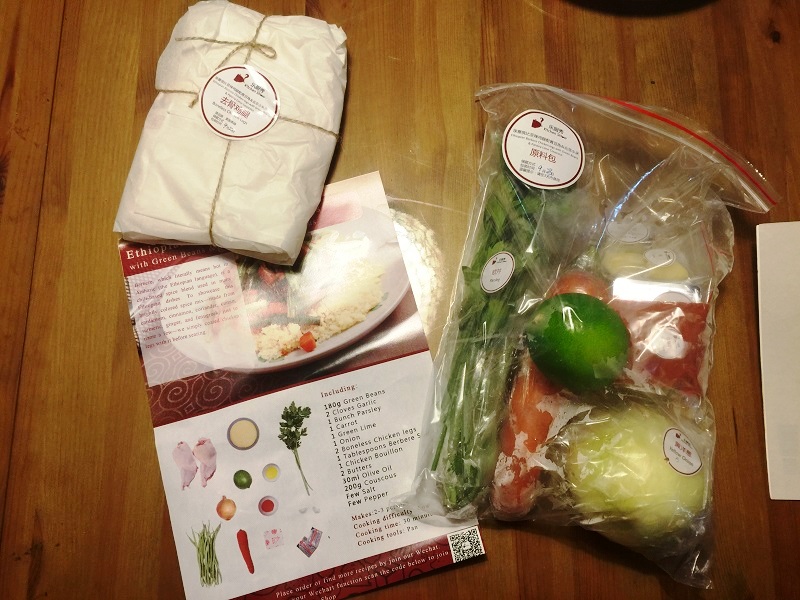 There are several items that need to work in order for Kitchen Show to be a viable choice for dinner, and I've graded the service on a 10-point scale, with a maximum of 2 points for each item:
1. Is it easy to order? (1 point)

2. Is the produce fresh and safe? (2 points)

3. Is it easy enough for a kid to understand? (2 points)
4. Are the instructions clear? (1.5 points)
5. Does it taste good? (1.5 points)
In short, Kitchen Show passes with a score of 8/10, with some reservations. Let me address each, point by point: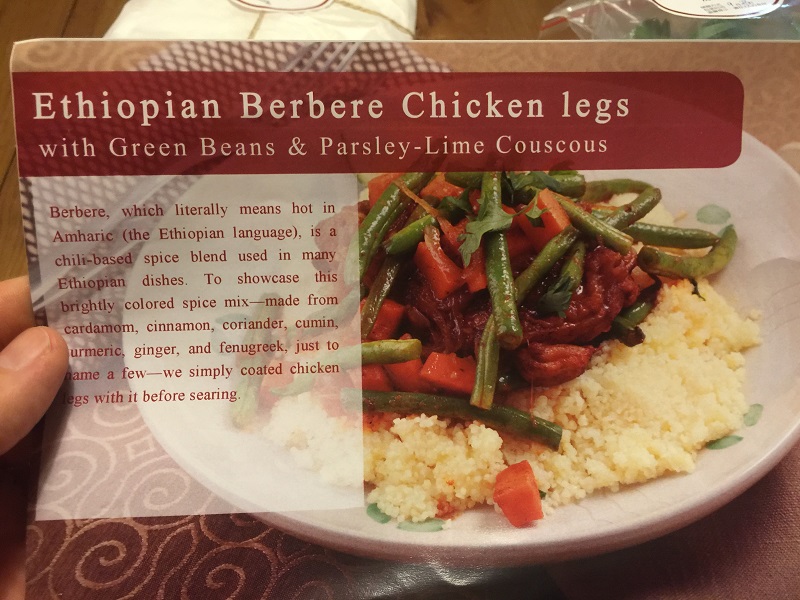 1. Is it easy to order?
Yes and no. First off, the English version is in WeChat only, so if you're not using WeChat, then you're out of luck.
Kudos for having all the recipes and orders in English and allowing for cash on delivery for those laowai that can't get their WeChat payment system hooked up.
However, in order to complete the order, one does have to go through WeChat's Chinese-only ordering system, which can be a bit daunting (though Kitchen Show does have a handy post that details how to do it with English captioning).
So presuming you are reasonably intelligent and patient (or have a Chinese friend/co-worker/ayi/significant other to help), this is easy to overcome.
Another kink, and perhaps a more critical one, is that you have to order your meal a day in advance. I tend to think about tonight's dinner at about 5pm when my stomach starts grumbling. But by that time, it's too late to order.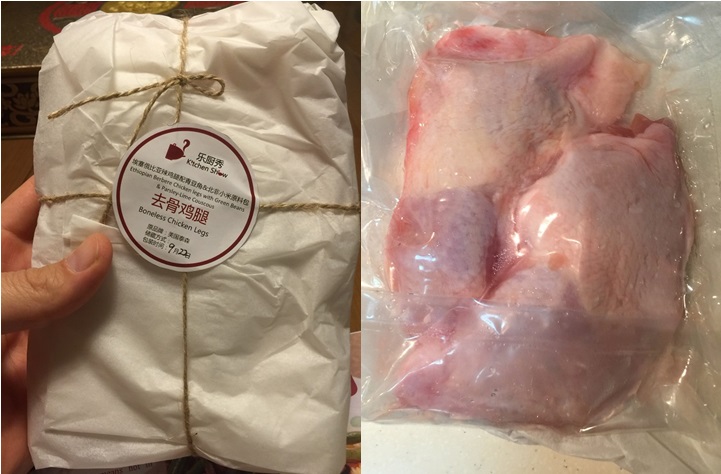 2. Is the produce fresh / safe?
This is the biggie. It takes a lot of faith to allow someone else to pick out your meat and produce.
The set I ordered had de-boned chicken legs, fresh green beans, a carrot, parsley, an onion, a lime and two cloves of peeled garlic. All arrived neatly packaged, unblemished and firm.
I was particularly impressed with the lime, the beans, and the parsley, both fresher than the ones I typically see in my neighborhood vegetable market.
The chicken was well prepared, carefully de-boned, and well packaged in a leak-proof vacuum bag.
As for safety, It's hard to tell, but everything that came from Kitchen Show looked both fresh and sanitary, and each was carefully labeled in English and Chinese. Perishables were marked with the date of packing.
Most importantly I've made and consumed Kitchen Show meals on two consecutive evenings, and I and my family have passed the morning-after laduzi test.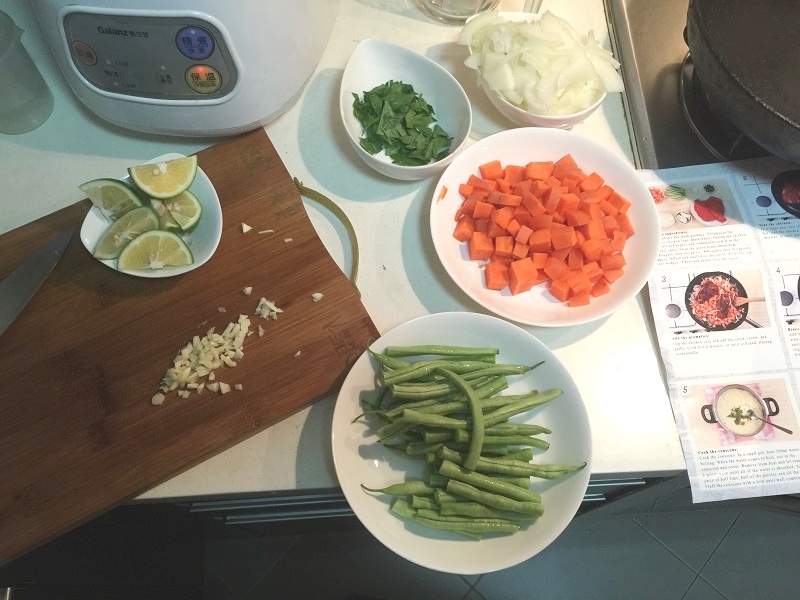 3. Is it easy enough for a kid to understand?
Definitely yes. Virtually everything you need, right down to the salt, pepper and cooking oil – are pre-portioned and supplied. No need to supplement with anything. The whole meal can be made in one pan.
My 8-year-old was able to participate in all elements of producing the meal, and frankly could have probably done it on her own if I wasn't so much of a helicopter parent to not let her do all the veggie chopping.
And unlike some recipes I've come across, this one really only took the 30 minutes it says it takes on the package.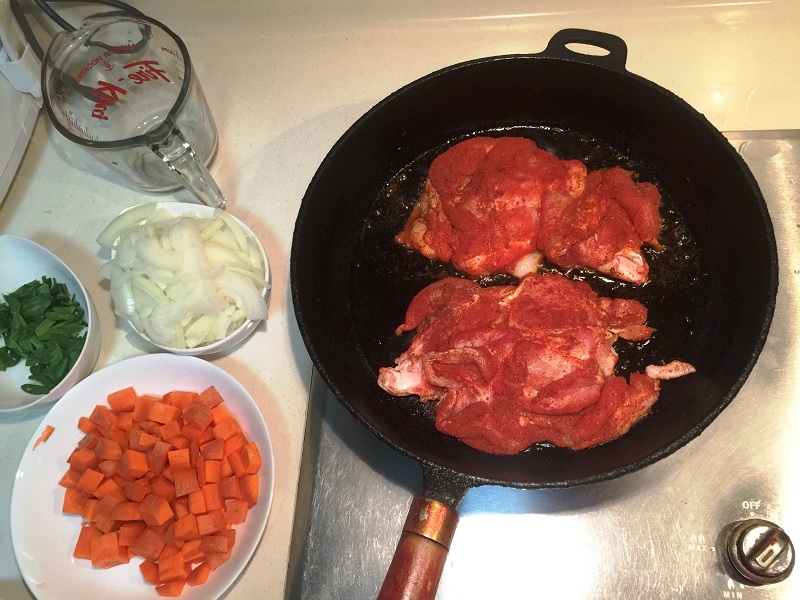 4. Are the instructions clear?
The instructions are in fluent English, and listed step-by-step with photos. It would be genuinely difficult to do anything wrong, and no fancy cooking techniques were called for.
There were a few ambiguities along the way: For instance, we tended to use all of the pre-portioned items in one go, which meant we dumped a little too much salt on at the beginning, and using the whole onion and carrot that were supplied overcrowded the pan.
I only had one major issue with the recipe: tossing a bouillon cube into the pan is called for at one point, and I knew from previous experience that if we didn't first dissolve the cube in hot water, we'd probably end up with lumps of bouillon somewhere in the finished dish.
Our couscous turned out mushy using the recommended 500ml of water, so on the second time around we cut it to 400ml and it came out perfect.
Finally, possibly due to an overabundance of carrots and onion, the finished dish I ended up with very little sauce, which we remedied easily by adding more water and deglazing the pan at the end.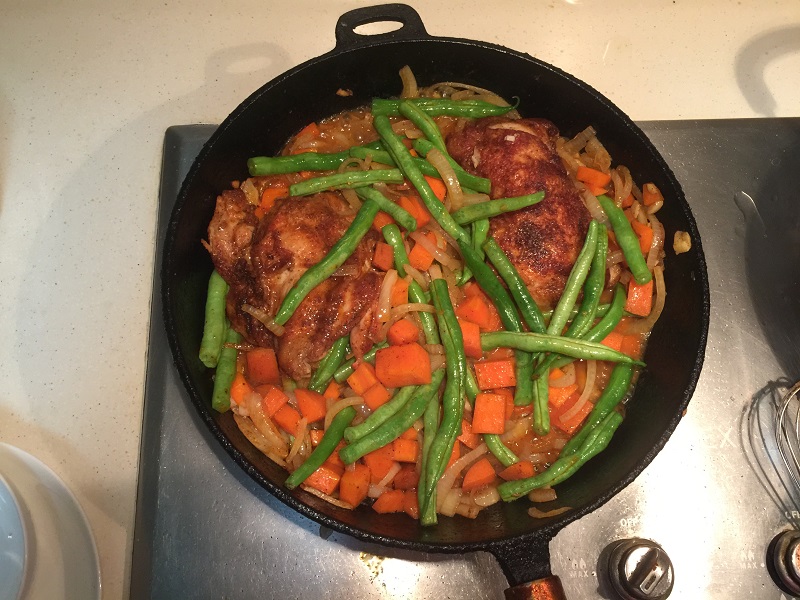 5. Does it taste good?
It was in fact quite tasty, and mild enough so that even my 8-year-old, who hates spicy food, wanted more.
As to its authenticity, I'd be hard-pressed to say that this dish is anything like anything I've had at the dozen or so visits to Ethiopian restaurants I've made – so no extra credit for authenticity.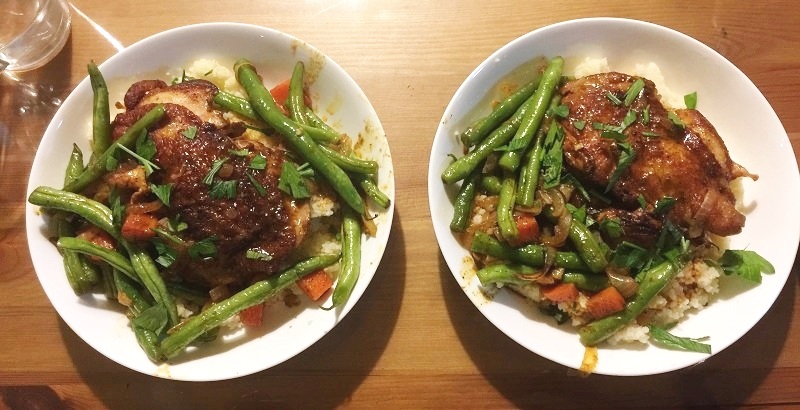 This probably has to do with the fact that Berbere spice packet was mostly paprika. It was missing both the kick and the unique fragrance of this common Ethiopian spice, which is a complex mixture of things like cardamom, cinnamon, coriander, cumin, turmeric, fenugreek, and ginger.
I checked with Kitchen Show to make sure I wasn't given the wrong spice packet – they relayed to me that there was indeed some of those spices in the packet, but they had reduced the level of the less familiar spices to suit local tastes.
That aside, the dish was delicious, and my daughter enjoyed it too, despite her sensitivity to spicy foods.
I can't see making Kitchen Show a daily habit, but as an occasional self-contained cooking lesson for kids, it's great – and I can see us trying more of their offerings.
Probably the most pleasing thing for me was the fact that the pre-portioning meant that we didn't have leftover items to toss back into the fridge and go bad.
There's six menus on offer currently at Kitchen Show. In addition to the recipe I tried, there's Cajun Prawns, Honey Mustard Chicken, Thai-style Duck, Coconut Green Curry Sole, and Australian Sirloin, ranging in price from RMB 88 to RMB 148. All are designed to feed two.
Sure, all of these recipes can be cooked without the services of Kitchen Show. But my kid really enjoyed the packaging and presentation, and the individual portions of ingredients gave the whole experience an almost dollhouse feel.
I see real value in this as a once-in-a-while treat that saves a significant amount of time and trouble, and allows me to enjoy cooking with my daughter even on a school night without the need for a lot of pre-coordination.
You can reach Kitchen Show's English WeChat Account by scanning the QR code below:
Photos: Courtesy of Mike Wester