Christmas is snow joke. And while spending Christmas in Beijing may not feel like Christmas at home, that doesn't mean it can't be full of spirit and joy.
Each year in mid-November, bazaars galore begin to fill Beijing's social calendar, marking the return of that end-of-year spirit. Fill your sack with seasonal vibes at one (or more, you fiend!) of these bazaars over the coming weeks!
This year's crop of bazaars begins next weekend (Nov 15) with the Russian Christmas Fair at Dacha and goes through to The Hutong's Christmas Fayre (Dec 12), traditionally the last of the season and held just before the bulk of the expat crowd starts heading home (or to balmier climes) for Xmas.
One of our favorite annual bazaars, The Gift at the Canadian International School, will unfortunately not be held this year (bah, humbug). A shame, but no reason to stop celebrating, as there's still plenty of holiday cheer (and shopping) to be had.
If you only can squeeze in a few, we'd recommend making the trip to WAB (usually the biggest number of vendors); The Hutong (usually the hippest) and the German Embassy Bazaar (usually the most packed full of holiday revelers).
You can keep track of the full list of these happenings here at thebeijinger.com/events/holiday_bazaar and http://www.beijing-kids.com/events?e=editorspick (we'll add 'em as we find 'em), or take a look at some of the highlights here: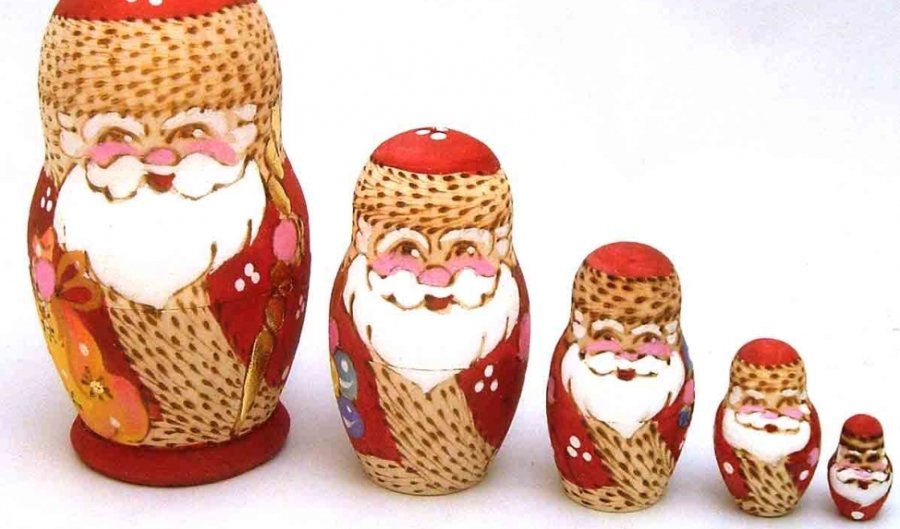 Nov 15: Russian Charity Bazaar
Dacha is organizing a charity bazaar in support of two twins currently undergoing treatment for cerebral palsy in Beijing. There'll be tons of children's activities, including a play area and charity workshops throughout the day. Stalls will sell handmade cosmetics, books, Russian sweets, baked goods, Indian jewelry, and more. All money collected goes towards the twins' treatment. Free. 11am-6pm. Dacha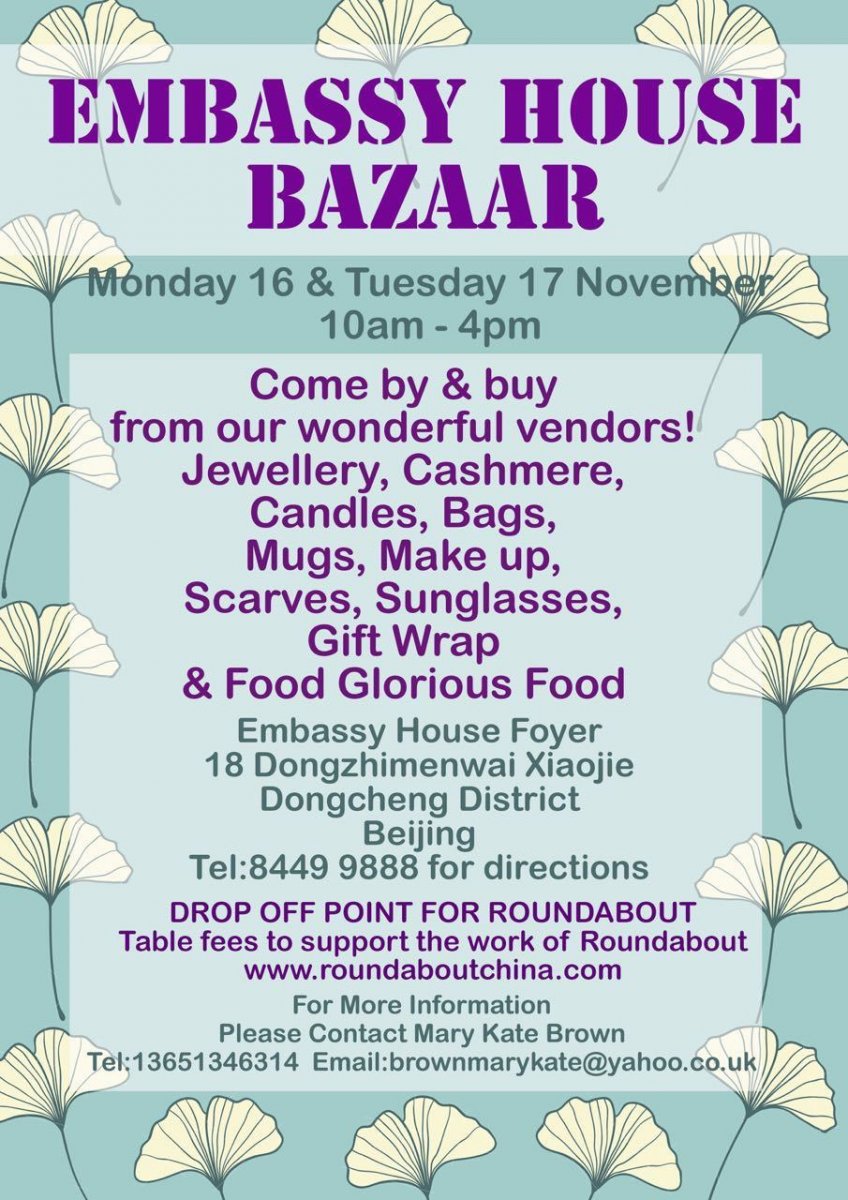 Nov 16-17: Embassy House Holiday Bazaar
The Embassy House sale is back again this year with a jovial gathering of fabulous vendors and friends. Goods include locally and internationally made jewelry, delicious food, clothing, kids items, and lifestyle accessories. The market will also be a drop-off point for donations to Roundabout in case you have any kids items lying around that you no longer use. Free. 10am-4pm. Embassy House
Nov 21: WAB Charity Bazaar
This year, at the annual WAB Charity Bazaar, there'll be a collection of unique gift items, exceptional raffle prizes, Roundabout books, a bake sale, and international food and beverage vendors. There'll also be DIY projects for the kids and child-minding is offered by WAB's Grade 12 students. Free. 10.30am-3.30pm. Western Academy of Beijing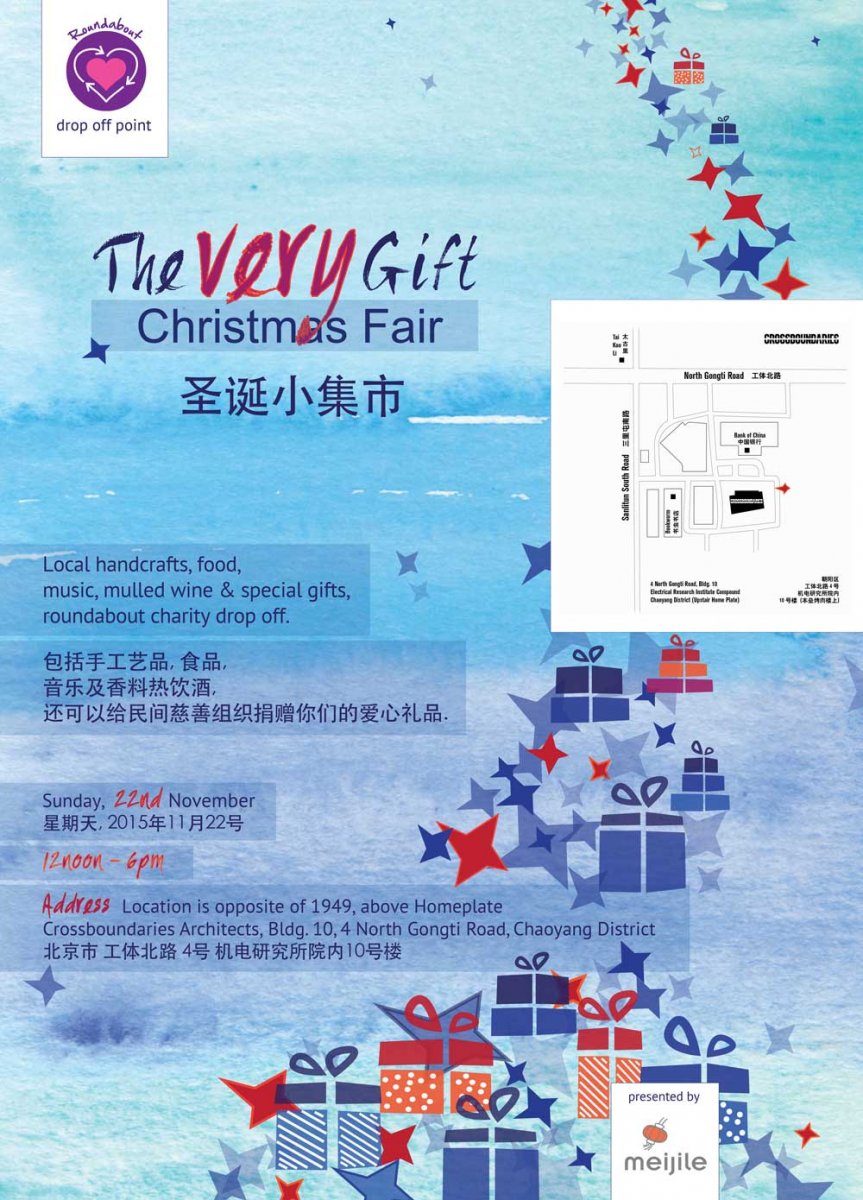 Nov 22: The Very Gift Holiday Bazaar
The Very Gift Bazaar offers local handcrafts, food, music, mulled wine, and special gifts. The bazaar is also a drop-off point for Roundabout if you've got anything you don't use anymore. Free. 12-6pm. Crossboundaries Architects, Bldg 10, 4 Gongti Beilu, Chaoyang District (above Homeplate BBQ)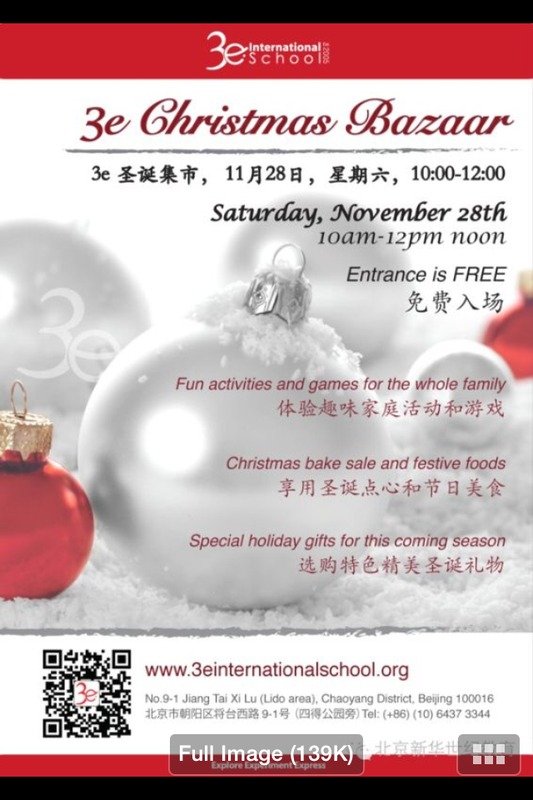 Nov 28: 3e Christmas Bazaar
3e International School's Christmas Bazaar is family friendly: expect fun games and activities for the entire family, a bake sale, festive foods and drinks, and special holiday gifts for the coming season. Free. 10am-12pm. 3e International School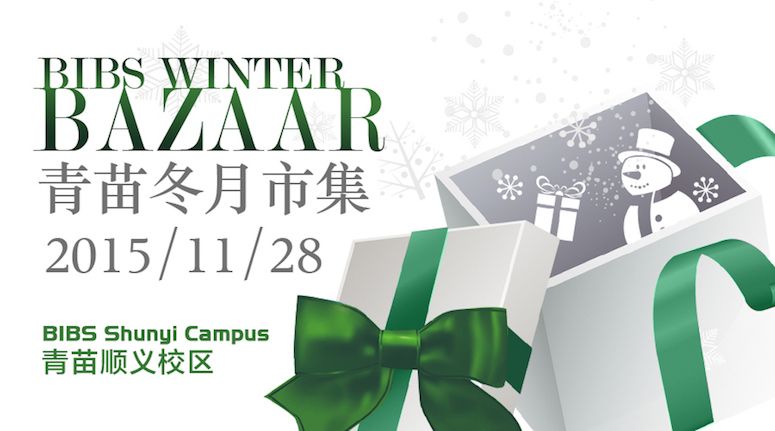 Nov 28: BIBS Winter Bazaar 2015
Beanstalk International Bilingual School invites the festive among us to the BIBS annual Winter Charity Bazaar on the Shunyi Campus. The event is a non-profit function, with all proceeds being donated to cooperating NGOs. There'll be candy, toys, drinks, food, souvenirs, gifts, wine, decorations, and more. Free. 11am-4pm. Beanstalk International Bilingual School
Nov 28: German Charity Christmas Bazaar
The beloved annual German Charity Christmas Bazaar is back, with a new admission concept. Tickets are RMB 100, but include vouchers for every beverage or food item sold at the bazaar. As always, proceeds go to carefully selected charity projects. Don't forget to bring your passport. RMB 100 (adults), RMB 25 (children). 11am-6pm. German Embassy Beijing
Nov 28: BCIS Christmas Bazaar 2015
Beijing City International School and the Migrant Children's Foundation are working together on their Christmas Bazaar once again this year. Activities include family-friendly games, activities, a prize raffle, a live stage show, and more. Free. 11am-3pm. Beijing City International School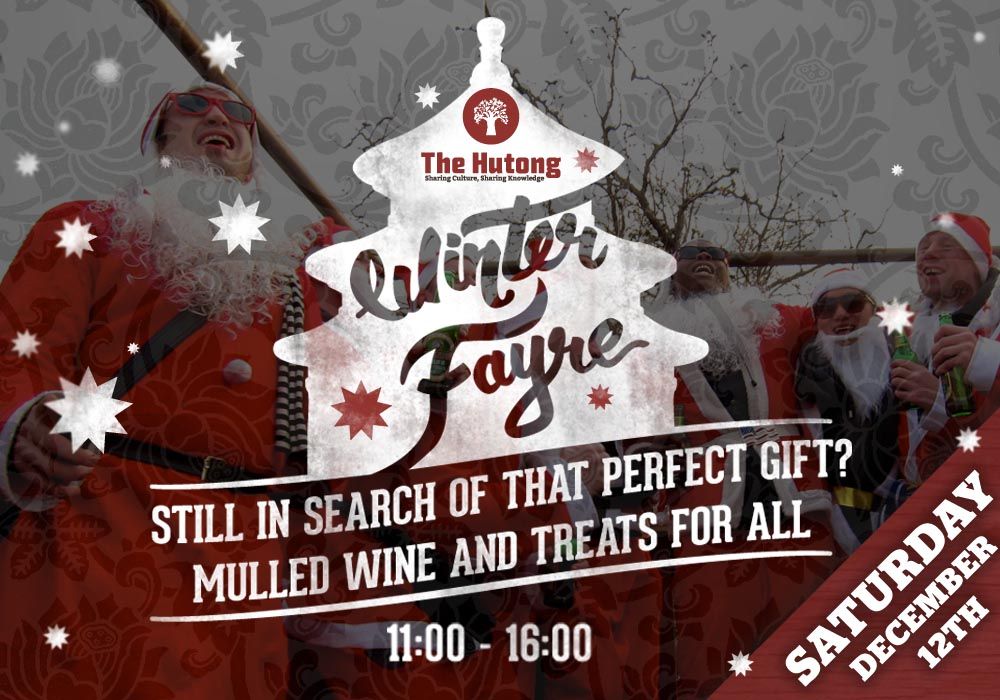 Dec 12: The Hutong's Christmas Fayre
The Hutong will continue its tradition of hosting the year's last Christmas Bazaar with a bazaar full of vin brule, homemade jams, teas, baked goods, chocolates, handicrafts, photography, jewelry, paintings, and unique holiday cards. Free. 11am-4pm. The Hutong
If this avalanche of bazaars can't get you in the mood for Christmas then nothing will!