Last year, over 7,000 people enjoyed our two-day pizza party featuring two dozen of Beijing's best who threw down their best pies for slice-by-slice sampling.
This year's festival, held at an even bigger and better venue on the grounds of Wangjing Soho, is going to be even more stupendous: a weekend that will prove Beijing isn't just the capital of China's pie scene, but a city that deserves pizza respect on the world stage (look out Naples, New York, and Chicago).
Our list of confirmed venues grows by the day, and here's a list of just some of those that will be slinging pies: Tube Station * Annie's * Gung Ho * Q Mex * Pizza+ * Hutong Pizza * Pie Squared * Whalewell * Baozza * Bocca Della Verita * Tiago Italian Kitchen * V Sports * Lugas * Blue Marlin * Fly Pizza * Yummy Box * North Capital * Ahava * Yellow Cab
If you plan on attending the event – sure to be the largest gathering of pizzas in 5,000 years of Chinese history – we highly recommend you buy an Early Slice Ticket as soon as humanly possible, for three important reasons:
1. Guaranteed entrance:
Due to security reasons, we simply cannot accommodate all of Beijing's pizza-crazed masses at a one time. Buying an Early Slice Ticket means you won't find yourself missing out on the fun (or standing outside holding your pepperoni).
2. Picnic away:
Our first 1,000 purchasers will receive a complimentary portable picnic blanket so that you can plant your rump somewhere nice on the vast expanse of Wangjing Soho to enjoy your pizza with your friends and family. These items are the must-have picnic accoutrement of the season.
3. Save RMB 5:
Even *if* we have any leftover tickets to sell on the day of the event (and that's a big "if"), they'll be going for RMB 25. The smart tuhao will buy in advance for RMB 20 and will sock those extra RMBs away into the Ferrarri Repair Fund.
So what more can you ask for?
How about an English-language online interface for buying tickets that accepts just about every payment system a China expat could ever ask for – aka foreign credit cards, Paypal, China UnionPay, Alipay and WeChat Wallet?
Got it – all you have to do is click here and you'll be well on your way to foodie paradise without being hindered by language or payment system.
So buy now and cement your place in this historic pizza event sure to go down in history as the cheesiest thing that's ever taken place in Beijing.
So where exactly is it being held in Wangjing Soho? Why, in the middle of a 17-meter wide, 200-meter long public road that is closed to vehicular traffic! It'll be a street festival like you've not seen before, with plenty of wiggle room. We're working on a better map, but for now here's the venue marked in yellow: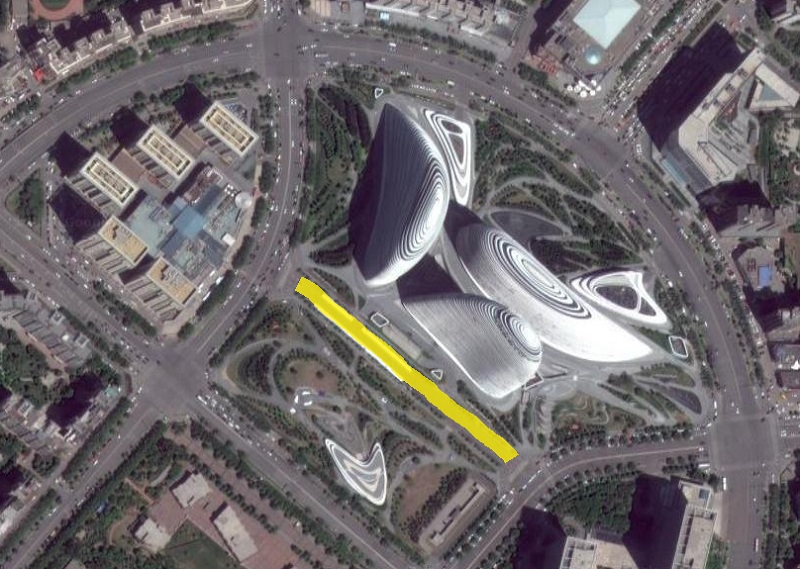 Original article appeared here.