[Updated Feb 2]
Like a burly NFL quarterback quickly lumbering to tackle his opponent, several Super Bowl 51 is fast approaching, and several Beijing bars and restaurants are getting in on the football frenzy. Chances are you won't have to run further than the proverbial ten yard line to find a venue in your neighborhood showing the big game.
Fans will eagerly rise in the wee hours Beijing time to catch the intense matchup between the Atlanta Falcons and the New England Patriots. The Bleacher Report describes the former as "a bit of a… surprise based on preseason expectations" while calling the latter "the most consistent franchise in the NFL, and they still have arguably the best quarterback of all time in Tom Brady."
Some popular sports-watching-spots have yet to let us know about their Super Bowl plans (though we'll update this blog when they do), while other venues like The Brick have opted not to host a viewing because of the game's proximity to CNY this year.
Here's a rundown of some of the top spots showing the game.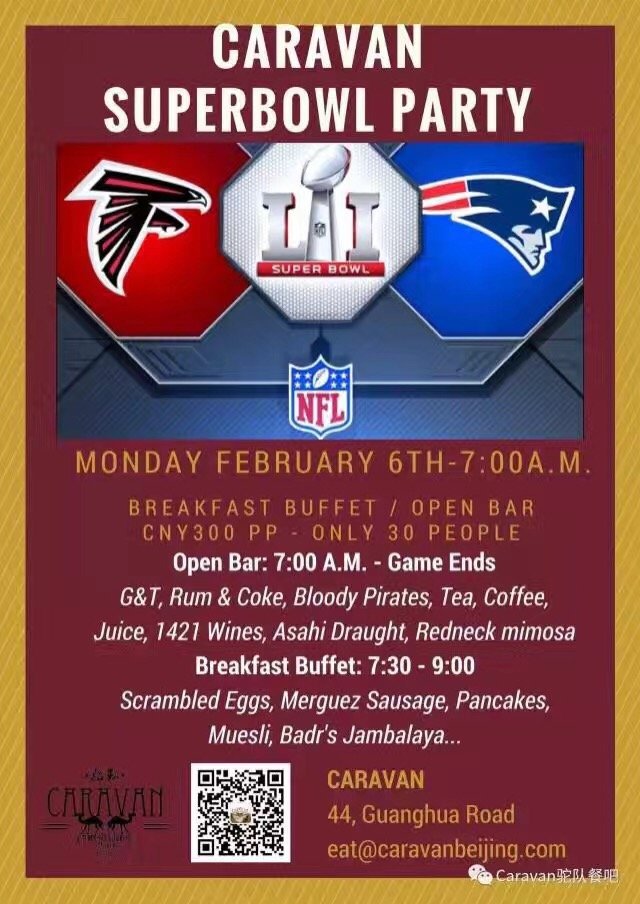 Caravan and Paddy O'Shea's
Both venues have been delighting football fans for weeks now with ongoing collaborative showings of the playoffs, and soon the climactic game can also be seen at both. We don't have updated information on food or drink specials just yet, but will update this blog right away once we hear more. Caravan's doors open at 7am; Paddy's doors open at 5am, no reservations. Click here for more information about Paddy's showing.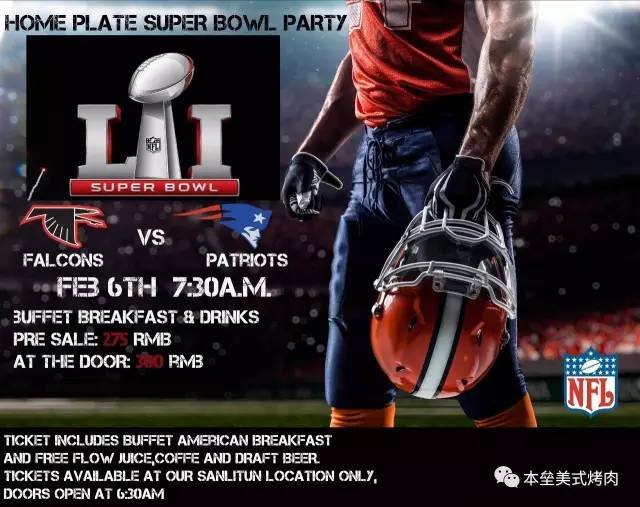 Home Plate BBQ
The southern barbecue-style restaurant will serve a buffet breakfast and drinks while screening the big game. For more details, click here. Doors open at 6.30am. RMB 275 presale, RMB 300 at the door.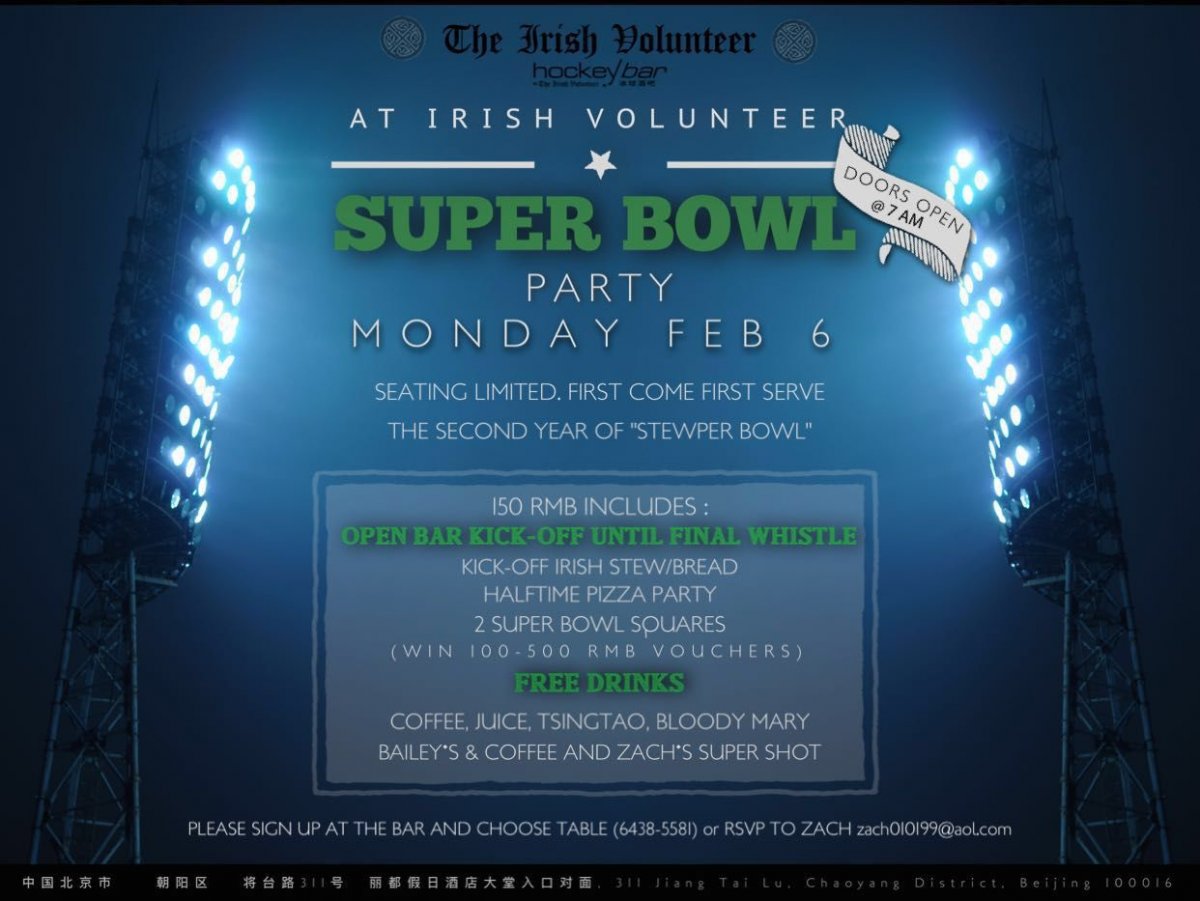 The Irish Volunteer
The IV's Zach Lewison laments this year's Superbowl falling on the Monday immediately after most workplace's CNY holiday. "Kinda hard to call in after a week off," he says, but quickly adds: "I'm guessing a full house as usual, just will make more coffee than usual."
The Lido bar and restaurant will also be serving Tsingtao's bloody mary's, Bailey's and coffee, and more, all of which are covered by the entry fee. Doors open at 7am, RMB 150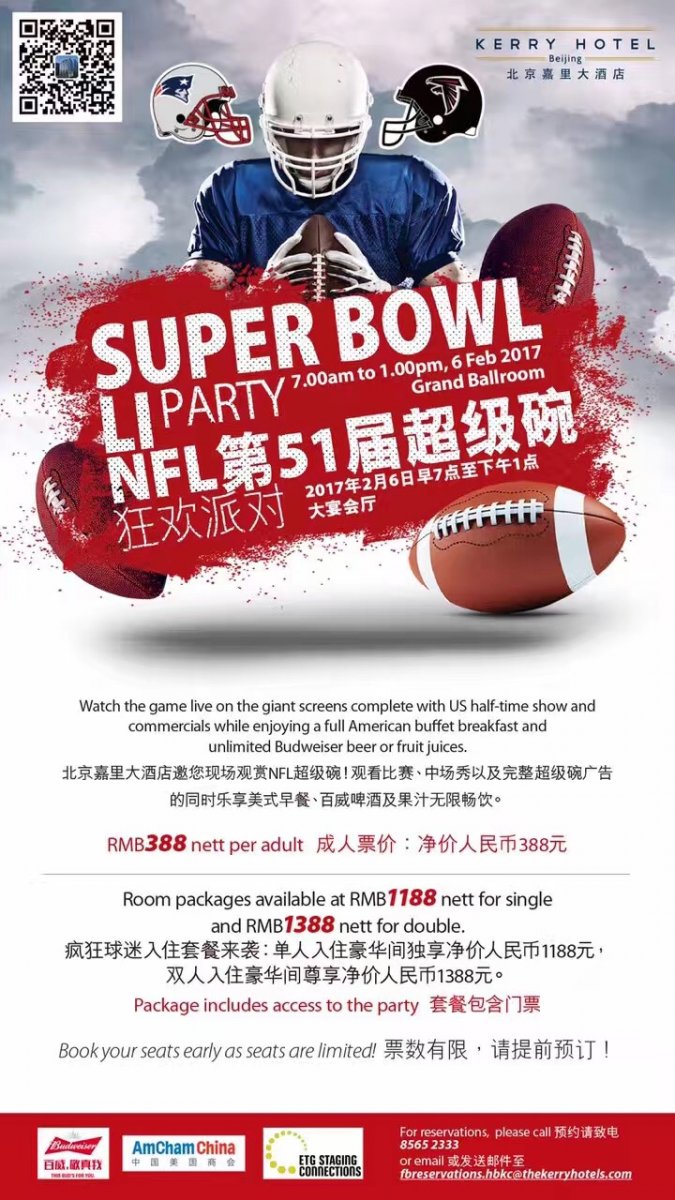 The Kerry Hotel's Grand Ballroom 
The venue invites fans to "watch the game live on the giant screens complete with US half-time show and unlimited Budweiser beer or fruit juices." You can also opt to stay overnight with a room package. 7am-1pm, RMB 388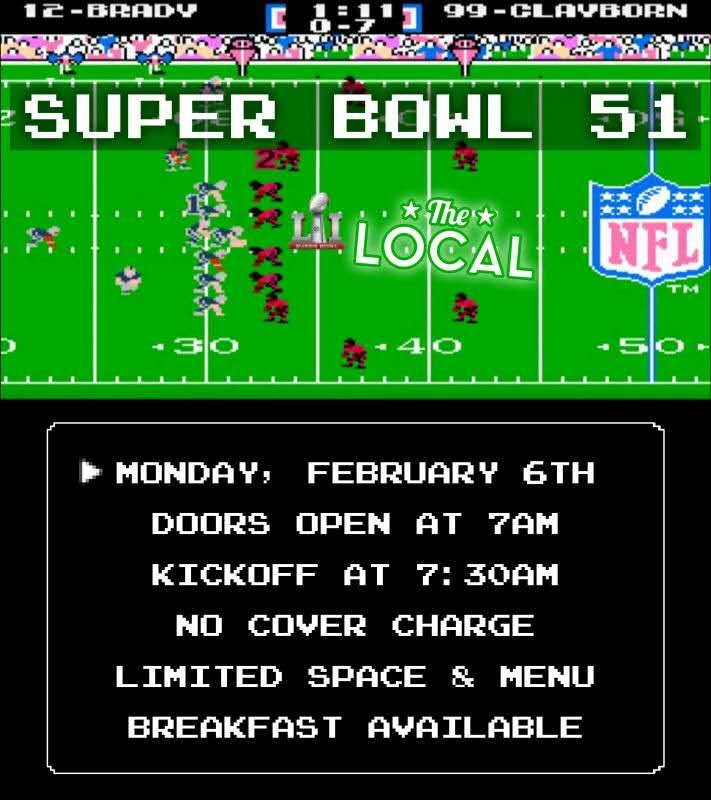 The Local
Courtyard 4's popular dinner and drinks joint will serve breakfast, with no cover charge to get in (meaning seats will go fast, so it'll be good to get there early). 7am onward, free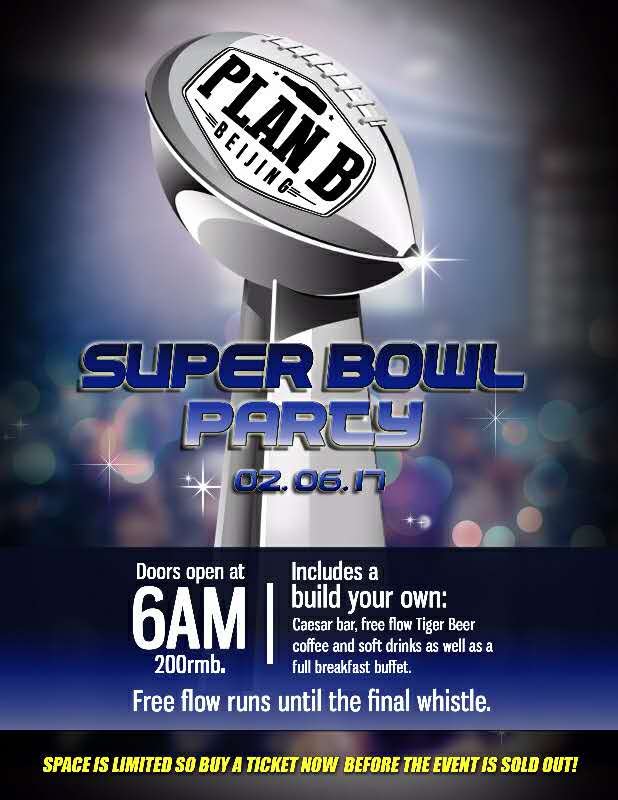 Plan B 
Owner Trevor Metz calls this: "The best deal in town. A free-flow build your Caesar bar." Judging by the delicious outcome of the bar and restaurant's last big Caesar extravaganza, we'd say Plan B will be a winning spot to catch the game. 6am onward, RMB 200
Q Mex
Courtyard 4's popular Mexican/American restaurant and bar will broadcast the game and offer some tasty early day eats that include drink specials (along with RMB 10 tequila shots for less responsible patrons). 6.30am-4pm, RMB 80 for Breakfast Burrito Combo; RMB 95 for an American breakfast. Reservations are recommended, call 135 2069 3900.
Slow Boat Sanlitun Brewpub
The popular brewpub will show the game on three big screens on its third floor. A special Super Bowl breakfast skillet (consisting of eggs, pancakes, sausage, toast, hash browns and cold brewed coffee) will also be available, while a 10 percent drink discount will be given to those supporting the winning team. No reservations, first come first served. Starting at 6.30am
Tim's Texas BBQ
Tim's Wangjing location will broadcast the game with surround sound and they'll feature its popular US commercials. No reservations will be offered. Doors open at 6am, free entry and RMB 51 breakfast buffet RMB 25 for bloody mary's and screwdrivers (first come, first serve seating)
A few potential, but unconfirmed alternatives (according to nightlife blogger Jim Boyce) include:
We'll update accordingly as more information pours in.
Photos: Getty Images, The Venues
This post originally appeared on the Beijinger, our sister publication.