This April 1 marks two years since CandleX was founded, aimed at promoting awareness on depression and providing social support throughout Beijing. Since then they have hosted a number of mental health workshops, peer support groups, community campaigns, and shared knowledge with embassies, schools, community, and media.
To celebrate everything CandleX have achieved, come Saturday they're throwing a big party (that doubles as a fundraiser), starting off with dance workshops at 4pm.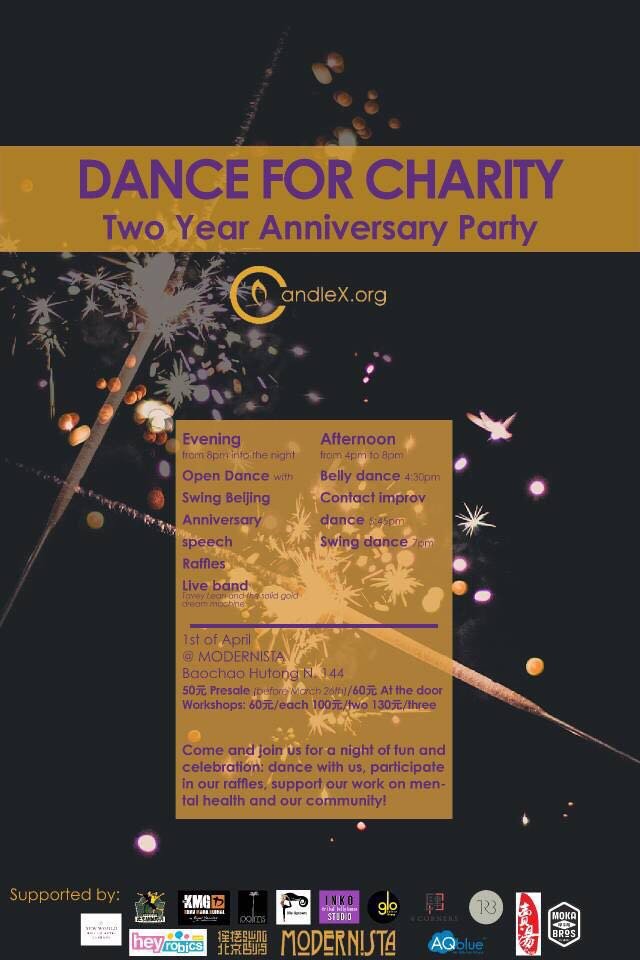 The first dance workshop is suitable for all levels and will focus on contact improv dancing, billed as wild and athletic, but also quiet and meditative. The class will start with simple contact points such as the fingers, hands, and arms. The second workshop, an American tribal-style bellydance workshop, starts at 5.45pm and is a modern combination of Oriental, flamenco, and Indian dance. And finally, the third workshop kicks off at 7pm, and focuses on swing dance. Tickets to the workshops are RMB 60 for one, RMB 100 for two, or RMB 130 for all three.
At 8pm, the general party kicks off with the CandleX crew. All proceeds from the evening, including tickets bought to enter a raffle on the evening, will go towards more mental health projects round Beijing.
Tickets for the party are RMB 50 if you get them before March 26 (limited to 50 spots only), or RMB 60 at the door. Get your tickets here.
To find out more about CandleX and their other events, check out their website.
Images: Huffington Post, courtesy of the organizers
More stories by this author here.
Email: margauxschreurs@truerun.com
Instagram: s.xuagram
This article originally appeared on our sister site, the Beijinger.