With warmer weather, the temptation grows to escape the heat and smog of downtown Beijing and head for the hills when the skies turn blue. Beijing's mountain ranges and valleys provide surprisingly good opportunities for hiking. But even on the sunniest summer day, it pays to be prepared when hiking. Sudden thunderstorms, unstable terrain, and spotty emergency services in remote areas can turn a pleasant weekend stroll into a trip into an epic – and sometimes dangerous – journey.
One example of such occurred this past February when two hikers – one from France and one from Germany – needed assistance from local rescue personnel after the hikers became lost near the Jiankou section of the Great Wall. The two hikers had ventured out without food and water. As the sun began to set, they lost their bearings and were forced to call friends, who in turn summoned the authorities, according to a report in The Shanghai Daily. After an uncomfortable three-hour wait, the pair were rescued by firefighters.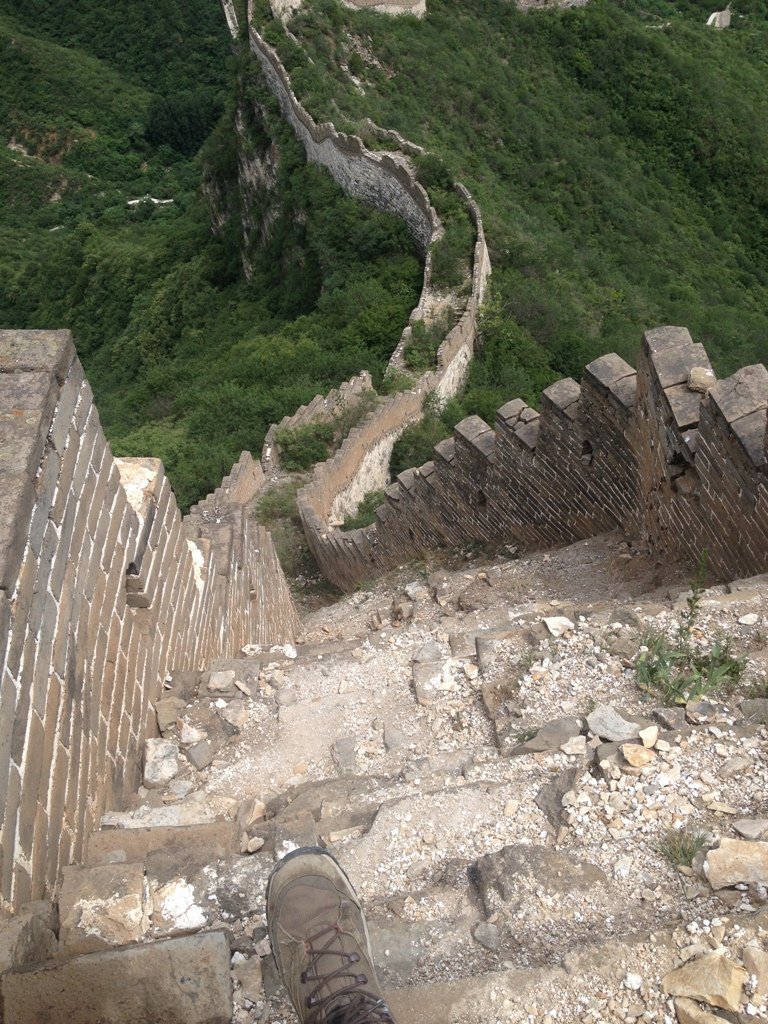 Many of Beijing's most popular hiking areas also present hazards. Phoenix Mountain, only 51km away from Haidian and one of Beijing's most accessible peaks, is famous for its poor footway and crumbling stones. Lingshan and Haituo Mountain each exceed 2,000 meters, hardly Himalayan, but sufficiently high to be taken seriously. Both have been the site of rescues and deaths in the past few years when hikers overestimated the length of their chosen route, became lost, and then were forced to bivouac overnight in cold temperatures.
While the Beijing authorities' simple solution to this problem would seem to be "Buy a ticket to one of our pre-approved Great Wall theme parks and ride the chairlift," there is still plenty of safe hiking to be had around the city provided hikers are adequately prepared.
According to Hayden Opie of Beijing Hikers, people most often find themselves in trouble by being either unprepared for the weather or by tackling a route that is simply too challenging.
You need enough energy to be able to get back down the mountain," says Opie. "And you need a rough idea of which turn you're supposed to take at that fork in the trail."
He adds that hikers should be sure to wear sturdy shoes or boots and to take their own water and food. "You won't find any water on the Great Wall. If you do, it will be being sold by someone at a very inflated price."
Opie also recommends always a carrying a fully charged mobile phone just in case. Simon Ashmore, who leads outdoor educational programs for The Hutong and who holds the Mountain Leader qualification from the Mountain Training Association of England and Wales, concurs. "People get in trouble the most from getting lost, exposure, and dehydration," says Ashmore.
He also strongly suggests that hikers inform others of their planned route, and expected time to return. "Always tell a friend what you plan to do and what time you aim to be back. Give them a call or a text or a WeChat message when you are back and safe. Even give them a cut-off time by which to contact you if you forget. Then if you can't be contacted, they can raise the alarm."
What happens when things do go wrong, and you become lost?
"Is it appropriate for me to quote [the British adventurer]Bear Grylls here?" asks Opie. "The mnemonic is Please Remember What's First. P for protection – find a safe spot to hang out and wait, instead of wandering on and getting more lost. R for rescue – think about how you can help your rescuers find you. In Beijing, you can usually get a phone signal. You did bring your phone, didn't you? W for water – this is a tough one in Beijing, with it being so dry. You probably won't find water, and would you want to drink it? But you did bring plenty of water with you, didn't you? F for food – again, a tough one in Beijing. Those squirrels are hard to catch. But again, you did bring plenty of food with you, right?"
But even the best hikers at some point can have their whimsical moments. "Something we always do is check out routes before we take people there for a hike," Opie recalls.
He tells us of a time he went to check on a part of the wall to add to an existing trail. A part he knew was steep. "We hadn't been up there in at least 10 years. What I found was that part of the wall had fallen down, leaving a five-meter scramble with some serious exposure – a slip would have meant a tumble down a 30-meter set of stairs at an 80-degree angle, or a longer fall off the adjacent cliff. I was seriously glad I didn't find out if it would have been the stairs or the cliff. I was equally as glad that I wasn't trying to take a group of hikers down there."
While Beijing's mountains and walls present excellent recreational opportunities for urban dwellers, it pays to be prepared for the unexpected.
---
Photo: Hayden Opie
This post first appeared on our sister site, the Beijinger.