The good news is that you can now use a phone to gain entry to every subway station on the Beijing Metro (except you, iPhone users). The bad news is that there will be longer wait times for more Beijing commuters after further restrictions on rush hour access to the Beijing Metro were announced this month.
As we told you back in July, a pilot program to allow commuters to pay fares with their phones began on the Fangshan Line. As of this past Monday, every turnstile of every Beijing Metro station is now equipped with NFC sensors, allowing commuters to use their phone in place of their yikatong or metro cards.
The service has been extended to 210 phone models, but has not yet been made available for iPhone users.
Meanwhile, Line 8 is the latest subway line to limit entry for commuters, increasing the number of subway stations requiring a queue for entry to 76, representing a fifth of all Beijing Metro stations. Line 5 has the most stations with restrictions at 16, while Line 6 and Line 10 follow with 11 and 10 stations, respectively.
Waiting in a crowded line in order to get into a station so you can wait in a crowded subway as it lumbers towards your destination has been a daily burden for many Beijing commuters. Most of the stations limit commuter access to the Beijing Metro in the morning, such as with east-end stations on Line 6.
For expats wishing to join the fray that is Beijing public transportation, you should know that the restrictions concern a number of subway stations close to expat enclaves.
Chaoyangmen Station limits access to Line 6 during the evening rush from 5-7pm as it does to Line 2 from 4.45 to 7pm. Hujialou Station limits access to Line 6 from 5.30 to 7.30pm, but no restrictions are in place for access to Line 10 (for now).
Tuanjiehu Station on Line 10 (near Sanlitun) limits commuter access from 6-7pm, while entry to Shuangjing Station will be controlled during both the morning and evening rush from 7.30 to 9am and 5.30 to 7.30pm. The same can be said for Guomao Station which restricts access to Line 10 from 7.30 to 9am and from 6 to 7pm, but no restrictions are in place for access to Line 1.
Meanwhile, Wudaokou Station on Line 13 limits commuter access from 5.30 to 7.30pm during the evening rush hour.
Beijing is set to undergo its biggest expansion of subway lines and stations this year, but the growth is expected to inconvenience some commuters. The terminal station Pingguoyuan on Line 1 is set to be closed down for three years at the end of the year as an extension from Line 6 is built towards it.
If you're not content with the slow pace of your commute, commuters can be optimistic at the progress society is making. Beijing plans to fully automate its subway system by 2020, thereby making its trains driverless.
Here's a detailed chart of all the subway station restrictions (written in Chinese):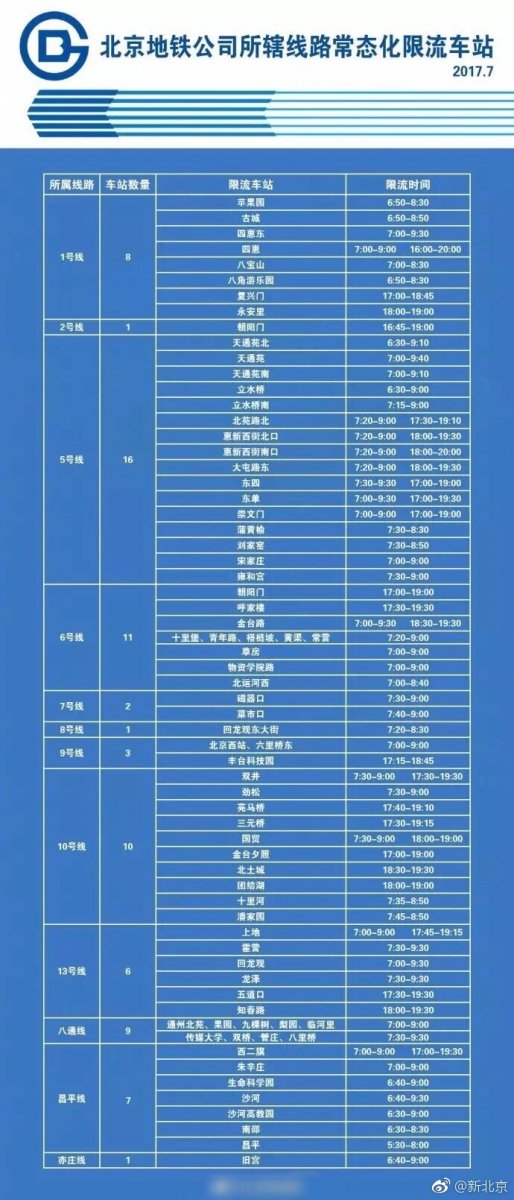 ---
This post first appeared on our sister site, The Beijinger. More stories from this author here.
Twitter: @Sinopath
E-mail: charlesliu1@qq.com