After less than half a year of operation, Beijing's new Ferris wheel at Shijingshan Amusement Park has been shut down until further notice after it broke down Monday morning, stranding dozens of park visitors in mid-air.
A representative for the park said a preliminary investigation revealed that the Ferris wheel had inadvertently activated its automatic power failure protection system, causing it to stall during operations. The specific reason for the malfunction remains unknown, and the park is reaching out to the Ferris wheel's Zhejiang manufacturer for an equipment inspection to diagnose the problem.
The representative emphasized to the Beijing Economic Report that there is nothing wrong with the Ferris wheel itself, but with a self-protection unit that is not considered to be part of the ride.
Ferris wheel riders had to wait half an hour before they were all safely returned to the ground,
All passengers had their RMB 50 tickets refunded after becoming very upset during the breakdown. A person who was trapped on the Ferris wheel suggested that it was the passengers themselves that increased the threat of danger:
At the time of the incident, there were many people on board the ferris wheel, and everyone inside the
capsules began to raise a ruckus. It may be for this reason that the ferris wheel began to fervently shake.
The 100 meter-high "Dream of the Stars" at Shijingshan Amusement Park opened this past April as a way to salvage Beijing's damaged pride after losing its chance to house the world's tallest Ferris wheel.
Amid the sky-high optimism of the Beijing Olympics, the city announced in 2007 that it was going to build a 208 meter-high Ferris wheel in Chaoyang Park. However, the $99 million "Beijing Great Wheel" stalled in 2011 after the company involved was accused of embezzlement, leaving the capital of China without a Ferris wheel to call its own.
However, hurt feelings gave way to restored pride when the Shijingshan Ferris wheel was announced. Local media boasted the new Beijing landmark would feature free Wi-Fi, air conditioning, sofas, and "simply everything." Xinhua reported the news with relief, its headline exclaiming: "Beijing to get Ferris wheel … finally."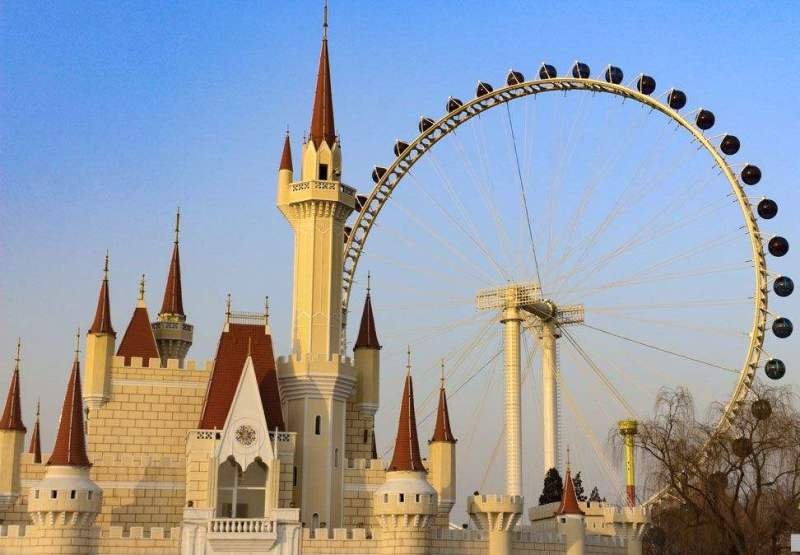 Equipped with 42 observation cabins capable of carrying eight passengers each, "the Dream of the Stars" can accommodate some 7,000 passengers a day on rides lasting 18 minutes.
The incident also comes after the city performed a large-scale emergency rescue drill at Shijingshan Amusement Park that included a procedure that shut down Beijing's only Ferris wheel in mid-operation.
Built in 1986, Shijingshan Amusement Park hasn't aged well. Despite adding the Ferris wheel and a dinosaur-themed attraction last year – described by The Beijinger as "lackluster" – Shijingshan Amusement Park continues to receive poor reviews on Trip Advisor where it has been dubbed "Dismaland."
Beijing tentatively awaits the arrival of its next theme park, Universal Studios, expected to open in 2020.
---
This post first appeared on our sister site The Beijinger. See more stories from this author here.
Twitter: @Sinopath
E-mail: charlesliu1@qq.com