Yan Chang parked by yet another cluster of abandoned shared bikes, then set to work piling them one by one on the back of his scooter. His employer, ofo, had tasked him with arranging any of their cycles that had been strewn about in the Hujialou area into a neat row near the subway station. Necessary as the job has become, to ensure pedestrians and cars aren't completely impeded in this era of rampant shared bike usage, Yan couldn't deny that the work was arduous. When asked, he gestured at one bike that had been left smack in the middle of a sidewalk, and said careless riders like that were giving him too much "mafan."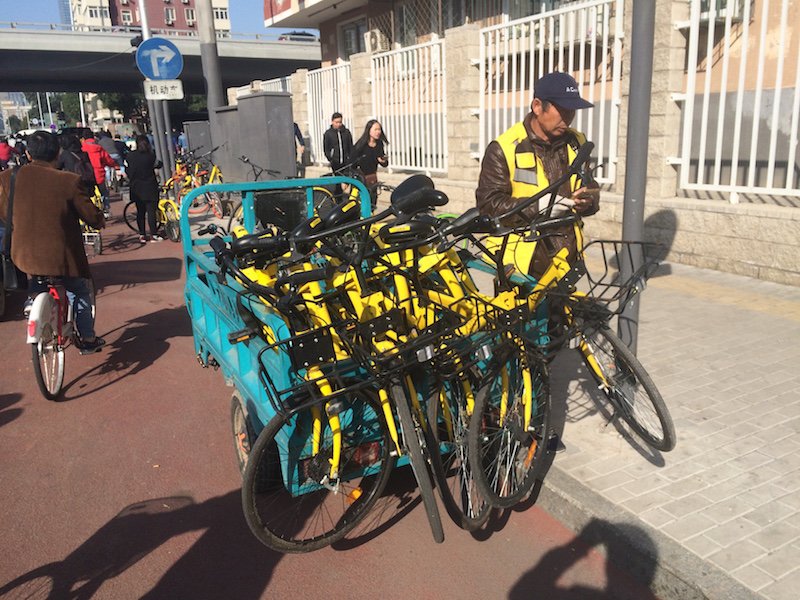 Yet employees like Yan, and especially baoan security guards saddled with even stricter rules about keeping their buildings' parking lots clean, may very well rejoice at recent news from Singapore's Today newspaperabout new technology and laws designed to keep riders from parking in such a haphazard fashion through penalties and other means. In lieu of these government-imposed measures, ofo users in Singapore "who park indiscriminately will get an app notification and the operator said it would provide details on penalties closer to the end of the year. It replaced its mandatory bike deposit and introduced a credit system that rewards good behavior and penalizes bad behavior, and is likely to develop the programme further," according to Today. The article went on to say that some other companies already use technology called geo-fencing to "manage indiscriminate parking, and users are alerted through beeping noises and app notifications if they do not park in designated spaces" that consist of painted squares on the sidewalk, often near subway stations, popular attractions, and other major hubs.
While news about such measures, and photos of freshly painted designated parking spaces in a few scant parts of Beijing, surfaced this past spring, and before Beijing authorities drafted regulations for consultation on April 21, such efforts have since amounted to very little, especially compared to what is taking place in Singapore. Indeed, shared bikes are still littered in randomly obtrusive clusters across the capital. Seeing firmer measures put forth and backed by the municipal government in Singapore may seem promising to detractors of the shared bike craze. But some of the staunchest regular users of ofo, Mobike, and other such cycles question how companies might even remain popular if riders aren't free to park where they please.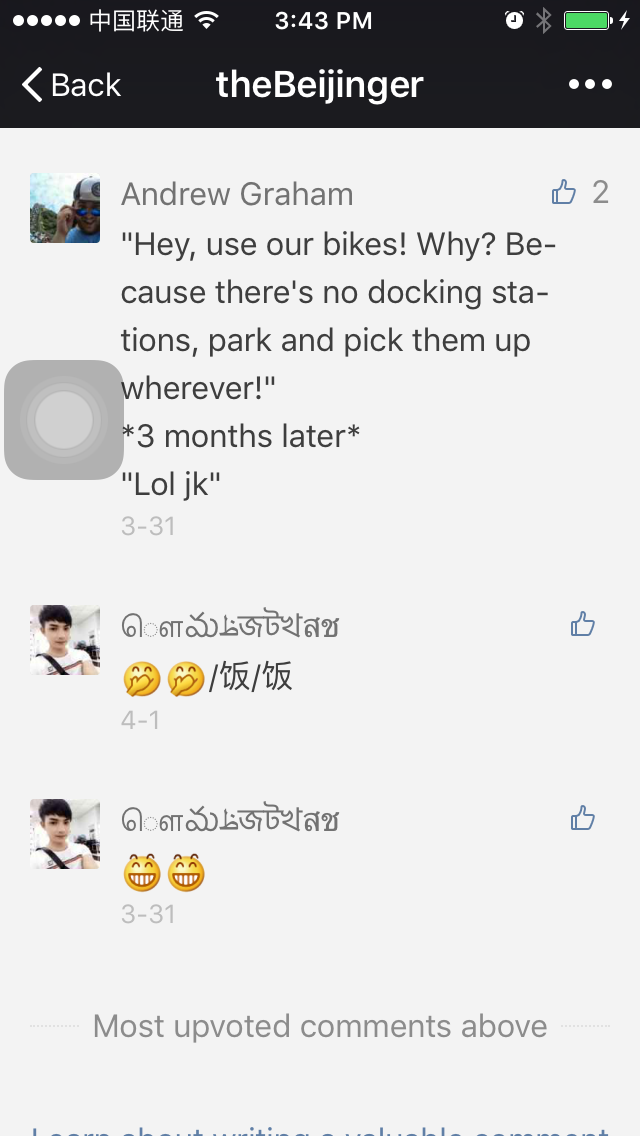 Vincent Tang Yue, global PR manager at ofo, says the company is well aware of such gripes on both sides of Beijing's Great Shared Bike Debate. He says, "Currently, we prefer a credit system that rewards good behavior and penalizes bad behavior in overseas markets and will develop the program further. The details are yet to be finalized and might vary from country to country."
Despite such hurdles, Yue is optimistic about ofo's prospects in Beijing, even though the Chinese capital has yet to show Singapore's gumption in addressing the parking issue. He says: "The bike-sharing practice and industry is growing very fast and has greatly benefited urban transportation and the environment. ofo has always wanted to contribute to every city we enter, and the best solution might be different from city to city."
If such stricter measures were to be enacted in Beijing, ofo's chief competitor, Mobike, would be quick to follow suit. At least that's what the company's head of global partnerships, Florian Bohnert, says of the features like geo-fencing, credit systems, notifications, and designated parking areas that Mobike has developed and used to a greater degree in other locales. He adds: "Mobike invented geo-fencing for dockless shared bikes when it launched in April 2016 in China. Therefore, we're very happy to work hand-in-hand with local governments to further develop the service within a framework of safety and reliability."
Such eager compliance with any forthcoming parking crackdowns may very well be appreciated by detractors, avid Mobike rider Billy Chan says he has concerns about how rocky that transition might be. He says: "I don't know how well users will accept any form of forced docking system (virtual or not), now that they've been trained on being able to pick up and drop off their bikes from anywhere and anytime."
But even if Beijing officials turn out not to be as assertive as their Singaporean counterparts in this regard, it might not matter. That's because the proverbial "Wild West" of free-range shared bike parking is already being somewhat tamed in the Chinese capital, according to John Artman, editor-in-chief at business and IT news outlet TechNode. He says: "'Being able to drop them off anywhere' is quickly fading already as property management companies and city management become more strict about where they allow bike traffic and bike parking,"
However, if more rigid, Singaporean-style regulations are enacted, Artman said: "I can definitely see a popular backlash occurring online as people take to Weibo and WeChat to complain about initial bugs and problems, but I think these complaints will fade as the systems get better and people learn to park responsibly."
Joffe agrees, and believes that shared bike riders shouldn't be dismissed as ill-equipped to follow stricter parking rules. On the contrary, he believes "many users were initially shocked by the fact they could just drop their bike anywhere. It just didn't feel normal. Now it will make more sense." What's more, he sees benefits in this early, lax stage of shared bike usage, because it offered enough convenience to get users hooked. "Going through that initial 'free for all' phase had the benefit of educating users with the first step: payment and operation. The next step of parking is easy to learn, in comparison."
Joffe not only welcomes such stricter parking regulations in Beijing, he thinks they will likely come to pass. He says: "It is not surprising that regulations would come into effect in Singapore to make shared bikes a sustainable transportation option. If the first phase of deployment was a "land grab" in terms of users, now real land will be necessary to ensure proper usage."
Photos: Arvi Lefevre, Kyle Mullin, Today, the Beijinger