For many Americans (and Canadians) Thanksgiving is the ultimate family holiday. Lacking the cynical commercialism pervasive during Christmas time, Thanksgiving is simply about getting together, gorging on rich, fattening food and giving thanks for the goodness in our lives. What can possibly be more satisfying?
With turkey day less than a week away, now is a good time to cement plans. Luckily for those homesick among us, options for good ol' US of A style Thanksgiving abound in our grey city. Here are a couple smart options for families either dining out or eating at home.
Restaurants and Hotels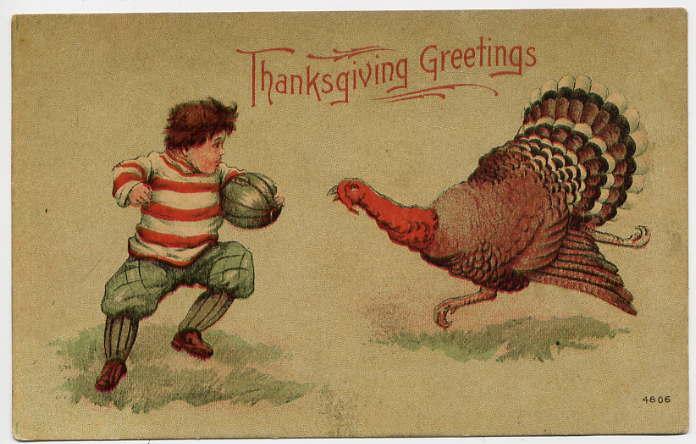 Nov 22: Thanksgiving Charity Buffet Dinner for Angel Home Orphanage
Joe's Bar and Kitchen will host a Thanksgiving charity buffet stuffed with turkey, honey-glazed ham, gravy, stuffing, and even a green bean casserole. All proceeds go to the Angel Home Orphanage, and will be used to purchase educational supplies for the children. 4pm. RMB 200, RMB 150 (advance). Joe's Bar and Kitchen
Nov 23: Caravan (Maovember) Thanksgiving Dinner
Moroccan restaurant Caravan returns with its second Thanksgiving Maovember buffet dinner, this time with two seatings (6pm and 8pm). Get a heaping helping of turkey and fixings, a Maovember pin, and a lucky draw ticket to support the cause. All proceeds go toward Maovember. 6pm and 8pm. Minimum RMB 100 donation with Maovember pin. Caravan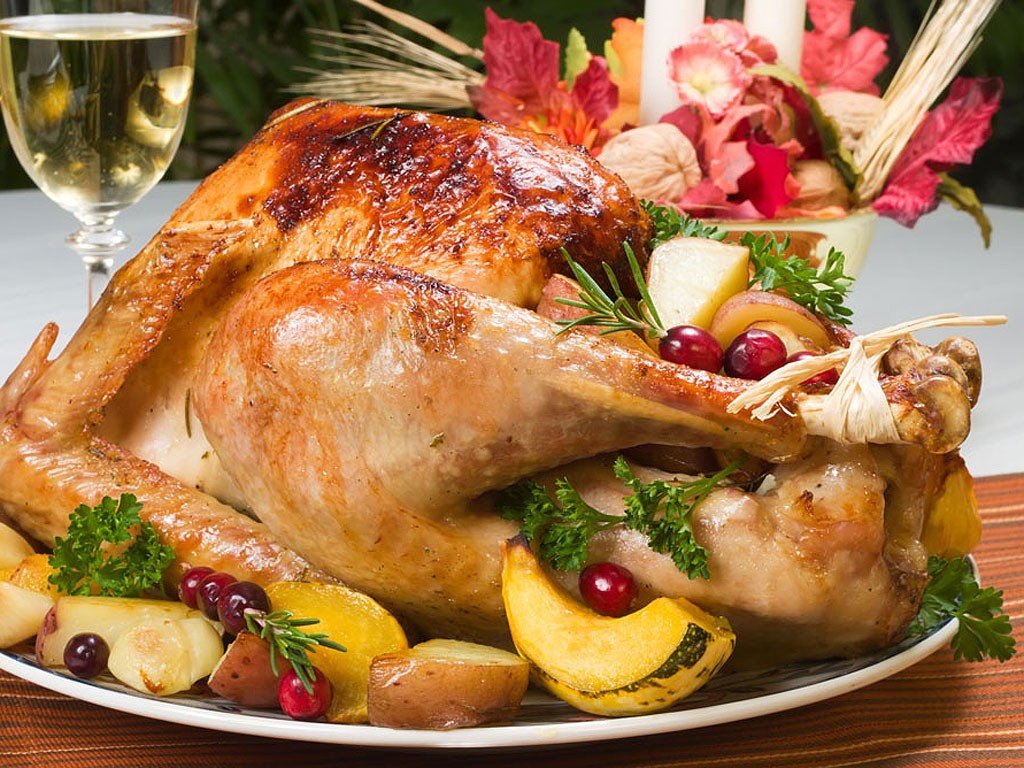 Nov 23: Home Plate Turkey Buffet
For a more down home, casual buffet option, Home Plate's "Turkey Buffet" on the 23rd is the very definition of American comfort food. A Southerner like me is most excited about a whole roasted hog, served alongside more traditional fare like whole roasted turkeys, smoked turkey breast, and giblet gravy of course. Don't forget a slew of homey sides, like cornbread dressing, pecan crusted sweet potatoes and country green beans. Make sure to save room for chocolate cake and bourbon bread pudding. 6.30-9pm. RMB 388, RMB 188 (children 12 and under). Home Plate BBQ
Nov 23: The Cut Thanksgiving Dinner
The Cut and chef Christoph Zoller have whipped up a menu of cream of forest mushroom soup, a sorbet palate-cleanser, traditional turkey from the trolley, brussels sprouts, new potatoes, classic cranberry sauce, and gravy, as well as their special homemade pumpkin pie. 11.30am-2pm, 6-10.30pm. RMB 888 (four-course dinner for a family of three). The Cut Steak and Seafood Grill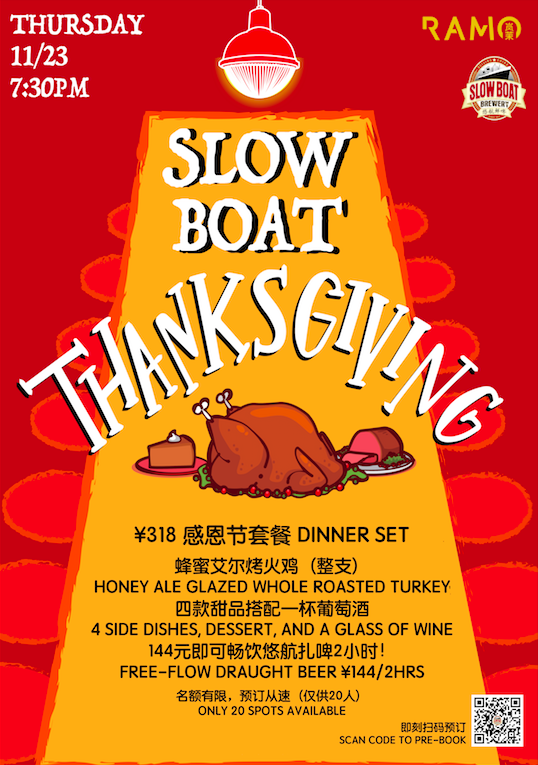 Nov 23: Slow Boat Thanksgiving
Slow Boat invites you, your family, and your friends to enjoy their classic Thanksgiving spread. RMB 318 gets you roast turkey made with a Helmsman's Honey Ale glaze (cooked up by the crew at Ramo), traditional stuffing, chunky mashed potatoes and gravy, creamy green bean casserole, sweet cranberry sauce, and pumpkin pie (by local non-profit bakery Bread of Life), plus a glass of our house wine. Add free-flow beer for only RMB 144. 7.30pm. RMB 318, RMB 144 (free-flow beer). Maximum 20 seats (each table of 10 gets a whole bird)
Nov 23: Thanksgiving at VSports
Gongti's primo sports bar VSports invites you to celebrate Thanksgiving with a packed menu of sole ceviche and figs with herb sauce, creamy pumpkin soup, roasted turkey breast with gravy, and side dishes such as sweet potato casserole, sauteed green vegetables, cranberry sauce, and, of course, pumpkin pie to finish you off. Stay warm throughout with drink specials on mulled wine. 5-11pm. RMB 179, RMB 159 (with advance booking). VSports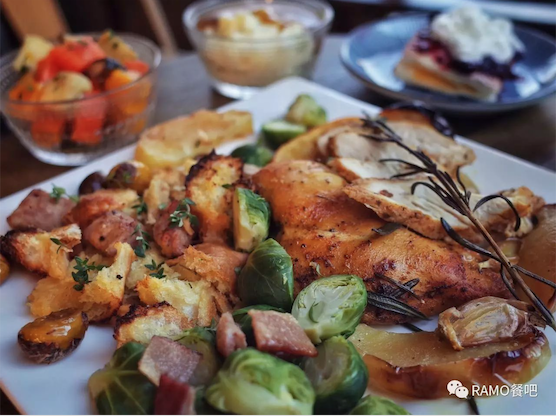 Nov 23: Ramo Thanksgiving Dinner
Ramo is offering a packed Thanksgiving menu this year of honey apple roasted turkey (one per every 10-15 people), sausage chestnut bread stuffing, mashed potatoes with gravy, brussels sprouts with bacon, roasted vegetable salad, homemade brownie with ice-cream, and pumpkin pie with cream. Price also includes one glass of wine (mulled, sparkling, or otherwise). 6-10pm. RMB 368, RMB 328 (advance). Ramo Restaurant and Bar  
Nov 23: Thanksgiving Buffet Feast at Swissotel Beijing
Swissotel Beijing put together a lavish buffet this Thanksgiving, filled with roast turkey, festival desserts, and somewhat less traditionally, a selection of Swiss foods as well. 6-9.30pm. RMB 350 (includes free-flow), RMB 688 (family package). Swissotel Beijing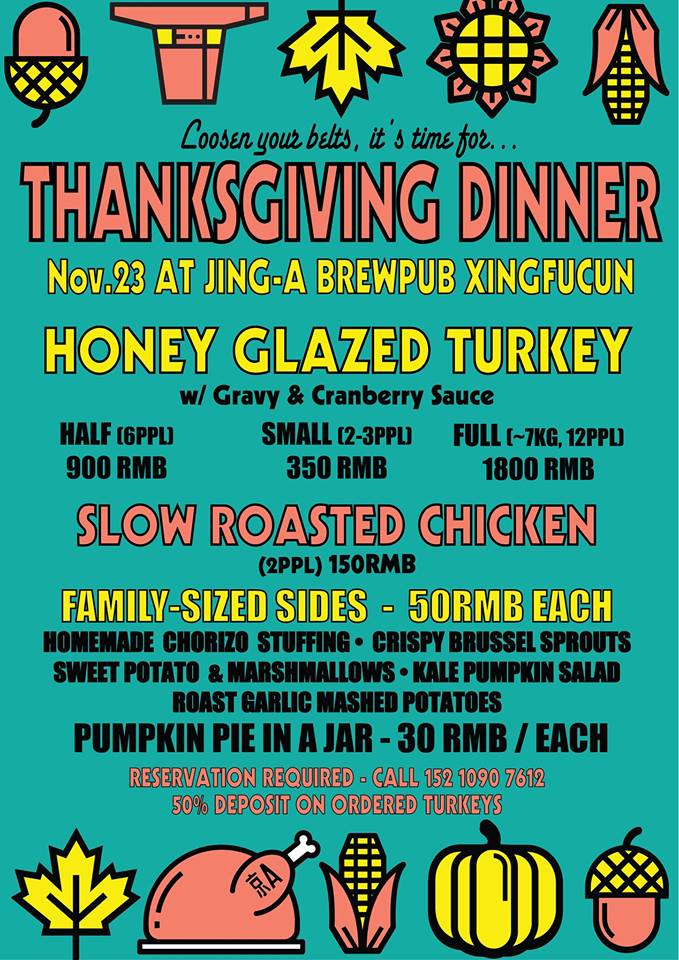 Nov 23: Thanksgiving Dinner at Jing-A Brewpub Xingfucun
Toast with some delicious craft beers and traditional Thanksgiving delicacies at 京A Brewpub in Xinfucun on Nov 23. Half of a honey glazed turkey with gravy and cranberry sauce (RMB 900) is perfect for six people, or add a whole slow roasted chicken (RMB 150) to really pig out. Al a carte sides, priced at RMB 30 each, include homemade chorizo stuffing, sweet potatoes with marshmallows, crispy brussel sprouts, and pumpkin pie in a jar. Reservations are required, also note a fifty percent deposit is required on all turkeys ordered. 4pm onwards. Jing-A Brewpub Xingfucun
Nov 23: Thanksgiving at Kerry Hotel
For a more all inclusive experience, the Thanksgiving Feast at Kerry's Kitchen at the luxurious Kerry Hotel in Guomao may be the best choice. For RMB 338 per person, indulge in roast turkey with stuffing, salmon, prime beef, roasted chicken and pumpkin pie along and all your traditional favorites, all prepared by the top chef's at Kerry's Kitchen. Child friendly entertainment will also be provided. RMB 338. Kerry Hotel Beijing
Nov 23: Thanksgiving at Nola
For something a little different this Thanksgiving, Nola is whipping up a meal Cajun-style, with a complete spread of turducken, leek and mushroom stuffing, and much more, promising to put you in a food coma till next week. 6-11pm. RMB 168. Nola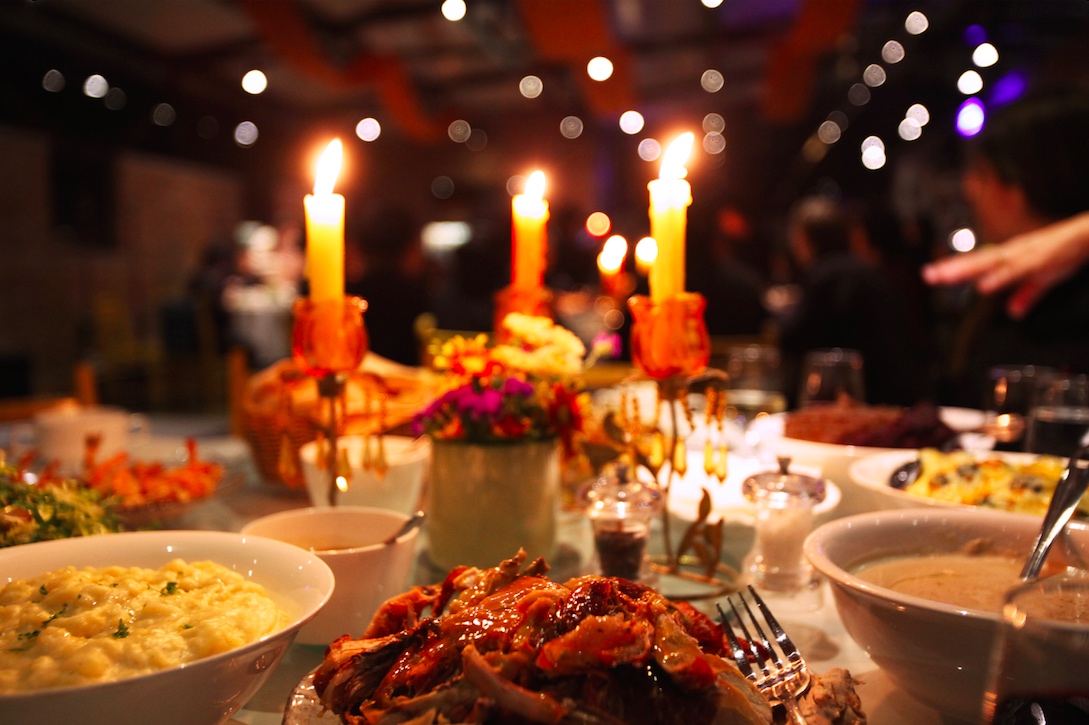 Nov 23 and 25: Thanksgiving at The Brickyard Retreat, the Great Wall
The Brickyard Retreat combines good ol' American traditions with a Chinese view, holding their Thanksgiving family-style roast turkey dinner with all the trimmings and with a dessert buffet by the Great Wall. There'll be live jazz for the adults and a kid's playroom to keep the young'uns entertained as well as a professional teacher to keep them under control. For those who can't get away for Thursday, they'll hold a second chance to attend on Saturday night. View the full menu and register here (Nov 23) or here (Nov 25). RMB 388, RMB 158 (children). The Brickyard Retreat
Nov 23-26: Thanksgiving Feast at Grill 79
Spend this year's Thanksgiving feasting on the offerings of Chef Deivid Paiva with a four-course menu of traditional American fall flavors inspired by contemporary European cuisine, including pan-seared scallops with sweetcorn polenta and a crustaceous sauce, butter squash cream soup and smoked duck breast, as well as a main of turkey roulade with sides of mashed potatoes, green beans, caramelised red onion, and cranberry. Dessert includes a pumpkin puree-filled cannoli topped with coconut shavings and cheese mousse. 5pm. RMB 428. Grill 79
Nov 23-26: Celebrate American Thanksgiving With Lily's American Diner
Celebrate Thanksgiving at Lily's American Diner this year with a choice of a garden salad or soup, freshly roasted US-imported turkey with homemade stuffing, mashed potato, sweet potato, mixed vegetables, cranberry sauce, and gravy. Dessert consists of homemade pumpkin pie with whipped cream, apple pie, or chocolate brownie. 5pm-midnight. RMB 199, RMB 159 (children). Lily's American Diner (all three locations)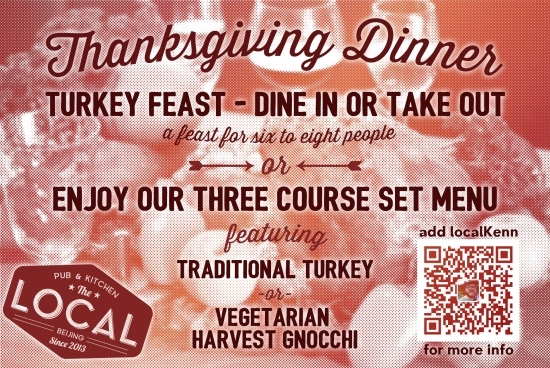 Nov 23 and 26: Thanksgiving Dinner and Brunch at The Local
This year, The Local gives the hungry masses what they're hankering for: not one, but two options to feast this Thanksgiving. Either get your fix on Thursday evening (Nov 23) or indulge on the following Sunday (Nov 26) for a special Thanksgiving brunch. During each time slot, there'll be hulking portions of both carnivore- and vegetarian-friendly options served as individual meals: meat: RMB 388, RMB 300 (advance); veggie: RMB 238, RMB 200 (advance); or as a set for 6-8 people (RMB 1,800). Nov 23, 6-8pm; Brunch, Nov 26, midday-3pm. The Local Bar and Grill
Takeaway and Delivery Options
The Bake Shop Thanksgiving (order by Nov 20)
The Bake Shop is offering a special Thanksgiving pickup/delivery menu that includes pies, stuffing, pastries, and breads. Simply order by noon via WeChat: microbakery by Nov 20 and have everything delivered to your door come the 23rd. Must reserve by Nov 20. The Bake Shop
The Cut Turkey Taxi (48-hours notice, available till Dec 31)
Why restrict Thanksgiving to just one day? Why not have it delivered to you every day till the end of the year! The Cut Steak and Seafood Grill at Fairmont Hotel is offering just that. Their Turkey Taxi comes with traditional condiments and sides dishes such as a slow-roasted 7-9kg turkey, classic gravy and cranberry sauce plus a choice of two sides: confit potatoes, glazed red wine cabbage, sweet potato mash with raisin, caramelized apple and chestnuts, or sautéed brussel sprouts with bacon. 9am-7pm. RMB 1,588. The Cut Steak and Seafood Grill
Home Plate Takeaway Turkey (pick up on Nov 23)
As well as their regular Thanksgiving dinner, they've put together a set of all the necessary dishes to feed up to 10 people at the venue of your choice! Alternatively, order each dish à la carte (see full list and pricing inside). RMB 1,688 (entire package). Pick up between 1-6.30pm on Nov 23. Home Plate BBQ
Takeaway Turkey at Kerry's Pantry (pick up on Nov 23)
Save the time and trouble of preparing a roast turkey by ordering your main dinner centerpiece of roasted turkey with stuffing and gravy from Kerry's Pantry, big enough to feed 6-8 people. The turkey also comes with chestnuts, roasted potatoes, baby carrots, braised Brussel sprouts, zucchini, cranberry sauce, and more. Orders can also be placed for additional (Christmassy) holiday treats like honey glazed Christmas ham with gravy, pure Iberico Bellota ham, English plum pudding with brandy sauce, Christmas stollen and Christmas English fruitcake. RMB 998 per set, one-day advance booking required.
Lily's American Diner Thanksgiving Home Delivery (order by Nov 21)
For those wanting to enjoy dinner at home with friends and family, Lily's American Diner also offers to deliver their goods straight to your door. A whole roasted US-imported turkey costs RMB 139/kg (average between 6-9kg), whereas sides are RMB 30 per person and include homemade stuffing, mashed potato, sweet potato, vegetables, cranberry sauce, and gravy. Must reserve by Nov 21. Lily's American Diner
The Local Thanksgiving Takeaway (take home between Nov 21-26)
As well as their dine-in options, The Local is also preparing meals for hungry patrons to take home Monday (Nov 20) through Sunday (Nov 26). Options include a turkey feast fit for six to eight hungry people with large, self-service portions of each of the sides (RMB 1,600); single meals with 300g of turkey and a helping of each of the sides; and a vegetarian option. Contact WeChat: localkenn for inquiries (takeaway feasts are by pre-order only and require a deposit). The Local
Nola Thanksgiving Delivery
Get Nola's Cajun-style Thanksgiving offerings delivered straight to your house. Call 8563 6215 for more details. Nola
Not yet stuffed? See all of this year's Thanksgiving options via our Thanksgiving events section here.
Photo: commpartners.com