We can't hide our feelings towards Booth's. Nope, not the high-end supermarket British variety, the cousin of Whole Foods in America, but the lovely Japanese cake shop, which first opened in 2014 nearby Liangma River and then followed up with a second branch in Wangjing.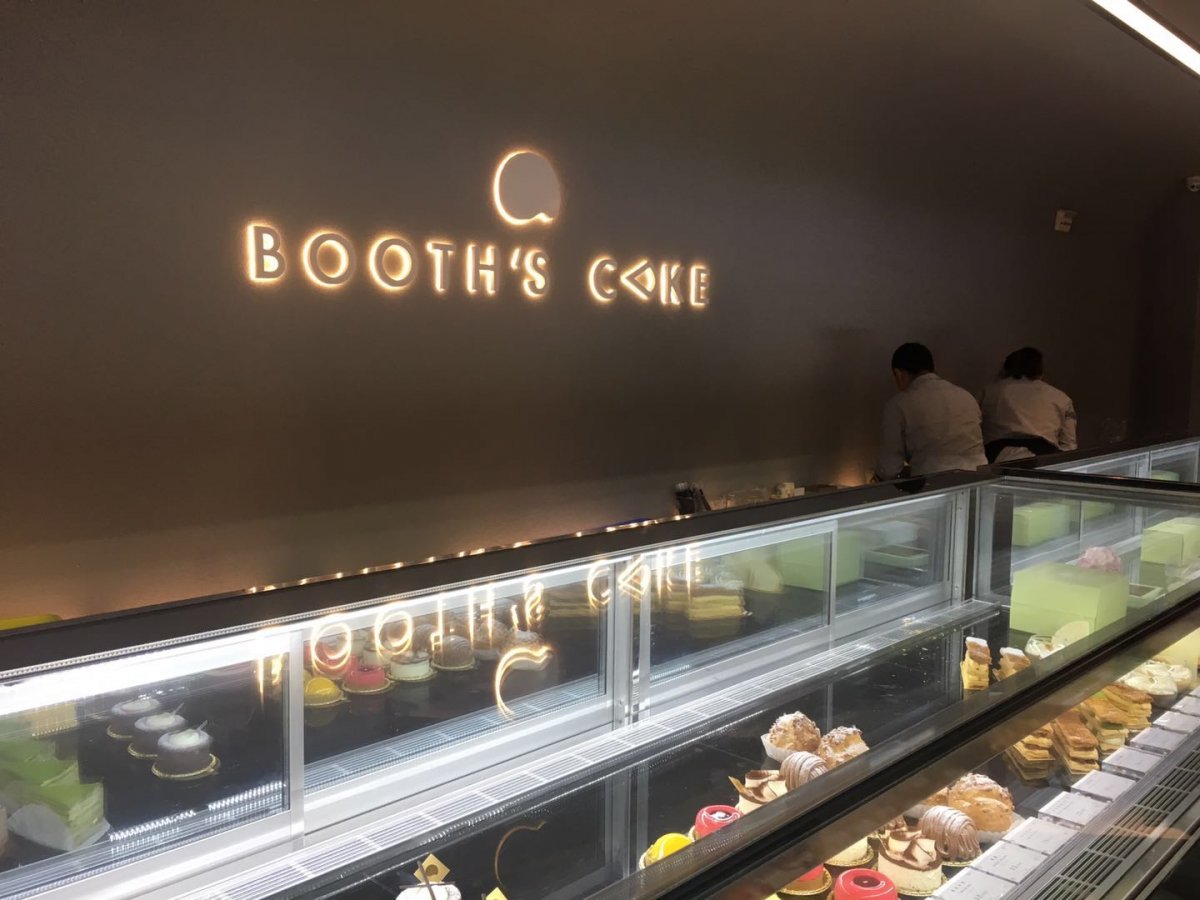 The third branch of Booth's Cake now settles in Sanlitun, in the inconspicuous alley of Xingfuyicun, next to Red Rose Xinjiang Restaurant. We have to confess, it's been open for a while now but we still wanted to drop by and update you on what's new at this three-year-old – and growing – chain.
Unlike their cozy and wood-laden Liangma River location, Booth's Sanlitun branch takes a more modern aesthetic, largely using a gray and bronze palette. The pastries sit neatly in glass counters on top of black velvet, as if they were jewelry. If the appearance is more upscale, so are the offerings, which now include lava cake, pies, brownies, and tarts, which are all particularly fresh given that their central bakery is located nearby, we are told. There are also roll cakes (RMB 28-35 for a piece or RMB 60-130 for a roll), that come in original, chocolate, matcha, and red velvet varieties.
The new Napoleon matcha cake (RMB 36) is the real deal; the ultra-flaky and crispy layers are covered in maple syrup and house moist chocolate frosting and sliced banana in between. The roll cake (RMB 28) featured a fluffy chiffon-cake center brushed in slightly sweet whipped cream; we only wish that the cream was heavier. However, we respect the Japanese-style desserts here for not being too sweet. If you need a cup of coffee, they have plenty of options for caffeination too.
The second floor is particularly airy and spacious, with a long table for 20 people, and several smaller tables, which makes it a popular spot for idle and wealthy youth to spend some time nibbling delicious cakes while taking a zillion selfies. During our visit, the fire alarm rang on noisily in the background. We looked around nervously, but the only movement at this half-full bakery was forking and chewing. I guess that goes to show how good the pastries at Booth's Cake are.
Booth's Cake
Mon, Tue-Sun 10am-9pm. Jia 6, Xingfuyicun Xili, Xinduyicun Qixiang, Chaoyang District (6462 1022)
布司蛋糕:朝阳区幸福一村七巷幸福一村西里甲六号
More stories by this author here.
Email: tracywang@thebeijinger.com
Twitter: @flyingfigure
Instagram: @flyingfigure
Photos: Tracy Wang, Dianping