Though it's all too easy to assume French cuisine is too elaborate, rich, and heavy for everyday home cooking, Olivia Guinebault is striving to render that misconception moot. The French expat recently published a trilingual cookbook called Cuisine Mei Wenti to help native Chinese and fellow English-speaking foreigners all learn the ways of wholesome, French-style home cooking. Below Guinebault, who has also taught cooking classes in the capital, tells us more about giving a Beijingers a new appreciation of the term bon appetit.
How did you get started with the Cuisine Mei Wenti cookbook?
People always love to ask me: Are you a chef? How did you come to publish a book and open a cooking academy?" The answer is: cooking and multicultural cuisine have always part of my family life. My grandparents lived in Morocco, I was born in the tropical climes of Reunion Island, then lived in France, studied in the United States and was expatriated in China and Spain, which made me very accustomed to traveling, discovering new cultures and sampling world cuisine from a young age. My mother always prepared varied meals for lunch and dinner, using exotic ingredients. Sharing nice meals is customary for my family. It is in my DNA!
What inspired you to write this cookbook?
When I moved to China I realized that French cuisine is appreciated around the world for its sophistication and delicious flavors, but it is often perceived as being expensive and difficult to recreate in our own kitchens.
Debunking the myth that French cuisine is only for experts, I decided to share my passion and started my first cooking classes, teaching Chinese mums and ayis the secrets of healthy, easy-to-make French cuisine.  My goal was to dispel the myth that French cooking is difficult to master and too heavy to eat regularly. I realized how much I love sharing my tips, and I relished the feeling of being useful for these curious students.
Quickly I noticed the desire of my expat friends to have traditional meals made by their ayis at home. They tried to teach them some survival recipes: lasagna, pancakes, vegetable soups, but confessed this was not enough to feed a family. They quickly faced various issues like the language barrier, along with a lack of time or desire to teach these recipes to their ayis. Moreover, they always had dilemmas like: "My ayi cooks well the first time but then it no longer works; she is afraid to take initiative with recipes, so I must give her daily ideas because she does not know how to build a balanced menu; she never takes notes, then forgets what I showed her; she uses too much oil, too much salt, etc."
Having balanced menus is so important for my family, so I kept these discussions in mind, took intensive Mandarin classes and, a few months later, set up a step by step method, focusing on understanding our cultural differences. From there I published the bilingual cookbook inspired by my method and founded Cuisine Meiwenti Academy.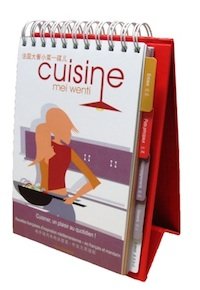 What else makes this book unique?
Teaching people how to cook does not mean just giving them a recipe and showing them the techniques. It requires time, dedication and mainly understanding the cultural references of your trainee. In France, I was lucky to work with a team of Chinese chefs from luxurious hotels in Paris. It helped me understand what their food approach was. Thanks to this experience, I can now understand the common mistakes made by my students and bring them solutions adapted to their way of thinking and to their cultural references. It has been extremely useful, especially in training people who have no cultural references.
A few examples of common questions I worked to address: Why do some ayis cook lasagna and potato puree in the same meal? Because for Chinese, potatoes are considered to be vegetables, compared to foreigners who deem them to be carbs. Or: Why don't they add quantities according to the number of guests? Because in China the more guest you have, the more dishes you prepare. We foreigners adapt the quantity, they adapt the number of courses.
Aside from being a cookbook, this book also serves as a basic guide with helpful tips for beginners like:
•    Do's and don'ts
•    Cultural differences in cooking
•    How to set up a table
•    Examples of balanced menus
•    What are the main ingredients and how to prepare main vegetables
•    A shopping list
Tell us about the benefits of a multilingual cookbook.
The initial idea was to make this book for expats, so that they will be able to cook with their ayis. I wanted to not only provide ingredient lists but also working steps are translated exactly in the same order. That way, they can go line by line and follow the recipe together.
The book's shopping list is also bilingual with pictures, which is very helpful if you'd like your ayi to do the shopping. This multilingual version is also useful for Chinese who want to learn English or French through cooking.  Last but not least, I could have made only a Chinese version, but many expats who don't like to cook admit they love the book because the recipes are healthy and easy to prepare.
And what about the look of the cookbook, especially its pictures and design?
Customers have told me they appreciate its practical shape, and how you don't need to use something heavy to keep one of its pages open while cooking. It is divided into four sections, and each section has its own summary. It also has very nice pictures, which is very useful for Chinese who usually don't know what the dish is supposed to look like. So I think this is the perfect gift for Chinese New Year – not only for your ayi but also a Chinese friend, a colleague, or a client!
To order the Cuisine Mei Wenti Cookbook, search oliviaguinebault on WeChat, email info@cuisinemeiwenti.com or search www.cuisinemeiwenti.com/blog.
More stories by this author here.
More stories by this author here.
Email: kylemullin@truerun.com
Twitter: @MulKyle
Instagram: mullin.kyle
Photos: Courtesy of Olivia Guinebault