If you haven't yet made your escape from Beijing, hunker down: getting in and out of the city will be extremely busy this upcoming Labor Day holiday (Apr 29-May 1) when large crowds and multiple traffic controls are poised to make it the city's busiest May long weekend in history.
Saturday's evening rush hour traffic is expected to be Beijing's busiest of the year. The long weekend will see local traffic volume increase by 10-12 percent to 1.21-1.23 million vehicles as 620,000 cars enter the city to displace the 610,000 cars that are trying to leave.
Meanwhile, with passenger flow expected to jump to 549,000 on the first day of the holiday, an additional 18 trains have been booked for Beijing Railway Station. To help alleviate the crowds, subway service leaving Beijing South Railway Station on Line 4 will be extended 30 minutes to 11.45pm from Saturday, Apr 28 to Tuesday, May 1.
Tian'anmen Square and its daily flag raising ceremony have always been some of Beijing's most popular tourist attractions during Labor Day, but getting there will be a problem as the city shuts down all local transportation to the area.
From midnight of Apr 28 to midnight May 1, Beijing Metro subway stations Tian'anmen East and Tian'anmen West on Line 1 will be closed to the public as will Qianmen Station on Line 2. During the same time, eight surface bus routes that normally pass through Tian'anmen will be temporarily re-routed while other busses will not make their regular stops in the area. This is because the traffic around Tian'anmen Square will be banned, preventing all vehicles from entering the area.
May holiday or not, this weekend is going to be popular at any rate as temperatures are forecast to hit daytime highs of 30 degrees Celsius. But those wishing to enjoy the great outdoors of Beijing's many parks are advised that they will be extremely busy: due to popular demand, 11 of Beijing's parks and horticultural gardens are offering admission tickets for sale online.
Whatever you do this Labor Day holiday, please keep in mind that certain hospitals won't be open during the break. In Chaoyang District, the cancer ward of the China Medical Science Academy will be closed all three days of the holiday while the Beijing Obstetrics and Gynecology Hospital of the Capital Medical University will be closed on Monday (a full chart of closures can be found here, in Chinese).
If you're still not sure what to do, just make sure you're not stuck in any of these following city locations during Saturday's crazy evening rush hour (highlighted in red):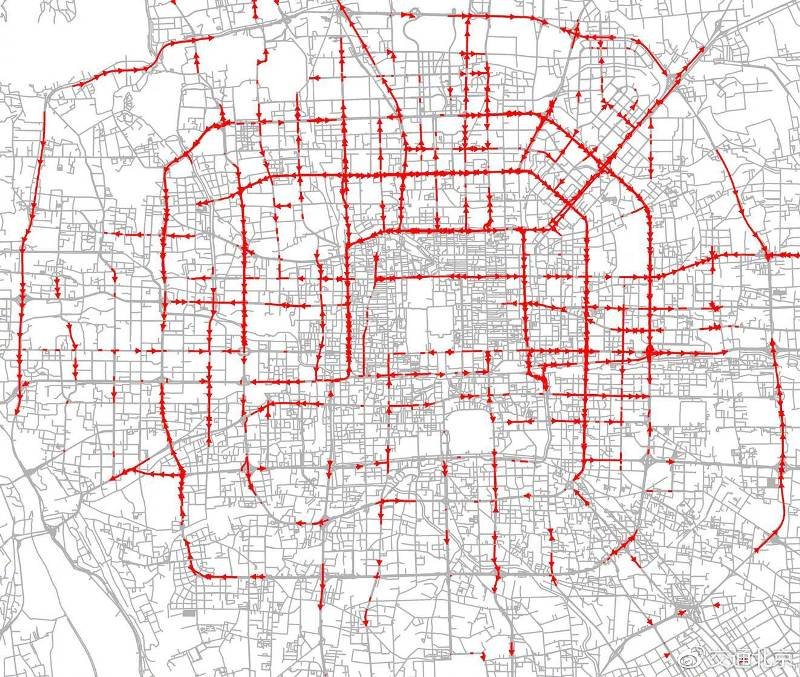 More stories from this author here.
E-Mail: charlesliu1 (at) qq (dot) com
Twitter: @Sinopath
Images: Weibo