Chinese media is raising the alarm over one of the year's most popular toys for being a safety risk to children, a warning that comes years after previous warnings had already been made.
Last week, an 11-year-old Qinghuangdao boy was the latest child to fall victim to magnetic beads, small balls with magnetic properties that can be arranged to build intricate designs and models, or even jewelry and sculptures. The boy had 21 magnetic beads surgically removed from his intestines after the individual magnets bonded into a single, looping mass.
On its own, a magnetic bead won't do much internal damage upon being swallowed. However, when swallowed in multiple quantities, the mutual attraction of magnetic beads is strong enough to perforate intestinal walls and cause serious medical problems.
Now recovered, the unidentified boy had been vomiting and suffering from a high fever for four to five days before he was finally brought to Beijing Children's Hospital for surgery, the only possible method for extracting magnetic beads from inside a body.
And, as it were, the Hebei boy is only the latest of many victims in this ongoing trend.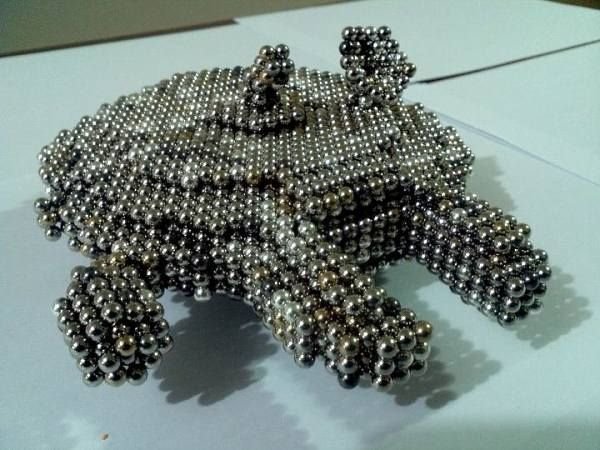 According to Beijing Children's Hospital emergency room surgeon Liu Tingting, her hospital has treated one or two patients every month so far this year for swallowing bubble magnets, a trend that coincides with the toys growing popularity among Chinese parents.
As the Beijing Morning Post reports, magnetic beads have become such a hot-selling toy this season that stores are having trouble keeping up with demand. However, despite being a safety hazard for young children, magnetic beads have come to be known as a "children's developmental toy" that is sold in stores in areas around Chinese schools and kindergartens.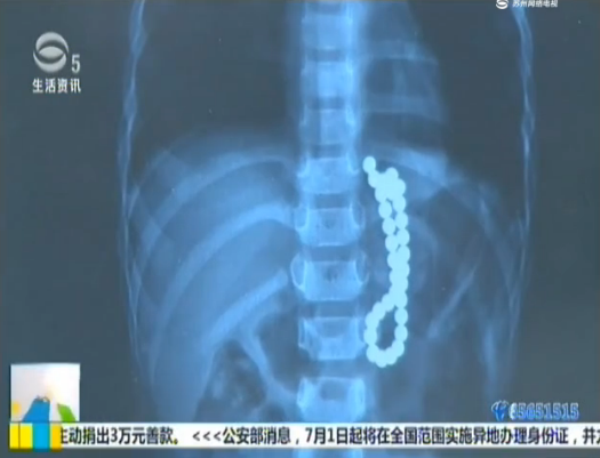 If that wasn't enough, retailers aren't keeping up with safety regulations. Even though different store employees have told the Beijing Morning Post different answer that range between eight and fourteen as being the youngest suitable age, child care specialists say magnetic beads are not suitable for children under the age of six.
Besides last week's case, other recent bubble magnetic victims include a two-year-old Jiangxi boy who thought the six magnetic beads he swallowed to be "candy" as well as an 11-year-old Nanjing boy who shoved 12 bubble magnets up his urethra because he was "curious."
And yet, despite the threat they pose towards children, magnetic beads have caused problems as far back as 2015 when a four-year-old Zhenjiang girl named Xiaomiao became dangerously ill after swallowing ten bubble magnets. A report from that time warned parents to be mindful of the toys they select for their children, ensuring that they don't give them anything that is smaller than the opening of their mouths.
Developmental toys are part of a trend among middle-class Chinese parents to prepare pre-school children with tools that may give them a winning edge in an education system where competition begins at kindergarten and lasts until the gaokao university entrance exam. When not reciting or studying, Chinese children are given toys like Rubik's Cubes in order to stimulate their minds.
Made from rare earth elements, magnetic beads may be better known by commercial names that include Buckyballs, Zen Magnets, and Neoballs. Magnetic beads were banned in the USA in 2014 after two-year-old Annaka Chaffin died from swallowing seven magnet balls but had its ban lifted two years later.
As hysterias go, magnetic balls are not the first toys to grip Chinese parents in fear. Previously raised media outcries included warnings against stink bombs and miniature crossbows that could fire toothpicks.
More stories from this author here.
E-Mail: charlesliu1 (at) qq (dot) com
Twitter: @Sinopath
Images: cszTV, Weibo, aihami, lolWut, buckyballscube