Billing itself as the "first Chinese arts festival on gender," the four-day LookOut Fest certainly has ambitious aims. Be it plays about transgender characters, panel discussions about women, representations of power on and off the stage, lectures about men and the conventions of masculinity, the festival encompasses a wide range of mediums, styles, and topics to dissect modern day gender dynamics.
Slated to take place Jul 6, 7, 8, and 15, the festival is organized by Ibsen International and the China AIDS Walk in collaboration with the Faculty for Dramatology and Applied Theatre Studies of the Central Academy of Drama in Beijing. The artsy stage, screen, and video installations that will be showcased position themselves as active showcases for attendees to ease themselves into topics that are too often ignored, shunned, or censored. Meanwhile, Beijingers who themselves feel marginalized because of their gender are invited to enjoy the socially conscious works in a safe and open space.
Martin Yang is the co-curator of the works at the festival and also known for his work on the All Gender Toilet Program and other groundbreaking endeavors as the project manager at Beijing Gender Health Education Institute, or BGHEI. He tells the Beijinger: "Although it was in the spirit of the pride month when I first had the idea of organizing a festival in Beijing, I gradually gravitated towards a very simple question that matters to me dearly: 'what life do I want to live in Beijing?'"
Yang adds: "I am drawn to the diversity of human cultures and I wish to explore possibilities of life with people who have unique perspectives and life experiences. Art is a magic medium will probably create a folding space in Beijing to let people who usually won't meet cross paths and have a conversation on something seems so common – gender. Gender diversity is only a small portion of the whole diversity universe, but it's a very attractive star and it keeps nudging us to look at it over and over again."
When asked how the plays, art installations, and other works at LookOut might affect attendees, Yang says: "People might have a soul-level shock, become more understanding of some aspects of gender, expand or narrow one's own universe, or get nothing at all when out of it and walk out of the festival. But isn't that the beauty of life?"
He adds that the fest's program will be unique because he and his cohorts endeavored to make LookOut as inclusive and creative as possible. The roster is made up of both established and emerging artists, locals and foreigners, and "we also have community-based art groups partaking that represent voices of women, migrant workers, people with disabilities, and queers."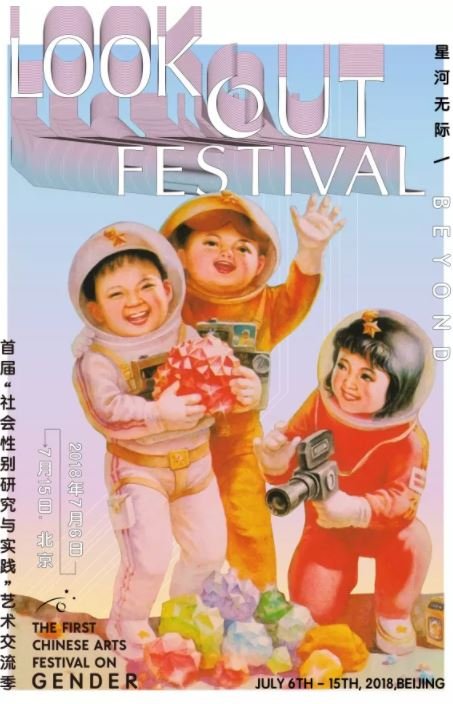 LookOut will take place Jul 6, 7, 8, and 15. For more information about the full festival schedule, descriptions of the featured works, and how to buy passes, click here.
More stories by this author here.
Email: kylemullin@truerun.com
Twitter: @MulKyle
Instagram: mullin.kyle
Photos: usedwigs.com, courtesy of LookOut