While time is running out to get in on all the feasting, cheers-ing, wining and dining that are part and parcel of Chi Fan for Charity, you thankfully still have a chance to squeeze into this can't miss the culinary occasion.
Even though many of the tables available for this foodie inclined fundraiser are already spoken for, you and your special someone, or small a party of friends, can still book some of the individual seats that are up for grabs as of today (Monday, Oct 22; for more information, click here or scan the QR code below). Only ten restaurants out of the grand total of 57 have such vacancies, so it's best to act quick, according to Preston Thomas, director of restaurants for this year's CFFC.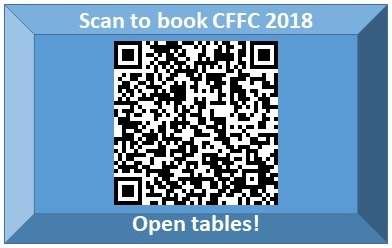 "Currently we had a huge showing of support by people signing up to be table hosts. However, there are still some tables at some amazing restaurants left. For these we are going to sell them as individual seats ranging from RMB 500-800 a person," he says, adding that that fee includes a three-course dinner and entry to the free flow after party at Xi'an Bar in EAST Hotel. Thomas adds: "Don't miss this chance to donate to a great cause and make a difference in the community. Let me be blunt, this event will sell out so better to book your seats early!"
Here is a list of the remaining eateries with individual seating:
Cloud Kitchen (Chinese, Haidian)
Doko (International health conscious; WAB/Beijing Riviera)
Great Leap (Microbrew/Pub Fare; Liangmaqiao)
Root Pop (Vegan; Shuangjing)
The Local (American; Sanlitun)
Tribe (International health conscious; Wangjing)
Beersmith (Microbrew/Pub Fare; Guomao)
Karaiya (Chinese; Sanlitun)
A History of Charity
Chi Fan for Charity (CFFC) is a yearly fundraising event that, for the past decade, has mobilized Beijing foodies and restaurants to break bread for a good cause. After selecting a goodwill recipient on an annual basis, CFFC then partners with restaurants across town to donate tables, which foodies then shell out cash to host for groups of friends, thereby turning a regular night out into a lifeline for those in need.
This year's recipient is Educating Girls of Rural China, that will dedicate the CFFC funds to sponsor female students to complete their undergraduate degrees within the greater Beijing area. Read more about the organization here.  Want to know more? Follow Chi Fan for Charity on WeChat by scanning the QR code below.
Photos: Unsplash, courtesy of Chi Fan for Charity