As the winter wind rattles your bones, and the frigid air leaves your skin feeling parched, it can be difficult to find comfort or relief. Thankfully Beijing and its surrounding areas play host to a number of cozy hot springs that can soothe your winter blues and melt away your icy aches. Below we list a few of our favorites. (We'd recommend checking on Meituan, Dazhong Dianping, Amap, and other apps for big discounts before you go.)
Chun Hui Yuan Resort
Rose, milk, and red wine remedies are all available to augment the invitingly hot water at this Shunyi resort. Shops, restaurants, hotel rooms, and meeting rooms also feature in addition to its 13,000sqm of hot springs. Take bus 942 from Dongzhimen to Yuzhuang. It's then a 10-minute walk from the bus stop.
Daily 24-hours. RMB 268 (weekends), RMB 168 (weekdays). 37 Yuzhuanduan, Gaosi Road, Shunyi District (6945 4443) 
春晖园温泉度假酒店:顺义区高泗路于庄段37号
Huaqing Hot Springs
Situated in the northeastern part of Chaoyang, this popular hot spring resort is more conveniently located than some of its further-flung counterparts. It has 12 types of indoor and outdoor pools, along with nine private Japanese and Thai spa rooms, a sauna, hot stone kangs, and TCM massages. Nearest subway stop: Lishuiqiao on Line 5.
Daily 9am-midnight. RMB 188. 2 Lishui Qiao, Changping District (8482 6665) 
华清温泉宾馆:昌平区立水桥甲2号
Jinyu Fengshan Hot Springs Resort
This new hot springs resort sprawls over 12,000 square meters and features more than 70 kinds of hot springs. Some pools are surrounded by lush forest backdrops, while others are nestled between mountain trees or housed indoors. The resort also has four-star facilities comprised of 310 guest rooms, a villa club, and restaurants. To get here on public transport, take bus 886 to the stop labeled Fengshan Hot Springs. A Didi ride from downtown to the resort will cost about RMB 170.
Daily 24-hours. RMB 268 (weekends) RMB 238 (weekdays). 10 Mangshan Road, Changping District (5129 6943) 
金隅凤山温泉度假村:昌平区蟒山路10号
Jiuhua Resort and Convention Center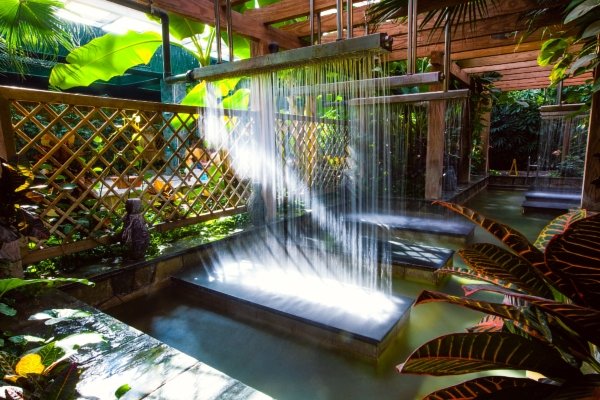 Billed as one of China's four major ancient hot springs, Jinhua's staff also like to tout the skin rejuvenating minerals in its water. Ten restaurants, 60 meeting rooms, and 1,200 guest rooms are also on hand. Get here by taking a cab (approximately RMB 25) from Tiantongyuan Bei on Line 5 or take bus 984 to its terminus.
Daily 8am-10pm. RMB 180. 1/F, Bldg A, Jiuhua Heights, 75 Shunsha Road, Xiaotangshan, Changping District (6178 2288/5945 9990)
九华山庄温泉度假村:昌平区小汤山顺沙路75号九华山庄1区1层
Longxi Hotspring Resort
If spending hours soaking in hot water isn't an indulgent enough experience for you, then you might want to opt for this luxurious resort. It's rounded out by a golf course, as well as a glitzy recreation center. Get there by getting a cab (about RMB 20) or bus X108 from Tiangongyuan at line 4.
Daily 9am-2am. RMB 249. 8 Shunjing Lu, Panggezhuang, Daxing District (8814 5556; service@huabintimes.com) 
龙熙温泉度假酒店:大兴区庞各庄顺景路8号
Need something of the food variety to warm you up?
These are our favorite hot winter dishes to dispel Beijing's sub-zero temperatures
Photos courtesy of Jinyu Fengshan Hot Springs Resort