It used to be that you could only get salads the bigger Western-style eateries in Beijing. Nowadays, however, our favorite leafy meal has gone mainstream, with more restaurants opening than pop-ups on a virus-riddled Chinese computer.
In fact, there is now so much salad around, the choice can be overwhelming, even for health nuts like us. And sadly, most of them are sub-par.
Nevertheless, there are some places that are doing it just right and aren't intent on putting you out of more than RMB 60 for the pleasure. Below we look at some of the less-upscale spots that can satisfy your veggie needs with a delicious bowl at a fair price.
Shubo is a committed basement-based stall, so if you are not into the subculture of underground eating, we'd recommend ordering via a food app instead. However, the in-store menu includes English while the app doesn't.
Shubo offers salads from RMB 32 to RMB 44 (the bowl of roasted goodness pictured above would set you back a measly RMB 31.5). The best feature here is the DIY salad: instead of pointing to containers of various vegetables that you're unlikely to know the names of in Chinese, you simply tick off what you want on the bilingual menu. Shubo also conveniently lists calorific values on their ready-made salads.
You can find Shubo on the lower ground floor of The Place, Topwin Mall in Sanlitun, Le Cheng center of Shuangjing, and four malls around town others.
Califorks is another lower-ground floor eatery, but is slightly more welcoming for dine-in customers than Shubo. Otherwise, the experience is pretty much identical; the menu is both carnivore and vegetarian-friendly and has a wider selection of grains and lower prices on nuts and seeds. Our favorite perk is that you can add a generous scoop of hummus to your bowl of choice for RMB 5.
Califorks is located on the ground floor of The Place, and is also available via all waimai apps.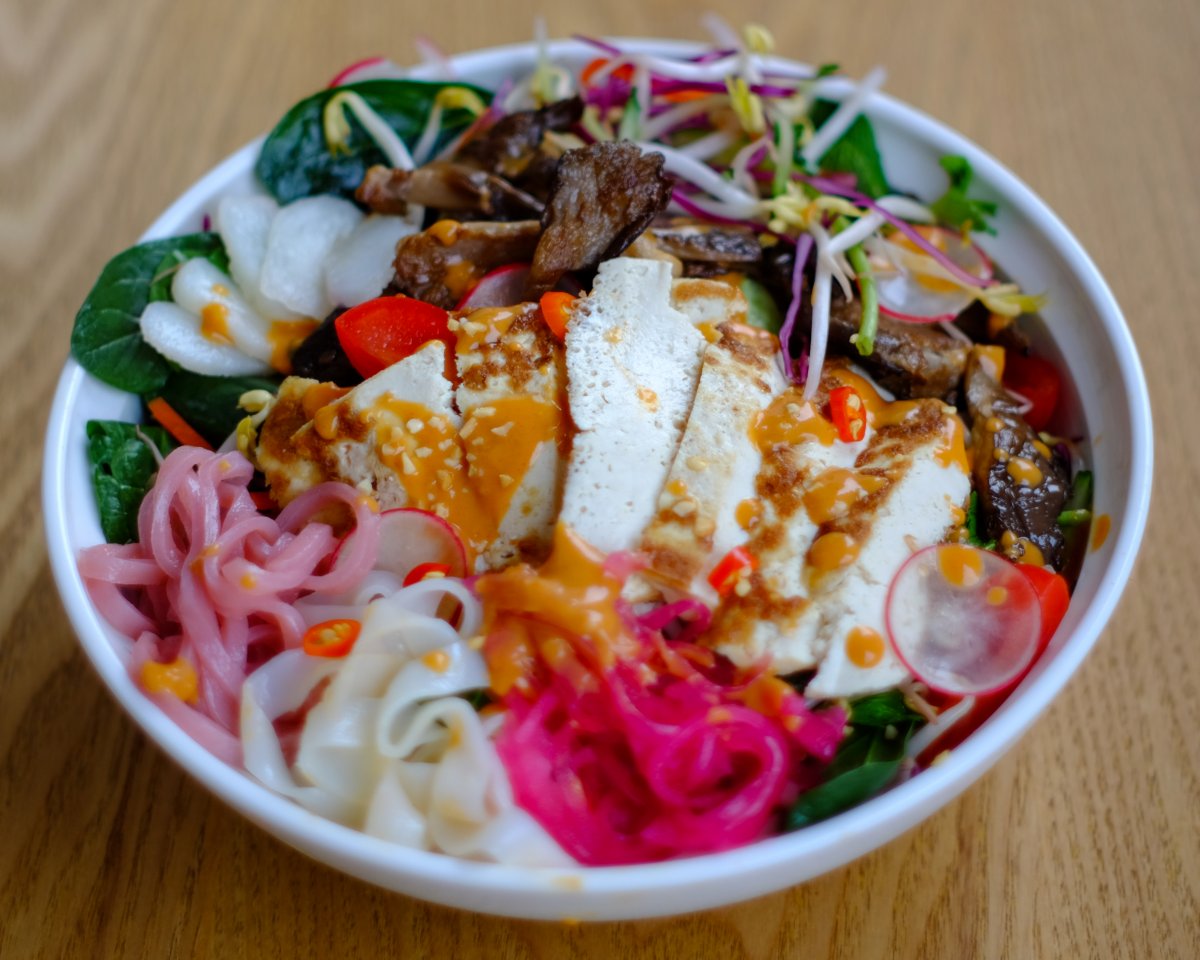 It's not technically a salad spot, but Rollbox certainly earns its place on this list. One of the few Vietnamese food outlets around town, and perhaps the only one to mix up a Vietnamese salad, there is nothing lacking about Rollbox's portions, which is proven by how long it takes just to get through them. A balance of pickled vegetables, noodles, a variety of greens, a dripping of sesame sauce, and a smattering of bird's eye chilies mean that there's no chance that your tastebuds will get salad fatigue.
The tofu and grilled mushroom (pictured above) or chicken bowls go for RMB 48 whereas the beef satay costs RMB 58. Rollbox is available for delivery on Sherpa's or JSS delivery platforms.
Poke bowls have been a big hit around the world for some time now but other than a couple of lukewarm attempts over the past couple of years, have not yet truly broken into the Beijing F&B scene. Besides simply okay Poke Inn, we have found ourselves enjoying a non-pretentious alternative: Poke U.
The Hawaiian tofu dish above costs a mere RMB 32 and comes with a filling selection of ingredients, including rich tofu set on a bed of rice, steamed vegetables, a boiled egg, steamed egg, and a sprinkling of furikake seasoning, which helps impart the aroma of the ocean even if no actual fish is present. Other bowls include salmon, shrimp, tuna, and the less fishy, sirloin steak variety (RMB 43-58).
This article first appeared on our sister site, the Beijinger. See more by this author here.
Photos: Tautvile Daugelaite, courtesy of Rollbox