Like any big city, the fast pace of life in Beijing can get overwhelming sometimes. When that happens, an escape to the countryside with the family can be exactly the prescription you need: quality time and an opportunity to relax and reset. Located just a two-hour drive north of downtown Beijing, Cedars Country Holiday Hotel offers just that, with facilities that will appeal to both parents and kids.
Set in a quiet valley on the banks of a small river, Cedars boasts 10 elegantly appointed rooms (from RMB 788 per night Mon-Thu, RMB 988 Fri-Sun) arranged around a central courtyard. Four of the rooms are large duplex suites that look out over the river and the hills rising beyond and each one has a unique theme or color scheme full of plush touches, setting Cedars apart from the rustic minimalism that many similar hotels and guesthouses favor.
No matter which room you choose, though, each is furnished with amenities such as tea and coffee making facilities, cozy slippers, and internet TV with access to hundreds of movies and cartoons (which, we'll admit, is useful to have on hand as a distraction for fractious little ones). The majority of rooms also have a bath, which will be a treat for those of us living in cramped downtown apartments.
Those looking for a particular sense of zen will want to choose the Japanese-style duplex suite (RMB 1,388 Mon-Thu, RMB 1,688 Fri-Sun), complete with tatami rooms and a deep wooden soaking tub. The suite has two separate bedrooms, making it a good option for families. This and the other duplex suites have a seating area downstairs where you can sit and watch village life go by outside the window.
Kids will love exploring the path alongside the river, simply hopping on and off stepping stones or perhaps fishing in the summer (rest assured that the water is fresh and clean). Alternatively, a path climbs up into the hills opposite the hotel, with pretty pagodas to stop at along the way. The path is quite steep so this might be a better option for older kids with stronger legs. There are also plenty of scenic areas and things to do within easy reach of the hotel. The closest is Yunmeng Mountain National Forest Park, a scene 2,208-acre area of mountains and forests. With the park's highest peak reaching 1,414m, this will be a popular choice for adventurous families, with a number of hiking paths, plus boating and other activities inside. The park is famous for its three "seas", namely the "sea of clouds", "sea of flowers", and "sea of trees." In winter, Huaibei International Ski Resort is just a 30-minute drive away.
At the end of a long day, come back to the hotel to enjoy a tasty home-cooked meal. The room rate only includes breakfast (two breakfasts in standard rooms and suites, four breakfasts in the Japanese-style suite) but other meals can be ordered a la carte from a menu of classic, country-style Chinese dishes, which are reasonably priced considering the remote location. The friendly staff can also whip up kid-friendly dishes and snacks such as breaded chicken breast and french fries if you give them advance warning.
In summer, they also offer chuan'r and whole roast lamb in the courtyard, a fun way to dine if you're traveling with a crowd. Vegetables for many of the dishes on offer, such as fresh cucumbers and tomatoes, are sourced from the hotel's own small farm nearby (or otherwise from trusted suppliers). Kids will enjoy visiting the farm and picking their own vegetables, a good way to get in touch with the food you're eating and maybe learn some Chinese words as well.
The hotel also offers a convenient round-trip pick up/drop off service from any  address in downtown Beijing for RMB 600 (vehicle seats three people). Opportunities for R&R don't come easy in Beijing but at Cedars, you can sit back and relax knowing you are in good hands.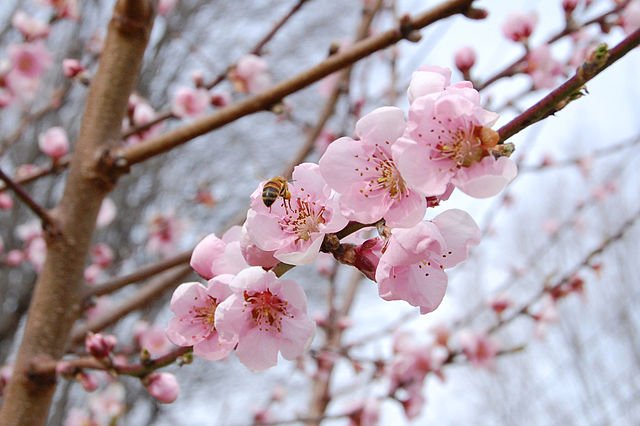 Spring Peach Blossom Festival 
From Friday, Mar 29 to Sunday, Apr 28, Cedars is holding a Peach Blossom Festival in celebration of the sea of flowers that appears in the area around the hotel at this time of year. In addition to the usual elegant rooms and delicious food, guests who visit during this time can enjoy a complimentary afternoon tea including handmade pastries stuffed with a floral filling. Call 132 6198 8851 now for more information and to make a reservation.
Cedars
13-14 Shangwenpu Village, Liulimiao Town, Huairou District (132 6198 8851)

柏璟•山水赋 乡村度假酒店:怀柔区琉璃庙镇双文铺村13-14号院
This post is paid for by Cedars
Photos: Uni You, Wikimedia