The kuaidi – delivery – business is booming in China, but if you're only using it to order things to you, then you're missing out on half the fun. It's time to discover the wonderful world of Didi-for-stuff courier services.
Forgot your keys? Ask your SO to send a spare set to you! Too sick to get to your friend's birthday party? Send the cake you lovingly prepared anyway! Going on a hot date but need a clean shirt? Delivery guy to the rescue!
While there are a few different apps which offer similar services in China such as Shunfengtongcheng 顺丰同城 and Meituan 美团 (yes, the food ordering app, they kinda do everything), one of the most reliable companies for rapid delivery of almost anything under the sun is Shansong 闪送. Shansong usually promises to deliver goods within an hour, and the app is pretty easy to navigate. It's also fast: claiming to need only 23 minutes for a 5km delivery, 33 minutes for a 10km delivery, and 39 minutes for a 15km delivery.
Before we begin, it's worth noting that like Didi, the service relies upon drivers, and if there are no delivery "little brothers" (小哥) in your proximity, well, you're out of luck. For that reason, we don't recommend using this service in emergencies (say, delivering insulin to your diabetic friend), unless you really have no other option.
It's also important to note that the delivery man will usually give you a call when he's waiting for you downstairs, so if you really don't speak any Chinese, this may not be the service for you.
How to place an order on Shansong
After you download and open the Shansong app, a page with a sending and receiving address will show up. Your current location will be pinned, giving you an estimate in minutes for how long it is likely to take for you "little brother" to show up after you pay (although in our experience, it usually takes longer).
Enter your address
After you enter the pickup and delivery address, you will be taken to a second page where you can add extra information about the order as well as details about the sender and receiver (name and phone number).
Enter information about the item you are sending
To confirm your order, you need to indicate what it is that you're sending. Options range from documents to flowers to an actual cake, though sadly no glitter bombs as of yet (though we would assume that they fall under 'miscellaneous'). You also need to indicate the weight of the item, using the + and – symbols to adjust as necessary. Don't wrap up the item yet, because the delivery man will need to inspect it first.
Pay
The very last step includes the final price of your package (shown on top) as well as your preferred method of payment (Apple pay is included!). For deliveries under 5kg and within 5km, the price is RMB 16. After that, RMB 10 is added for every additional 5km.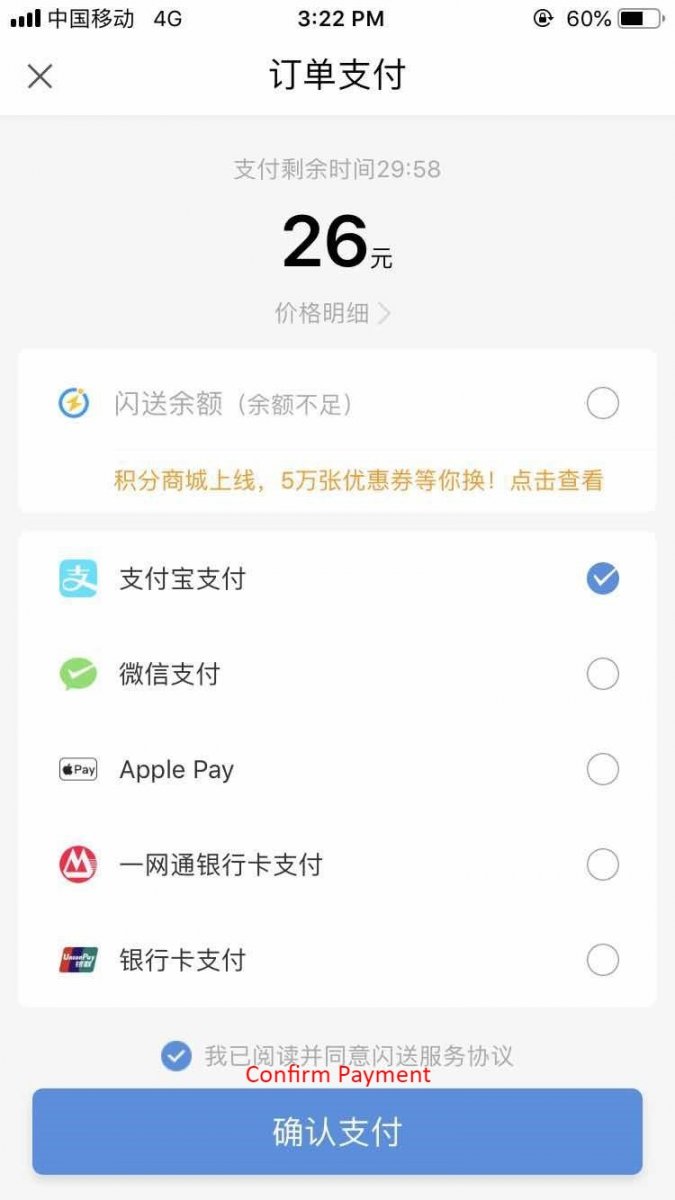 Await pickup
Now, just wait for the delivery guy to show up. When he arrives, he's likely to call you. A typical exchange would go like this:
您好,闪送,我到楼下了。Nín hǎo, shǎn sòng, wǒ dào lóu xià liǎo. Hello, It's Shansong delivery, I'm downstairs.
好的,谢谢,我现在下楼。Hǎo de, xiè xiè, wǒ xiàn zài xià lóu. Okay, thanks. I'll come downstairs now.
All being well, he'll inspect the item to make sure it is what you say it is, and be on his merry way.
Receipt
You can track the delivery progress on the app, and the order will close when the delivery is completed. Easy!
READ: How to Use China's Food Delivery Apps for (Hungry) Dummies
Images: Expertise.com, Shansong