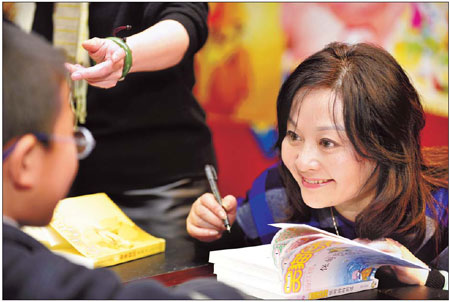 China's best-selling children's author Yang Hongying, is also China's weathiest. Photo by Chen Tuanjie / for China Daily

Tune into the beijingkids blog each Thursday as we take you on a quick tour of interesting and relevant items from around the web, all relating (however tangentially) to parenthood and family life in Beijing.
1. If you've never heard of author Yang Hongying, you probably should pay more attention. This Beijing-based author of children's books is the country's highest-earning writer and Harper Collins is making a new push for her recognition in English-language markets. The China Daily has this interesting profile of "China's JK Rowling" as well as a brief synopsis of her works here. English versions of Yang's "Mo's Mischief" series can be purchased on Amazon.com and Amazon.cn
2. Speaking of writers in China, you might be interested to know that the top 3 richest authors in China write children's books (and the top 2 foreign authors in China write children's books as well — JK Rowling and Thomas Brezina).
3. Ever wonder if you are making the right decision raising your kids in Beijing? Well you might like to know that 40 million people around the globe are learning Chinese these days, according to the Confucian Institute. Meanwhile, in the US, Chinese is the 7th most popular foreign language studied, according to data released last month by the US Modern Language Association … here's the top 10, plus change in enrollment since 2006:
1. Spanish (864,986) +5.1%
2. French (216,419) +4.8%
3. German (96,349) +2.2%
4. ASL (91,763) +16.4%
5. Italian (80,752) +3.0%
6. Japanese (73,434) +10.3%
7. Chinese (60,976) +18.2%
8. Arabic (35,083) +46.3%
9. Latin (32,606) +1.3%
10. Russian (26,883) +8.2%
4. Here's a nice little love story that residents and visitors to the Lido area can watch unfold: The love story of two swans that call Lido's Side Park their home.
5. More and more Chinese kids raised overseas are coming to the mother country for a look-see. Xinhua gives us this story of a few Chinese-American tweens that visited China for the first time over Christmas.
The couple behind Jenny Lou's: Wang Jianping (aka Jenny, left) and her husband Lu Xudong. Picture by Guo Yingguang of Global Times
6. So just who is this person Jenny Lou that feeds all of us expats here in Beijing? Newer residents would be surprised to read the rags-to-riches story of Wang Jianping and Lu Xudong, who got their start with a vegetable stand in Sanlitun 20 years ago. The Global Times' Vera Peneda has this excellent profile of the couple here.
7. Another gem from Kickstarter, a website that enables aspiring artists to get funding for their projects. Here's a documentary worth tossing a few dollars at: Xmas Without China. I'll leave it to the filmmakers themselves to describe this project: "Tom Xia, a Chinese-American immigrant challenges his neighbors, the Jones Family, to spend the entire month leading up to Christmas with no Chinese products in their home and without purchasing any Chinese products for the holiday … As the Joneses struggle to figure out how to have a simpler Christmas in a time when "we don't make anything anymore," they also begin to think about just how related they are to China. Fed up with the mudslinging between the two countries, Tom finds himself on an unlikely journey to break down stereotypes between China and America, and find his own place between these worlds."
8. Practical advice for teachers: Don't take any bribes from parents this year. Oh yes, and refrain from punishing the students with hot irons to the face, please.
9. The Chinese Red Cross has published its first-ever Chinese-English bilingual Family First Aid Manual and allegedly distributed it to 30,000 foreigners in Beijing. Anyone seen a copy?
10. Finally, the minimum wage in Beijing was just raised to RMB 1,160 a month for 2011 … meanwhile, one hospital is offering RMB 3000 for a sperm donation. Is it any wonder college students aren't studying hard these days?