Ask a Chinese guy on the street, "你知道多少汉字?" Nǐ zhīdào duōshǎo hànzì?  (How many Chinese characters do you know?) Chances are that person might say around 4,000 characters. That's a lot!
When you're accustomed to a language that uses the alphabet (in any forms) as a writing system, memorizing and pronouncing words can be simple. Chinese is a logographic language (in which a character means a word or a phrase), and it is helpful to have a pictographic or visual memory to remember words.
We know that writing Chinese characters is not as easy as it seems. Despite the fact that most phones and computers enable us to write Chinese characters by inputting pinyin, learning the correct character stroke order (笔顺 bǐshùn) is essential if you want to improve your fluency in Chinese. It is understandable, however, if your teacher spares you the added challenge of the stroke order when you first begin since there's a lot of things to juggle when learning Chinese.
The rules when writing characters (with examples) are as follows:
1.    Write from top to bottom, and left to right (三)
2.    Horizontal before vertical (一 in 十)
3.    Character-spanning strokes last (丨in 聿)
4.    Diagonals right-to-left before diagonals left-to-right (丿in 文)
5.    Center before outside in vertically symmetrical characters (亅 in 水)
6.    Enclosures before contents (put people inside first, then close the door) (口 in 回)
7.    Left vertical stroke before enclosing stroke (丨in 口)
8.    Bottom enclosures last (辶 in 道)
9.    Dots and minor strokes last (丶 in 玉)
These rules aren't as complicated as they seem and actually do make a lot of sense when put into practice. The majority of us are right-handed and writing from top to bottom and left to right would have made sense back in the olden days in order to avoid smudging the ink.
But we're not using ink but WeChat and Pleco!
Yes, WeChat, computer software, translators, and apps like Pleco let us "write" Chinese characters in a swift. But imagine you're stuck in the middle of nowhere in China and have no mobile connection — but you have Pleco where you can "draw" a character. It can help you read words and if you know stroke orders, you can write characters quickly and have Pleco precisely recognize and search their meaning.
Aside from Pleco, there's another app to use when learning stroke order: Chinese Stroke Order (app icon on the left; free download on iOS).
Once you input Chinese words/pinyin (in this case, my name 安迪 Āndí ), the app will teach you the correct stroke order for each character.
And while you memorize the stroke order, the app also provides you the meaning of the character.
It also has a translate function where you can select a translate engine… and in this case, I'm using Google China.
Do I really need to learn correct stroke orders?
Yes, of course. Stroke orders are an integral part of the Chinese language. The number of strokes is used to classify Chinese characters in dictionaries. Standardizing the stroke order means an increase in accuracy and readability; even with messy handwriting, people can usually decipher the meaning. On the other hand, learning stroke order will allow you to emulate calligraphy masters and ensure the characters you write are well balanced and more beautiful – maybe.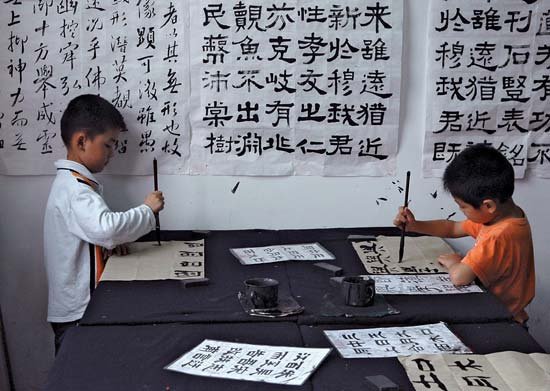 On the flip side, learning stroke orders may seem like a waste of time when you have so many other things to worry about, or if the character is simple and has few strokes. If you are a Chinese language student, the thought of tediously going over and learning each stroke of each character seems time-consuming and meaningless when you might have to cram hundreds of characters a week for every dictation (听写 tīngxiě).
However, learning the stroke order helps you to understand the character intimately, and you'll notice that you start to take notice of certain elements of the character that you may not have done otherwise, as well as appreciate the radicals, which often indicate a character's vague meaning. The 214 radicals not only act as building blocks but also as signposts pointing towards the meaning and pronunciation of the character. More importantly, learning stroke order is like rote learning, it aids your memorization of the character as a whole.
You'll also find that once you have perfected the stroke order, it is easier, neater, and faster to write characters in general. You'll find that there's an element of muscle memory involved – drilling the characters into your brain will help your hand find its way, often before your brain does. This comes in very handy if you hit a wall in exams.
And there you have it, all the reasons to learn stroke order and just one mediocre excuse not to: time. So, what are you waiting for? Time to start practicing!
---
Photos: Wikimedia, Cchar, Chinese Tools, Kids Britannica; screenshots by Andy Penafuerte.

This Mandarin Monday post is an expanded version of the article that first appeared on our sister site, the Beijinger, during its Mandarin Month.

See more stories by this author here.
Email: andypenafuerte@beijing-kids.com
Instagram: @coolkidandy