The sun is out, the mercury is rising, and the cry has gone up: where can we have dinner outside? Whether you want to grab an al fresco lunch, a long dinner with friends or dance the night away under the stars, there are dozens of great venues spread out across the city. We've pulled together a few of our favorites, organized by popular areas. We've also added a handy price guide.
Key
$ = under RMB 100 per person
$$ = RMB 100-200 per person
$$$ = over RMB 200 per person
Sanlitun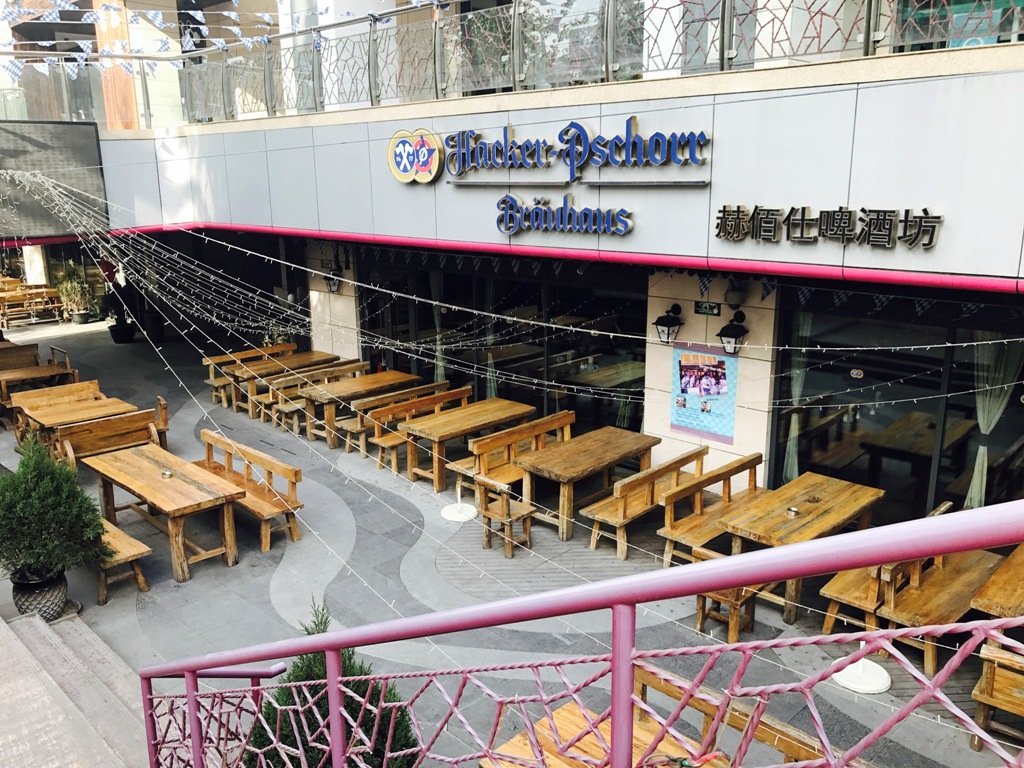 Hacker-Pschorr Bräuhaus $$
If you're looking for somewhere to enjoy football, German food, and beer all at the same time, look no further than Hacker-Pschorr Bräuhaus. With over 100 outdoor seats, the Bavarian-style beer garden is always packed in the summer, especially during big football fixtures.
Bldg 3, 12 Xindong Lu, Chaoyang District (8424 3827)
朝阳区新东路12号3楼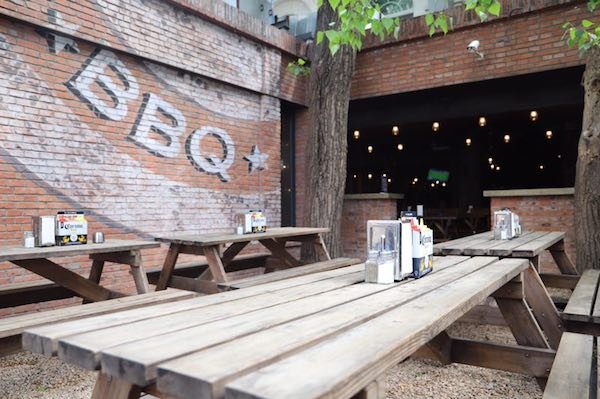 Homeplate (Sanlitun) $
Home Plate's Sanlitun location has an outdoor patio for about 24 people which they open up once the sun is shining and the weather is warm. Pro tip: you can book the whole terrace out for parties (if you're popular enough).
Courtyard 4, Nan Sanlitun Lu, Chaoyang District (400 0967 670)
朝阳区机电院10号南三里屯路
Hulu $$$
Already one of the most talked about openings of the year, the completion of Hulu's terrace has only made it hotter. The terrace is expansive and tastefully furnished in white, the perfect place to sip a bottle from their well-priced wine list.
3/F, Taikoo Li South, Sanlitun, Chaoyang District (6512 5701)
朝阳区三里屯太古里南区3层
InfraRouge $$$
The group behind Shanghai's Bar Rouge have bought their impressive pedigree to Beijing, opening the swanky restaurant/lounge InfraRouge in Taikoo Li North. Split over two floors, the upper floor has a nice terrace with views over Sanlitun and plays hosts to regular DJ nights.
3/F-5/F, N8, Taikooli North, Sanlitun Lu, Chaoyang District (6468 1619)
朝阳区三里屯太古里北区N8室3层及顶层
Legend Beer $$
Sitting on the west side of Gongti, Legend Beer is a hulking 400sqm venue with a patio just begging to be filled through Beijing's elongated summer months. To tempt patrons in, the terrace – filled with large picnic-style wooden tables – comes equipped with massive screens for sporting events as well as a special spit, big enough to roast an entire cow!
West Gate of Workers' Stadium, Chaoyang District (6551 9026)
朝阳区工体西门
Moka Bros (Nali Patio) $$
The courtyard of Nali Patio might not be the first place that comes to mind when you think "Sanlitun" and "al fresco," but the shaded space at the back makes for great outdoor dining. Moka Bros is our pick of the bunch because there's both healthy to be found if you're trying to absolve your weekend sins or strong drinks if you want to prolong your debauchery.
1/F, Nali Patio, 81 Sanlitun Lu, Chaoyang District (5208 6061)
朝阳区三里屯路81号那里花园1层
Mosto $$
Mosto's outside tables are perfect for a lazy dinner that lingers long into their after-dinner happy hour (cocktails and house wine are RMB 40 between 9-11pm). Book ahead to guarantee a spot.
3/F, Nali Patio, 81 Sanlitun Lu, Chaoyang District (5208 6030)
朝阳区三里屯路81号那里花园3层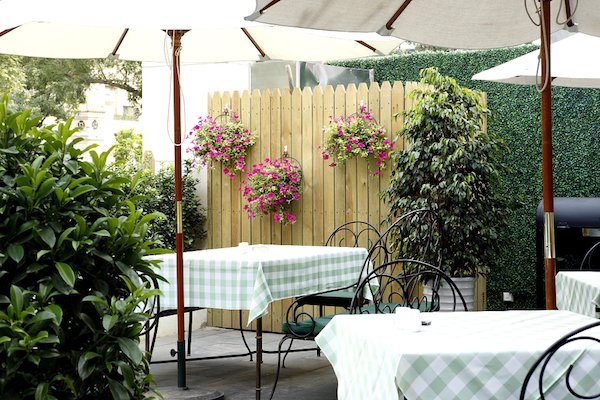 Paradox $$
Just south of Gongti west gate, French-styled wine bar and restaurant Paradox has a roomy terrace that offers a nightly outside kitchen.
7 Gongti Xilu, Chaoyang District (6551 8967)
朝阳区工体西路7号
Q Mex Bar and Grill $$
The terrace outside Q Mex may be small but it provides a welcome respite from the crowds inside. The classic margaritas are delicious but strong – you have been warned.
Courtyard 4, Gongti Beilu (nearby The Bookworm and D Lounge, under Kro's Nest), Chaoyang District (6585 3828)
朝阳区工体北路4号院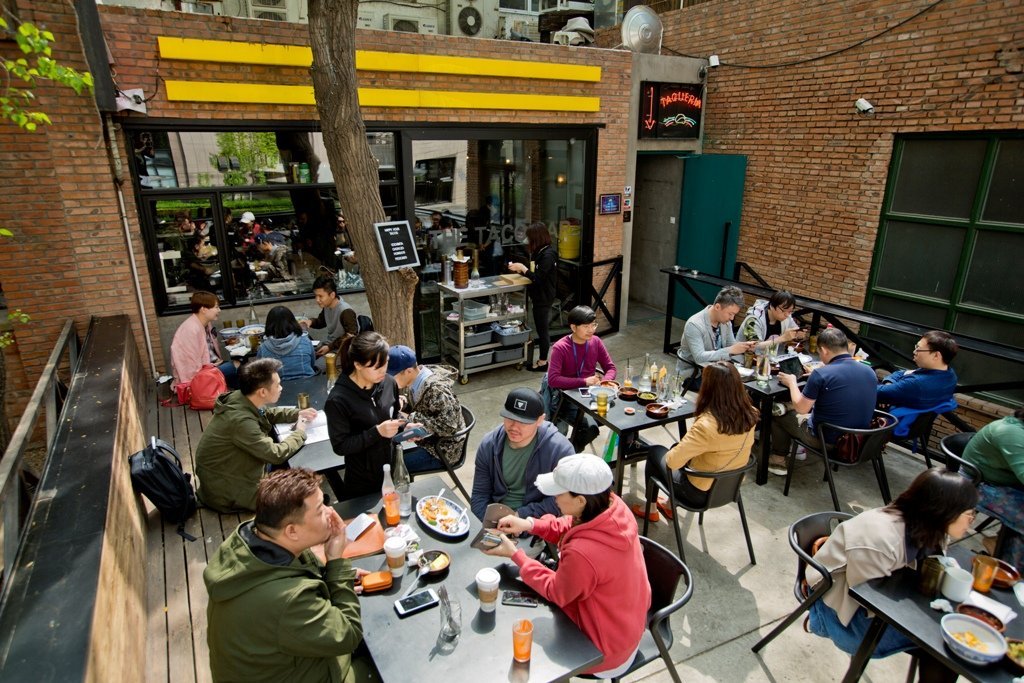 Taco Bar $$
It's not an eloquent patio with a captivating view or a mind-blowing design, but that's the appeal of Taco Bar's no-frills, front porch vibe. Its outdoor seating is prime for people watching over brunch or evening tacos and cocktails.
Courtyard 4, Nan Sanlitun Lu, Chaoyang District (6501 6026)
朝阳区机电院10号南三里屯路
The Roof & Unico $$$
The Roof bags the Topwin Center's most coveted spot as well as the complex's least original name, a fitting motif as you overlook the south side of Sanlitun among the area's young elite. A fine spot for a cocktail, a serene evening with a hookah, or even a bowlful of oysters. You get the idea.
Unit 567, 5/F, Topwin Center, 1 Nan Sanlitun Lu, Chaoyang District (5718 1999)
朝阳区南三里屯路1号通盈中心5层567室
Tube Station (Gongti) $$
If you want to fill up on pizza, there are few better options than Tube Station's huge pies. The Gongti location has a small, shady terrace, perfect for fuelling up before a night at the clubs in the area.
Inside Workers' Stadium North Gate (next to Vics), Chaoyang District (6553 5253)
朝阳区工体北门内
Village Cafe $$
Most of Swire's venues in Beijing have excellent outdoor seating but with its bamboo screens and wooden bench seating, Opposite House's Village Cafe is our favorite. A good place to have lunch, worth through the afternoon on your laptop or grab a quick drink after work.
1/F, The Opposite House, Bldg 1, Sanlitun Village, 11 Sanlitun Lu, Chaoyang District (6410 5210)
朝阳区三里屯路11号三里屯Village1号楼瑜舍1层
CBD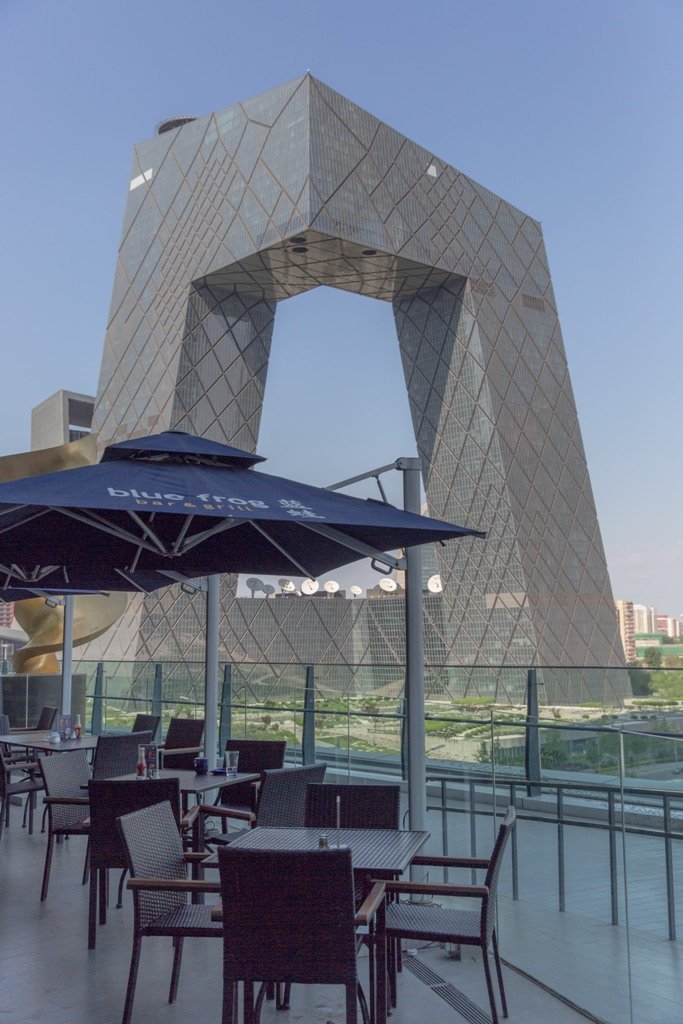 Blue Frog (China World Mall) $$
Blue Frog has managed to bag one of the best seats in the house on the sixth floor of Guomao's new, glitzy China World Mall. The spacious terrace and superlative views of the CCTV Headquarters and surrounding CBD have diners lingering outside well past dusk.
NL6005, 6/F, China World Mall (North Zone), Bldg 17, 1 Jianguomen Waidajie, Chaoyang District (8535 1186)
朝阳区建国门外大街1号院17号楼国贸商城北区6层NL6005
Caravan $
Caravan brings life to the otherwise-quiet western end of Guanghua Lu. An all-day happy hour, daily food and drink promos, and tasty Moroccan and Cajun food make Caravan's terrace a great place to hang out any time of the week.
44 Guanghua Lu, Chaoyang District (8563 0801)
朝阳区光华路44号
Centro $$
One of Beijing's longest-running hotel bars has a few nice tables outside, the perfect place to enjoy their great value daily happy hour (buy-one-get-one-free drinks, 5-8pm). It's quieter than inside once the band gets going, too.
1/F, Kerry Hotel, 1 Guanghua Lu, Chaoyang District (6561 8833)
朝阳区光华路光华路1号(嘉里大酒店)
Migas Mercado $$
Perhaps not surprisingly from the people who brought us Sanlitun's most Instagrammed terrace (RIP), we're loving everything about the terrace at Migas Mercado (pictured at top), from the striking yellow and purple color scheme to the panoramic CBD views.
7/F, China World Mall, 1 Jianguomen Waidajie, Chaoyang District (6500 7579)
朝阳区建国门外大街1号国贸商城7层
Pak Pak $$
Set right in the middle of Central Park and the Office Park, Pak Pak's terrace is perfect for business lunches or the after-work drinks crowd. The Thai dishes are spicy and authentic, and the Thai-inspired cocktails are not to be missed, either.
1/F, Bldg AB, Ocean International, 10 Jintong Xilu (opposite the east side of The Place), Chaoyang District (8590 6956)
朝阳区金桐西路10号远洋光华国际AB座1层(世贸天阶东门对面)
Liangmaqiao/Sanyuanqiao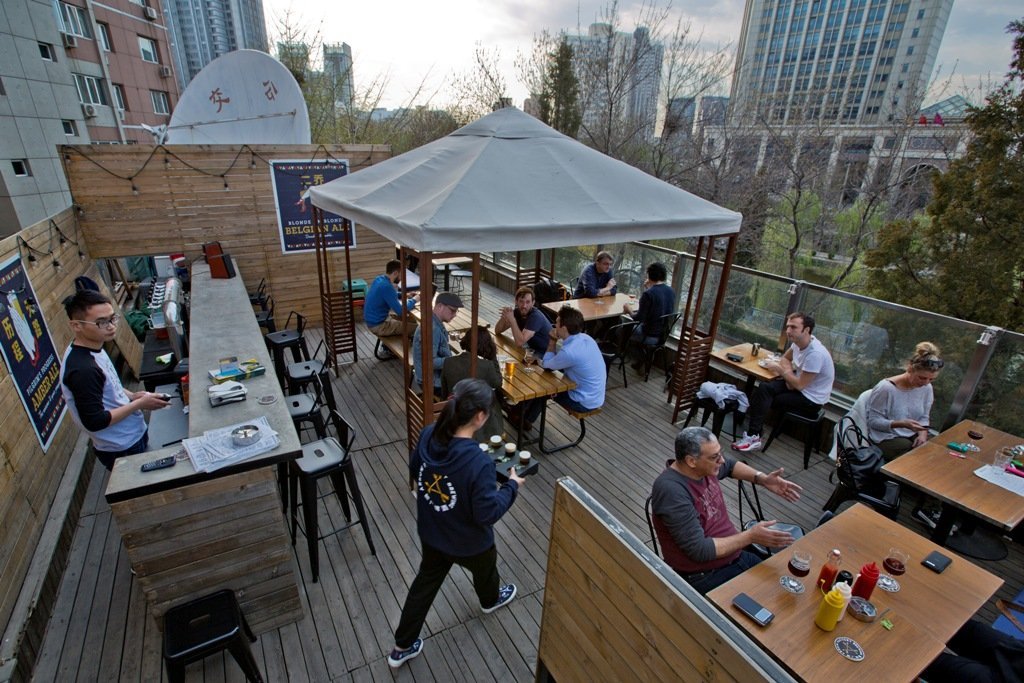 Arrow Factory Brewing $
Arrow Factory's Liangma River-facing deck consists of a fully-stocked bar, wooden benches, and a panoramic view of the embassy area. The menu is also worth salivating over, with its upgraded take on British pub food; think ale pies, sausages, a pita stuffed with pulled pork, salads, and a bunch of snacks for sharing.
Tayuan DRC, 1 Xindong Lu, Chaoyang District (8532 1977)
朝阳区新东路1号塔园外交公寓亮马河南岸
Bistro 108 $$
Deep in the embassy district, down an alleyway opposite the US embassy lies one of Beijing's best terraces. Casual French restaurant Bistro 108 and its neighboring restaurants (including Italian trattoria La Villa) share a long terrace that we feel is going to become one of the city's biggest hotspots this summer.
104 Cao Chang Plaza (across from the American Embassy), 19 Tianze Lu, Chaoyang District (5710 8106)
朝阳区天泽路19号草场商业广场一层104室 (美国大使馆对面)
Bottega (Xinyuanli) $$
Bottega Nali Patio has a few tables outside but it is the Xinyuanli location that takes the prize for best outside seating. Last year they ran frequent barbecue and drinks parties on the terrace, which we expect them to bring back this year.
1/F, Jinshang, 20 Xinyuanli Xi, Chaoyang District (6410 9800)
朝阳区新源里西20号1层01
Great Leap Brewing #45 $
Great Leap's Xinyuanli location has a shady terrace, the perfect place to enjoy a few brews and a pizza on a hot summer day. The weekend fried chicken brunch is not to be missed, either.
45-1 Xinyuan Jie, Chaoyang District (5947 6984)
朝阳区大跃啤酒45号新源街店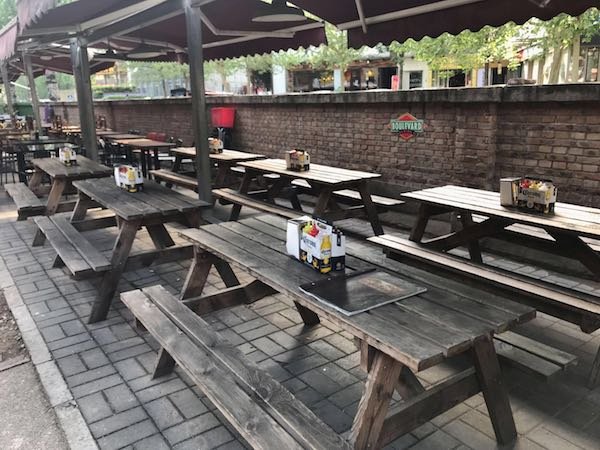 Homeplate (Sanyuanqiao) $
Home Plate's Sanyuanqiao location may be smaller on the inside but its outdoor seating beats the Sanlitun location with picnic tables being able to sit 30 people easily. Don't miss the liberally-poured Long Island iced teas.
35 Xiaoyun Lu courtyard (from Dongsanhuan Beilu, head 20m north of Xiaoyun Lu intersection and take the first right), Chaoyang District (5128 5584)
朝阳区霄云路35号院(东三环北路,过霄云路路口,往北走20米,到第一个路口右转)
Il Bar (Bulgari Hotel) $$$
On the lobby level of the elegant Bulgari hotel, the interior of Il Bar is attractive enough but it is the recently-opened terrace on the banks of the Liangma River that will be drawing the biggest crowds this summer. Look for a pop-up gin bar to open on the terrace soon.
1/F, Bulgari Hotel, 8 Xinyuan Nanlu, Chaoyang District
朝阳区新源南路8号1层
Lievito $$
Gourmet pizzas and a quiet spot facing the Liangma River make Lievito a great spot for al fresco Italian. Downstairs, Fiume (from the same owners) also has a few shady tables by the riverside.
1/F, FX Hotel, 39 Maizidian Xijie, Chaoyang District (6585 8927)
朝阳区麦子店西街39号富驿时尚酒店1层
Obentos $
If you're looking for somewhere to spend lunch outside in the Liangmaqiao area, look no further than the small sunken terrace at Obentos. Their healthy take on Japanese cuisine will leave you with loads of energy for the afternoon.
B1-109, Phase 2, Grand Summit, 19 Dongfang Donglu, Liangmaqiao, Chaoyang District (8531 5098)
朝阳区亮马桥东方东路19号官舍B1层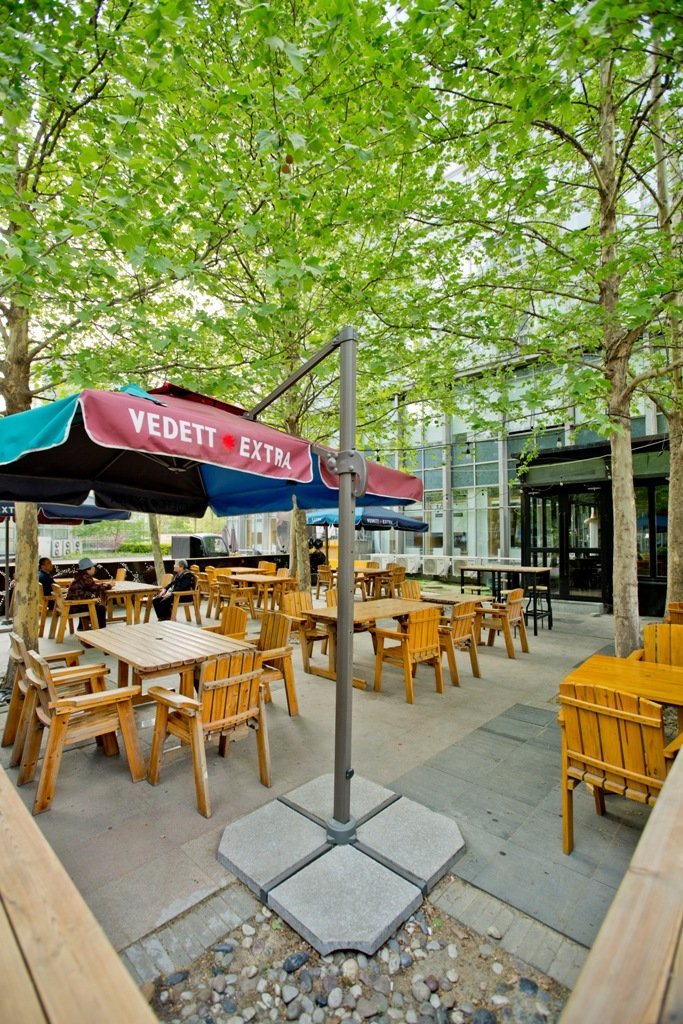 Palms LA Kitchen and Bar $$
The menu at Palms LA is a Korean-meets-Mexican culinary mash-up. Located between Liangmaqiao and Sanyuanqiao, the restaurant has a great patio for outdoor dining and boozing, especially for bigger groups.
102, Bldg D, Yuanyang Xinganxian, 66 Xiaguang Li, Chaoyang District (8446 7565)
朝阳区霞光里66号院远洋新干线D座102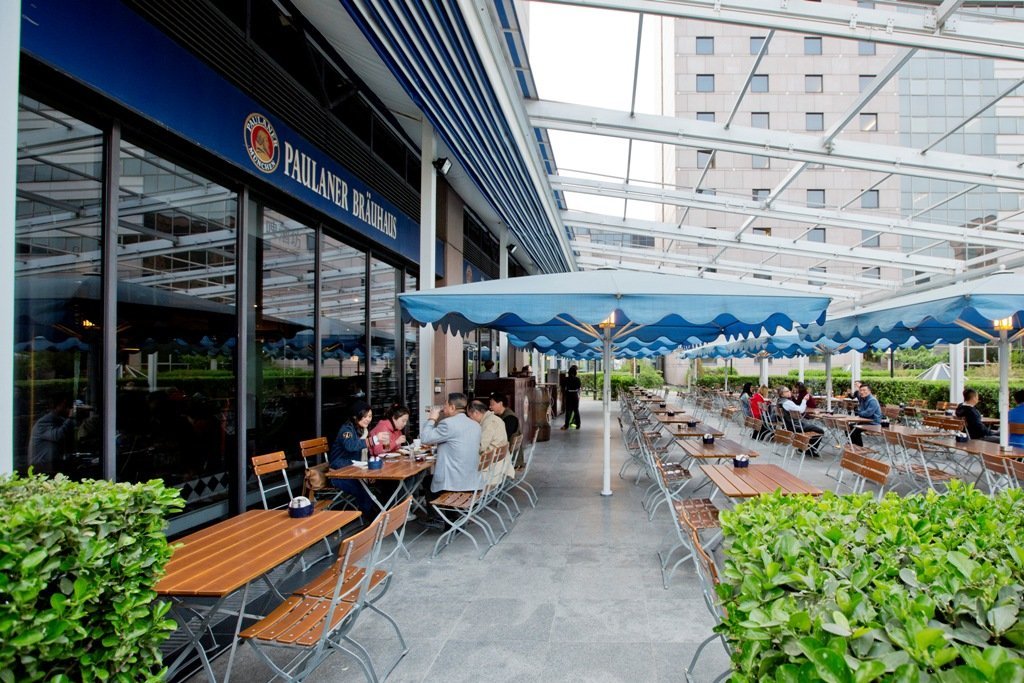 Paulaner Brauhaus $$$
Paulaner's abundantly lush greenery and the friendly staff, dressed in traditional Bavarian uniforms, help patrons feel like they've been transported to a warm and inviting German hamlet. The brewed-on-site pints and beer garden make it appealing for lazy summer day drinking.
1/F, Kempinski Hotel, 50 Liangmaqiao Lu, Chaoyang District (6465 3388 ext 4212)
朝阳区亮马桥路50号凯宾斯基酒店1层
Lido/798
Element Fresh (Lido) $$
Shanghai's greenest import, Element Fresh, brings healthy American food to Beijing at its many locations. Our favorite branch for this season's lounging is in Lido, on the second floor. Their menu boasts salads, pasta, wraps, and a smattering of Asian standards.
LG2-01, Parkview Green, 9 Dongdaqiao Lu, Chaoyang District (8561 0378)
朝阳区东大桥路9号方草地LG2-01
Eudora Station $$
Several terraces and a shady beer garden, where they host occasional barbecue parties, make Eudora Station an excellent choice in the area. Serviceable American food and a wide selection of beers and cocktails.
6 Fangyuan Xilu, Chaoyang District (6437 8331)
朝阳区芳园西路6号
Maison Flo $$$
Maison Flo may seem a bit out of the way perched at the northeast end of Xiaoyun Lu, but their choice of location becomes clear when you see the extensive outside terrace and garden. A popular venue for spring/summer weddings.
18 Xiaoyun Lu, Chaoyang District (6595 5135)
朝阳区霄云路18号
Ramo $
Ramo certainly got an upgrade when it moved from Fangjia Hutong to Lido, with a new two-story, 500sqm space, with terraces on both floors. The first floor is more for dining, while the second focuses on events and cocktails.
9-2 Jiangtai Xilu, Chaoyang District (6436 1299)
朝阳区将台西路9-2号
XIAN (EAST Beijing) $$
The bar at EAST Hotel offers something for pretty much everyone, with great cocktails, a live band, wood-fired pizzas, an oyster bar, and a craft beer bar. The sunken booths on the terrace are great for groups. Upstairs, all-day dining restaurant Feast also has a terrace.
1/F, EAST Beijing, 22 Jiuxianqiao Lu, Chaoyang District (8414 9810), Chaoyang District (8414 9810)
朝阳区酒仙桥路22号东隅北京酒店1层
Beixinqiao/Gulou/Nanluogu Xiang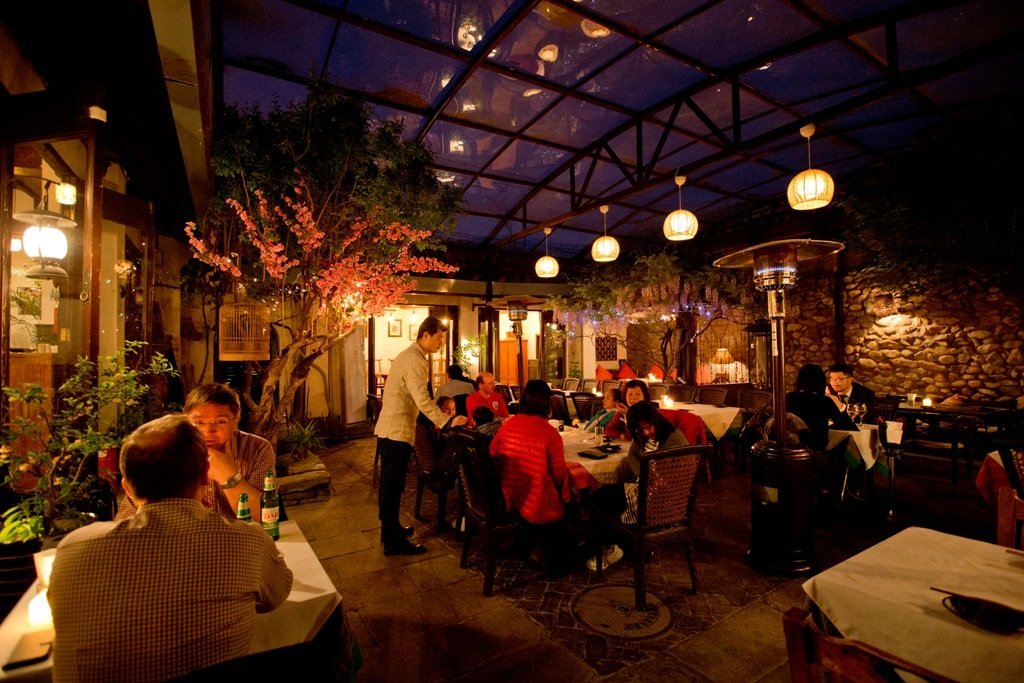 Dali Courtyard $$
Dali Courtyard offers diners the chance to explore flavors most often commonly found in Yunnan from a rotating seven-course set menu. The restaurant is located in a beautifully renovated hutong courtyard, equally suitable for a romantic date or the perfect spot to impress visitors.
67 Xiaojingchang Hutong, Gulou Dongdajie, Dongcheng District (8404 1430)
东城区鼓楼东大街小经厂胡同67号
Eatalia (Di'anmen location) $$
Young and funky Italian owned restaurant Eatalia boasts a nice terrace at their Di'anmen location. The menu has recently had a revamp.
18 Xilou Xiang, Xicheng District (6401 3263)
西城区西楼巷18号 (近秋栗香)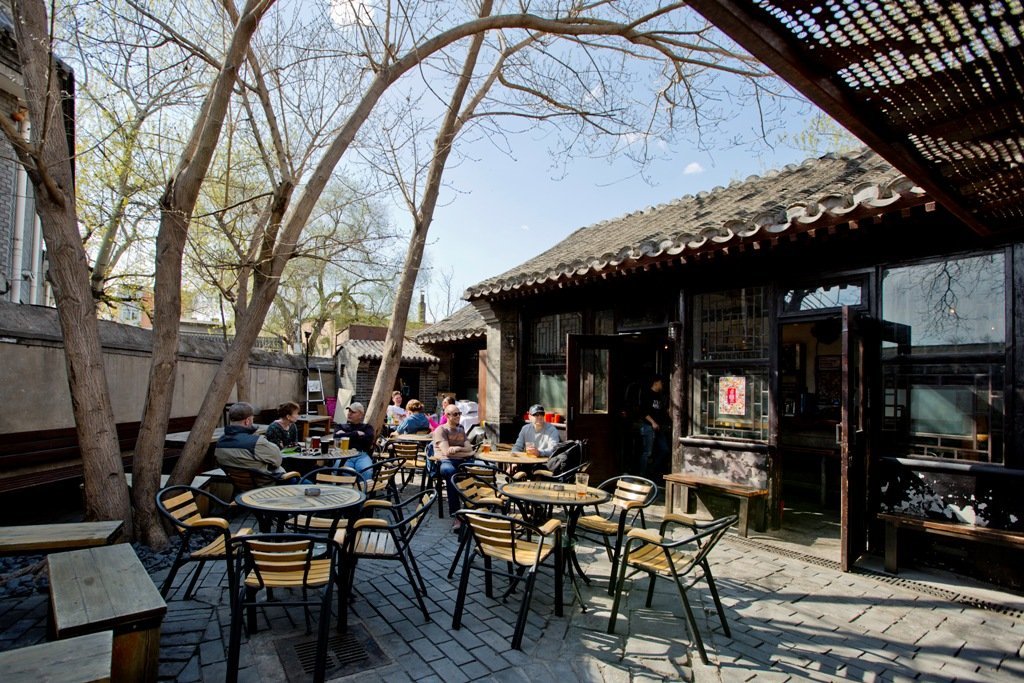 Great Leap Brewing #6 $
GLB's original Doujiao Hutong venue remains a favorite, not only for its brews but also its charming Beijing hutong vibes. The only downside is that it doesn't have a food menu, but that doesn't stop you from ordering chuan'r from one of the many restaurants nearby who deliver (ask the bar for menus).
6 Doujiao Hutong, Dongcheng District (5717 1399)
东城区豆角胡同6号
Le Little Saigon $$
Le Little Saigon can be easy to overlook, tucked away just west of the Drum Tower and surrounding hutongs. Perched high up amidst the trees and vines, this Vietnamese-French bistro serves a unique range of dishes from pho to beef bourguignon, guaranteeing to satisfy all tastes, and solidifying its place as a favorite among tourists and locals alike.
141 Jiugulou Dajie, Dongcheng District (6401 8465)
东城区旧鼓楼大街141号
Mai Fresh
From the owner of Mai Bar comes Mai Fresh, a breezy all-day dining restaurant on Beiluogu Xiang. A sunny courtyard and a terrace make this hutong spot a great place to enjoy a healthy brunch overlooking the surrounding slate rooftops.
44 Beiluogu Xiang, Dongcheng District (151 1795 6682)
东城区北锣鼓巷44号
Susu $$
Susu is like the courtyard home we wish we had. The trek down Qianliang Hutong to find it only makes the excellent Vietnamese cuisine that much better.
10 Qianliang Hutong Xixiang, Dongcheng District (8400 2699)
东城区钱粮胡同西巷10号
Toast $$
The terrace at Toast, at The Orchid hotel, features pleasant views over the nearby hutong roofs. The menu is loosely Middle Eastern-inspired, using local Beijing ingredients where possible. The kitchen is open for breakfast, lunch, and dinner.
65 Baochao Hutong, Gulou Dongdajie, Dongcheng District (8565 9295)
东城区鼓楼东大街宝钞胡同65号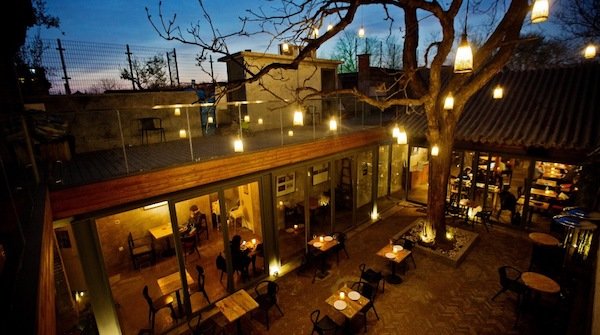 Zarah $
A favorite of Beijing's freelance crowd, a table in the sunny courtyard is a coveted spot. Zarah offers healthy breakfasts, great coffee, and – once the sun goes down – a good value range of drinks and wines by the glass.
46 Gulou Dongdajie, Dongcheng District (8403 9807)
东城区鼓楼东大街42号
Other
Plan B $
Neighborhood sports bar with sunny outside seating in the Pingod community in Shuangjing. They do a mean line of burgers too, which are 50 percent off with the purchase of a beverage on Mondays.
2-012, 22 International Art Plaza, Pingod, 32 Baiziwan Lu, (east of the Today Art Museum), Chaoyang District (5821 1353)
朝阳区百子湾路32号苹果社区22院街艺术区2-012(今日美术馆东侧)
Moka Bros (Solana) $$
The Solana branch of Moka Bro's has a sun-drenched south facing terrace that makes a great spot for weekend brunch/lunch, especially for families.
Lakeside Dining Street (East of Element Fresh), Solana, 6 Chaoyang Gongyuan Lu, Chaoyang District (5905 6259)
朝阳区朝阳公园路6号蓝色港湾商业区湖边美食街
Root Pop $
Shuangjing's, and perhaps Beijing's, preeminent vegan restaurant Root Pop sports a small outdoor area for diners to enjoy their diet-conscious American-leaning grub like salads, nachos, burgers, and hot dogs.
Daily 11am-10pm. 3-22.22 International Art Plaza, Pingod,  Baiziwan Lu (across from Bldg 3, Today Art Museum), Chaoyang District
朝阳区百子湾路苹果社区北区B座3号楼22号 (今日美术馆3号馆对面)
The Rug (Chaoyang Park) $$
Set in a quiet residential compound on the south side of Chaoyang Park, The Rug's Lishui Jiayuan location has earned its reputation as one of the city's hottest spots for brunch over the years. Busy on weekends.
Bldg 4, Lishui Jiayuan, Chaoyang Gongyuan Nanlu (opposite South Gate of Chaoyang Park), Chaoyang District (6325 7152)
朝阳公园南路丽水嘉园4号楼(朝阳公园南门对面)
The Rug Cafe (WF Central) $$
One of the most exciting recent openings in the new WF Central mall, The Rug Cafe is beautiful inside and out, so there's no need to worry if the rains set in. Expect Instagrammable dishes and creative drinks.
112, West Side, 1/F, WF Central, Daruanfu Hutong, Dongcheng District (6528 3966)
东城区大阮府胡同王府中环1层西座112室
More stories by this author here.
Instagram: @gongbaobeijing
Twitter: @gongbaobeijing
Weibo: @宫保北京
Photos courtesy of Migas Mercado and other venues, Uni You, Joey Guo, Ken Liu