Although Tizzy is a bit of showoff, it's tough to fault this newly unveiled robotic arm for flexing. This charismatic space shuttle-esque robotic arm automatron will shake up your order of iced tea with more than a little flair, making him the key attraction at Cosmo Mixology, a newly opened sweet tea vendor at Sanlitun's Nali Patio.
Patrons need only sidle up to the street-side booth, which has a deep pinkish hue and is also decorated with rows of dials and switches that look like they've been lifted from a '60s sci-fi flick. Aside from the robotic arm, there is also a living breathing attendant tending a window to the left side of Tizzy, which is good news for anyone worried about the ruthlessness of the robot revolution (and a potential letdown for any antisocial customers yearning for the rise of the machines).
Providing the server your order, they'll disappear into a room out of sight behind the booth. Then the fun starts: Tizzy springs to life, shaking your order of tea to and fro, before making more sustained shakes of the canister at his end joint (what would be his hand and wrist, I guess) until the whole mess becomes a blur. Tizzy's top then lifts, out comes the mixture into a cup, and voila! Your tea is ready.
Is it a gimmick? Of course. But as far as gimmicks go, this one's fun and memorable. What really puts Cosmo Mixology over, however, is the tea itself, which isn't half bad. Their pomegranate signature tea (RMB 28 for both a hot or iced cup; I chose the latter) is actually among some of the best I've had at any of the countless sweet tea vendors that have popped up around Beijing in recent years. The fruit-flavored drinks, billed as "authentic Taiwan-style," have a soft tartness and equally subtle aftertaste and can be souped up with a "yummy cream topping," which we can only assume is in adherence to the overbearing cheese tea trend that has had Beijing's beverage scene in a chokehold all year.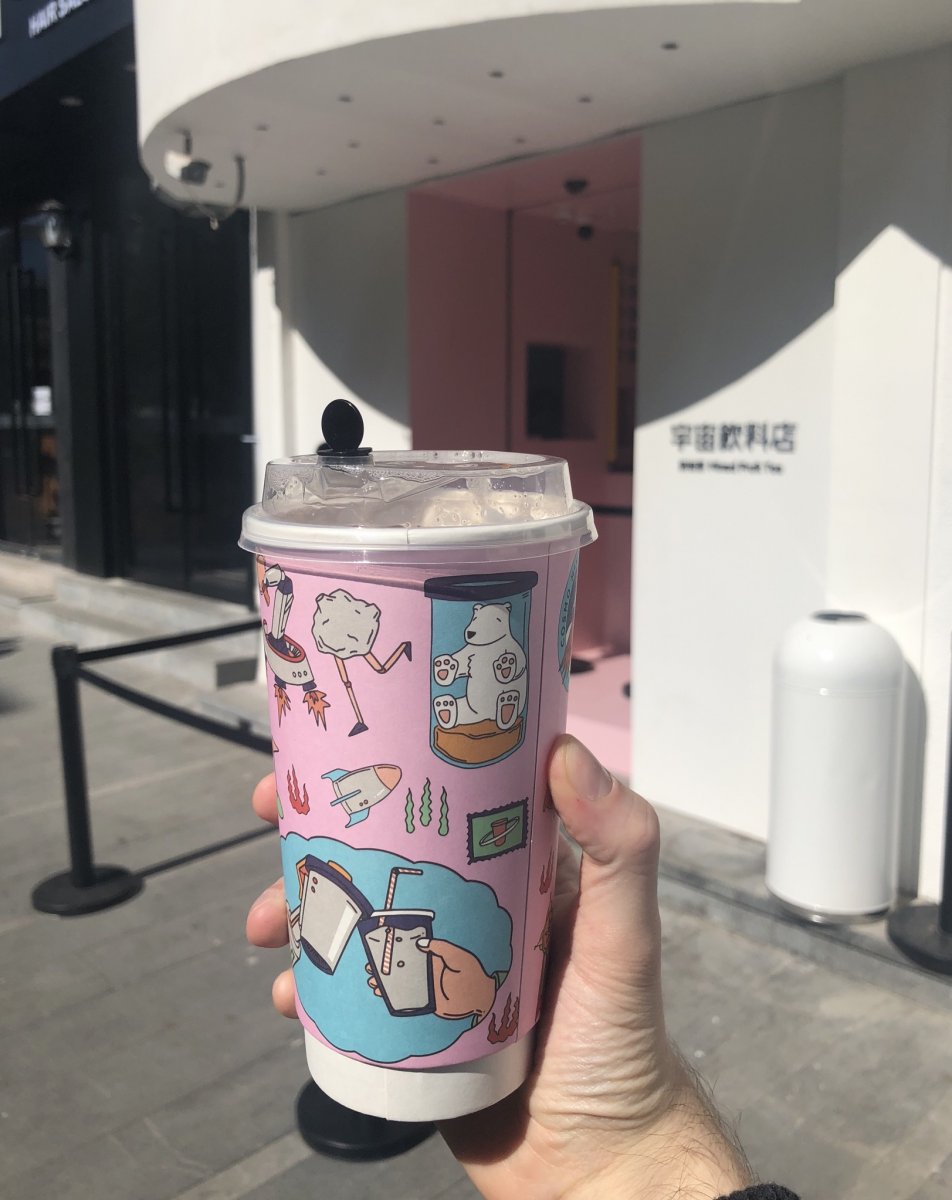 Still, the variety of teas on offer, along with the convenient location, make Cosmo a solid spot for anyone in need of a refreshment. Tizzy's gyrating joints are certainly the initial attraction, but as it turns that it's the tea that will keep you coming back.
Cosmo Mixology 
Daily 11am-11pm. Nali Patio (south side), 81 South Sanlitun Road, Chaoyang District
朝阳区南三里屯路81号那里花园1楼南侧
Photos: Kyle Mullin, courtesy of Cosmo Mixology