A time for family, food, and football, the American holiday of Thanksgiving (which falls on Nov 22 this year) can be hard to replicate when you are so far away from home. Luckily, there are plenty of venues willing to try. Whether it's turkey, pumpkin pie, or simply a little camaraderie with friends that you're after, you should be able to source everything you need with these events or order-in options.
Restaurants and Bars
Caravan's 3rd Annual Thanksgiving Party for Maovember
Caravan returns with its third annual 'Mao'roccan' Thanksgiving meal, donating 100 percent of proceeds to the ongoing Maovember campaign. Dine guilt-free on a spread of smoked cranberry butter squash soup, smoked mac 'n' cheese, a turkey platter, and carrot cake made by the Bread of Life Bakery. There will also be a vegan option. RMB 200, RMB 150 (advance), free (children under 10). Nov 22, 6-10pm. Caravan
Boxing Cat Brewery Thanksgiving Buffet (Takeaway available)
Xinyuanli's newest brewery gear up for their first Thanksgiving in Beijing, offering diners a full buffet fit for the occasion. Add an extra RMB 100 to couple your dinner with free-flow beers. They also have a to-go menu here, available to order until Nov 18. RMB 350 + RMB 100 (free-flow beer), RMB 100 (children under 12), free (children under 5). Nov 22, 6-10pm. Boxing Cat Brewery
Hutonger Pie Thanksgiving Dinner
This season, Hutonger Pie teams up with Fangjia Hutong's The Great Outdoors to bring you a Thanksgiving dinner of turkey, stuffing, cranberry sauce and gravy, walnut salad, rosemary cream mashed potatoes, "mum's turkey soup," pecan and pumpkin pies, and lots of mulled wine. RMB 260. Nov 22, 7.30pm. The Great Outdoors
4corners Thanksgiving Turducken Feast
4corners go large with a Turducken blowout this Thanksgiving. For those not in the know, a 'Turducken blowout' basically involves eating a chicken that's been cooked inside a duck cooked inside a turkey, before collapsing in a sweaty mess on the couch. There'll also be a buffet. RMB 188, RMB 128 (vegetarians). 7-11pm. 4corners
Plant-Based Thanksgiving (Vegans of Beijing X Rootpop)
If the above description left you feeling a little queasy, maybe you'd be better off with this completely vegetarian Thanksgiving option courtesy of Vegans of Beijing and Rootpop. Head down to Shaungjing for a five-course meal and plenty of wine and all the while revel in the fact that no turkeys, or any other animals, will have been harmed in its making. RMB 298. Nov 22, 7pm . Box Gallery (Near Rootpop)
A Happy Home Plate Thanksgiving
Head to Home Plate for an authentic American Thanksgiving with a Southern twist, including a buffet of whole smoked turkeys, whole smoked hog, and all the fixin's. For dessert, there'll be bourbon cornbread pudding and as for drinks, entrance includes free-flow on house wine, Tsingtao, mixed drinks, iced tea, and coffee. Want to eat at home? They also have a limited takeaway option for RMB 1,688 (pick up Nov 22, 1-6pm). Nov 22, 6.30-9pm. Home Plate BBQ
Thanksgiving Dinner at The Local (Delivery and takeaway available)
Between Nov 18-25, The Local is on call for 8-10 people Thanksgiving feasts (including pumpkin soup, a whole roasted turkey, stuffing, mac 'n' cheese, various sides, and dessert) via dine-in and delivery by reservation only. Then come the big day, they'll also have a dinner available between 6-8pm, which includes a traditional turkey dinner, as well as a vegetarian option. RMB 338 (individual meal), RMB 980 + delivery (single roast turkey), RMB 2,180 (dine-in feast for 8-10). Nov 18-25, 6-8pm. The Local Bar & Grill
Thanksgiving Charity Dinner at Joe's Bar & Kitchen
Hate to see the end of Thanksgiving? Well, this year you can double up with a special Friday edition at Joe's, all in aid of purchasing living and educational supplies for the children at the Angel Home Orphanage. There'll be turkey and tofurkey, honey ham, mashed potatoes, lobster stuffing, green bean casserole, candied yams, apple crumble, and much more. RMB 350, RMB 300 (advance). Nov 23, 5-10pm. Joe's Bar & Kitchen
Lily's American Diner Does American Thanksgiving (Delivery available)
LAD celebrate Thanksgiving for three whole days at all of their locations, serving a dinner of imported US turkeys and sides of homemade stuffing, mashed potato, sweet potato, vegetables, cranberry sauce, and gravy. There'll also be a choice of apple or pumpkin pie (RMB 129) and the option of delivery on everything (RMB 139/kg for the turkey and RMB 30 each for sides). RMB 219, RMB 170 (children). Nov 22-25, 10am-11pm. Lily's American Diner
Hotels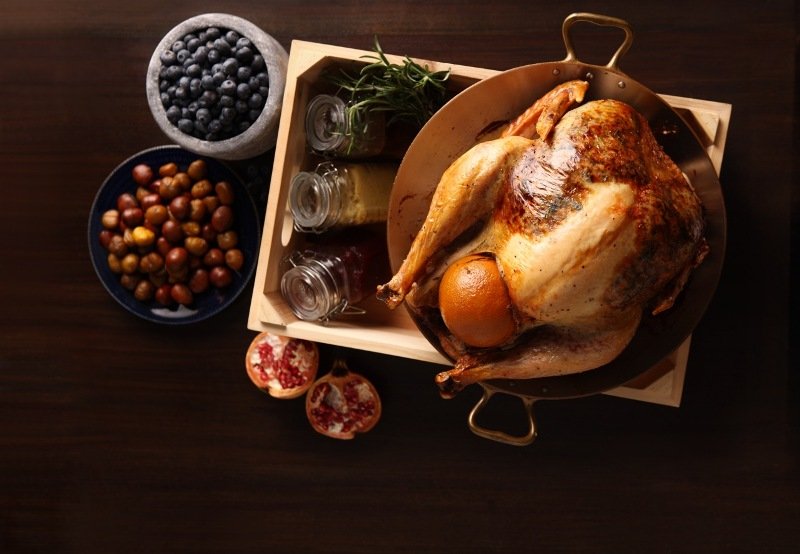 Thanksgiving Dinner Set From Village Café (Takeaway available)
The fine chefs at Village Café have prepared two Thanksgiving dinner sets for dine-in or pick up this year. Choose between the RMB 1,088 set of roast turkey, three sides, cranberry sauce, and gravy or RMB 1,188 for all of that plus a roast chicken, an additional side, and a pie (three-day advanced reservation required). If you're hosting a mega-feast, add dishes a la carte as necessary. You can also get 10 percent off if you book before Nov 16. RMB 1,088-1,188. Order between now and Nov 19. Village Café
Thanksgiving at Signatures Resturant, Kempinski
Signatures have prepared a Thanksgiving feast complete with glazed turkey, stuffing, pies, and pastries dotted around various live-cooking stations. There'll also be free-flow soft drinks and house wine as well as a live DJ to keep the eating going. RMB 328 (includes free-flow soft drinks and house wine), RMB 164 (children 7-12). Nov 22, 6-10pm. Signature's Restaurant
Thanksgiving in Mutianyu
The Brickyard at Mutianyu celebrate Thanksgiving not once but twice this year, offering anyone who can't make it out of the city on Thursday and chance to enjoy a roast turkey, trimmings, and a dessert buffet among the fall colors on Saturday. There'll also be live jazz for the adults and a kid's playroom to keep the young ones at bay. Call for prices. Nov 22 and 24. The Brickyard Retreat Center at Mutianyu Great Wall
Thanksgiving at Kerry's Kitchen
Kerry's throw a traditional Thanksgiving dinner on Thursday including roast turkey with stuffing, grilled Australian prime beef ribs, pumpkin pie, mashed potatoes and gravy, and more. Enjoy the live music and keep the kids entertained with DIY activities and playtime in the restaurant's Adventure Zone. RMB 338. 5.30-10.30pm. Kerry's Kitchen
Thanksgiving at Feast by East
Feast bulk up their regular buffet with a special Thanksgiving selection that you're unlikely to find elsewhere: fresh seafood, imported cheeses, and a massive pie table. Kids will also have plenty to do in the Kids Corner if the turkey doesn't knock them out. RMB 348. Nov 22,.30-9pm. Feast (Food by EAST)
Other events
Thanksgiving Comedy Special at Project Pengyou
Beijing Improv greets the holiday season with a Thanksgiving comedy special. As "the first and longest Improv organization in China," you can expect turkeys and festive puns aplenty from each of the performers as they dish out their best holiday jokes and hopefully some cringy stories from years past. RMB 50. 8pm. US-China Comedy Center
Can you believe that's not even all of this year's Thanksgiving events? Gobble up the rest here.
Images: Unsplash, courtesy of the venues