Gongyi Xiqiao is a frontier outpost on Beijing's southern fringe, a cluster of highrise apartment blocks grouped around the last Line 4 subway stop before the city dissipates into dusty outlying villages. Take a cab ride twenty minutes further south and you reach a low-rise strip of shops along a pitted two-lane road. Only an incongruously colourful iron gate fronting a disused factory distinguishes the street from thousands of others skirting the capital. Welcome to Dandelion, Beijing's sole officially recognized high school for the children of migrant workers.
Unlike the countless other private schools on Beijing's periphery catering to migrant children, Dandelion only employs qualified staff to teach a state-approved curriculum to around 650 students from years seven to nine. The school was able to gain official accreditation from local authorities soon after opening, making it the only recognised educational facility of its kind in the city. Students are charged around RMB 3,000 a year, which includes text books and tuition, a bed in a dorm, and three meals a day.
Even this small sum is beyond the means of many, and headmistress Zheng Hong, a quietly spoken woman who looks much younger than her 60 years, says fees are waived for around 25 per cent of the students who come from particularly impoverished backgrounds. Local authorities also provide a miniscule annual subsidy of RMB 100 per student.
Unfortunately none of this comes close to covering the school's running costs of around RMB 3.5 million per year, or the RMB 2 million needed to improve and strengthen the school's basic infrastructure. The classrooms are basic but clean, and donations from local universities have allowed the creation of a well-stocked library and a science lab. Some of the dorms, however, are dank and smelly, while the bathroom facilities are appalling. And the former factory's concrete floors and single-glazed windows offer scant protection from the cold during Beijing's long winter months.
Most seriously, limited funds mean the school is unable to provide classes beyond year nine, although an arrangement brokered with a local vocational school that doesn't require Beijing hukou has allowed the most academically gifted students with the economic means to continue their studies or learn a trade.
Despite the difficulties, Dandelion is not passively relying on donations to fill the funding gap. Instead, the school is fostering an ethos of self-reliance through a social enterprise initiative that produces marketable and creative gift products, generating profits which go back to the school.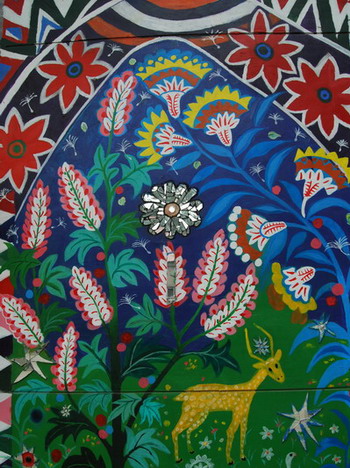 The social enterprise initiative is part of broader creative program that has seen the school step beyond the rote-learning approach beloved by many Chinese educators. Art classes play a central part in Dandelion's curriculum and students have transformed the drab factory buildings with murals and mosaics created under the guidance of visiting artist Lily Yeh (see image left). An art exhibition will take place July 2-4 at Today Art Museum, showcasing the students' creative work.
Headmistress Zheng Hong, who gave up a 20-year career in academia to launch Dandelion, sees the school's work as having an impact on the nation's future, as well as individual lives. "These children are marginalized by society," she says of her charges. "But I believe that since they have grown up with some difficulties, they have actually had a richer experience in real life than many other children their age… In the long run, I believe that many of them can be the backbone of this country, because of their experiences and character-building training during this stage of their lives."
Dandelion gift products can be purchased through the school, at the Kerry Centre Hotel Beijing Business Centre (1 Guanghua Lu, Chaoyang), or at Dandelion's downtown office in Huaqiaocun, Yanhuayan Building 2, Room 1802, Jianguomen (next to the Scitech building). Please call Kent Fung on 136 9350 8411 or Rose Wang on 135 2120 3744 to make an appointment at the school's downtown office.
Dandelion School Transformation Art Exhibition , Today Art Museum, July 2-4. Grand Opening at 10.30am on Saturday, July 3. Dandelion gift products can also be purchased at the exhibition.