Bad design choices are so prevalent in China that you may often find yourself asking, "Why? Why is that the way it is?" But when photos recently appeared on Chinese social media purporting to show a tree planted in the middle of a Beijing school soccer field, we knew better than to ask this same tired question in the face of such an implausible predicament.
The school in question is the Beijing Vocational Middle School, and yes, just like the photos show, it does in fact have a tree growing in the middle of its football pitch.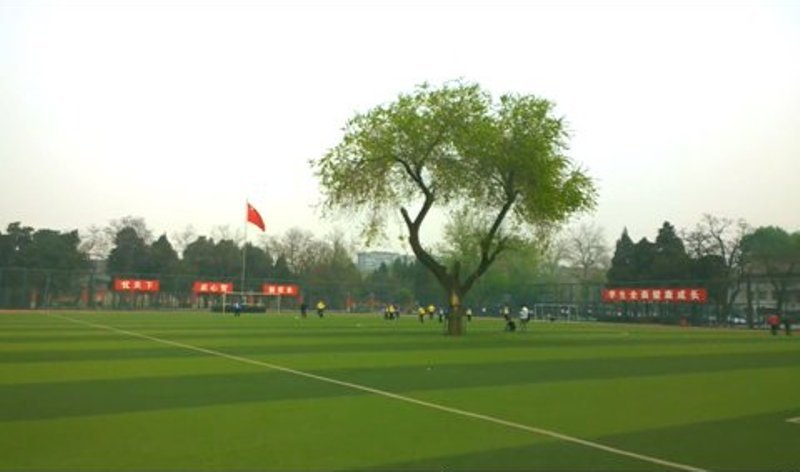 Located right near the center line, the tree is as unmistakable as it has been a valued part of the school. Here is it from back in 2007 (shown below):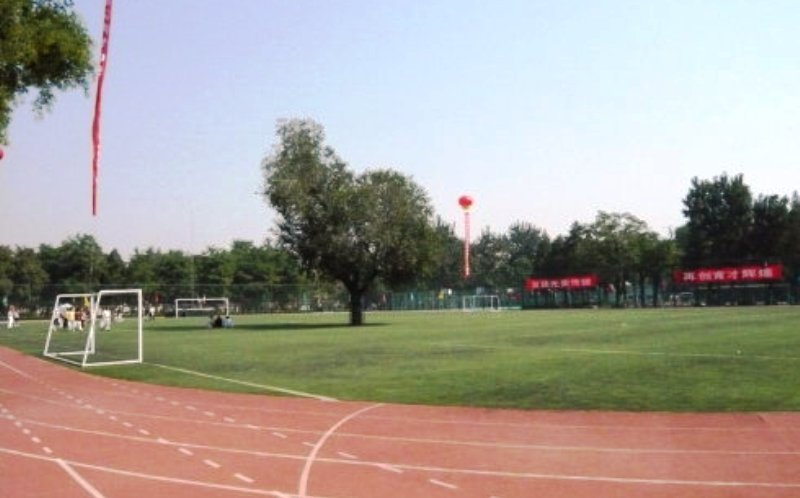 Here is it, clearly seen in an aerial shot of the school: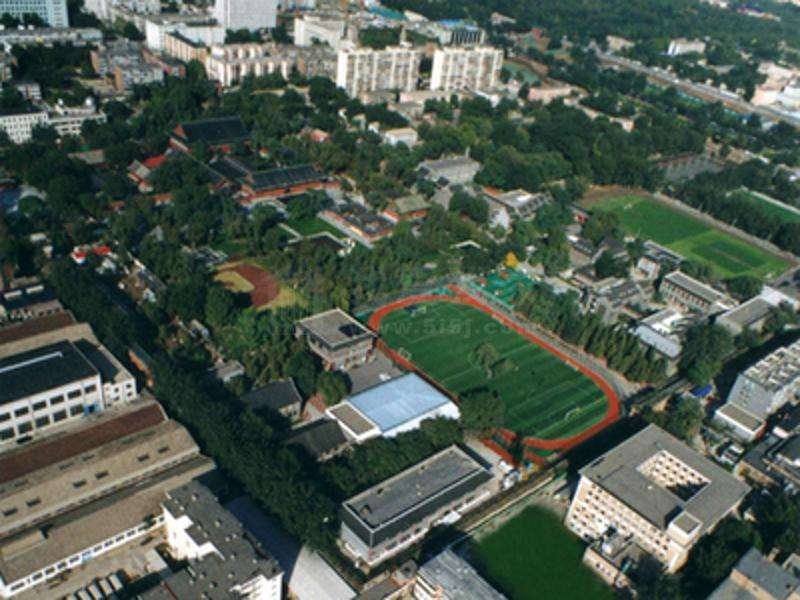 Beijing Vocational Middle School has a current enrollment of some 4,000 students, and has the distinction of having taught the young Mao Zedong. The tree pre-dates the Xicheng school before it was established in 1937, making it over a hundred years-old.
No matter what you consider to be proper soccer-playing conditions, the school insists that the tree is not a hindrance. Although The Sun reports students are forced to "dribble around it," there's a simpler (and more honest) answer: they just don't.
A spectator video taken of a school soccer game shows students using only one half of the pitch (shown below):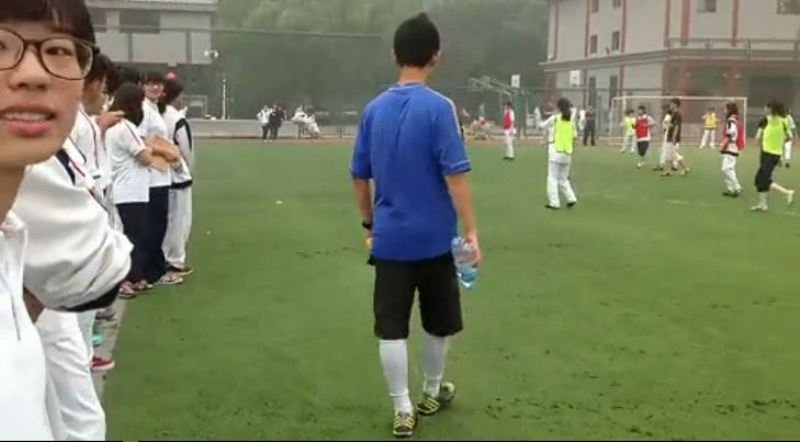 As spectators stand on what would be considered to be the center line, the tree can be seen right behind them (in the far upper-left corner):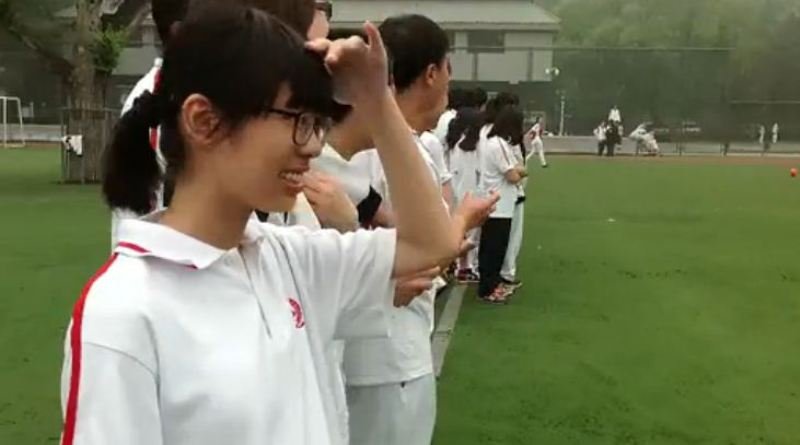 Seeing as it's such a waste to be limited to using just half of a field, we can't refrain any longer from asking the obvious question: Why don't they cut down the tree?
According to the Sun, it's because the tree is "considered sacred," but according to the New Capital Express, school authorities are reported to have never received permission from relevant authorities to have the tree cut down, implying the existence of a 90 year-long bureaucratic delay.
That sounds less of a "reason" and more like an "excuse," especially considering that school authorities are also to have added that the tree serves an integral part of the school's "environmental protection activities."
There's obviously a reason why the tree hasn't been cut down, especially when considering far older and important historic buildings have been demolished. But instead of asking why, we wondered if this is a "thing" in China. And, yes, yes it is.
Like the Beijing Vocational Middle School, the No. 3 Middle School of Linze County also has a compromised soccer field. Located to the west in Gansu, the school in fact has has two trees located right on its football pitch (shown above and below).
Once again we could ask why, but instead we want specifics, like the answer to the question: "Are there other examples of weirdly-designed athletic facilities in China?"
For example, like this basketball court located on the top of an apartment building in Shenyang, Liaoning (shown below):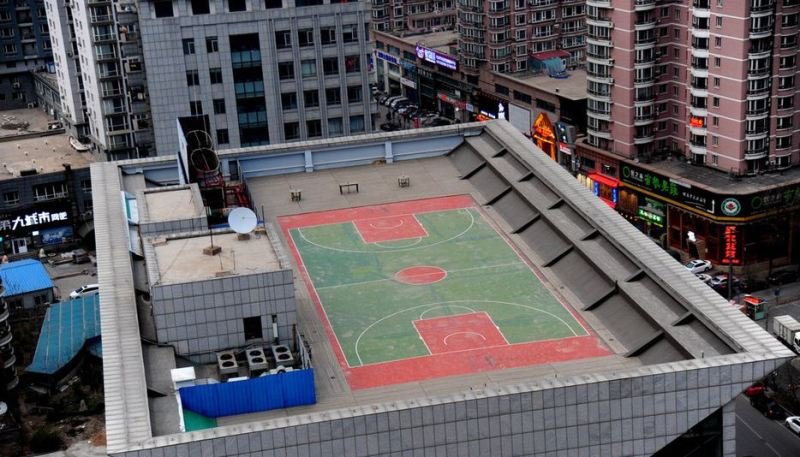 Or this 40-by-20 meter long football pitch on the top of a four-story building in Guangxi:
Or this Hangzhou elementary school with a running track on its roof: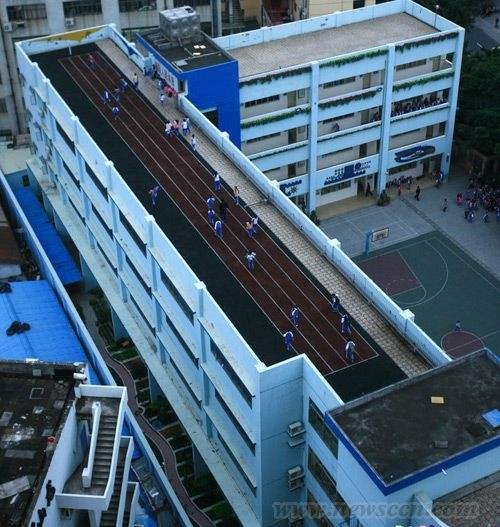 Or this other elementary school with a running track on its roof located in Shekou, Shenzhen: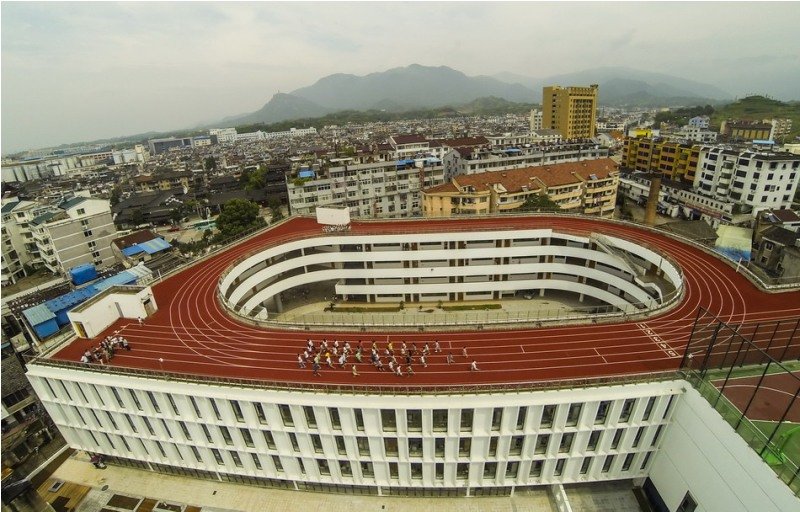 Weird news items pop up all the time on Chinese social media, making it a worthwhile cause to take the time to authenticate this information. But, as with this case, sometimes it's not really newsworthy, not when it's such a normal part of life in China.
---
Images: The Sun, Sina Blog, jjjg, 555g, Eastday, Xiukee, Sohu, People, CHLA
This post first appeared on our sister site, the Beijinger. More stories from this author here.
Twitter: @Sinopath