According to Beijing News, Beijing Subway Line 12 is set to open to the public in 2020. The new line will cut through the North Third Ring Road from Sijiqing Qiao to Guanzhuang, covering a total length of 29.3km.
This is how the line will run across the city: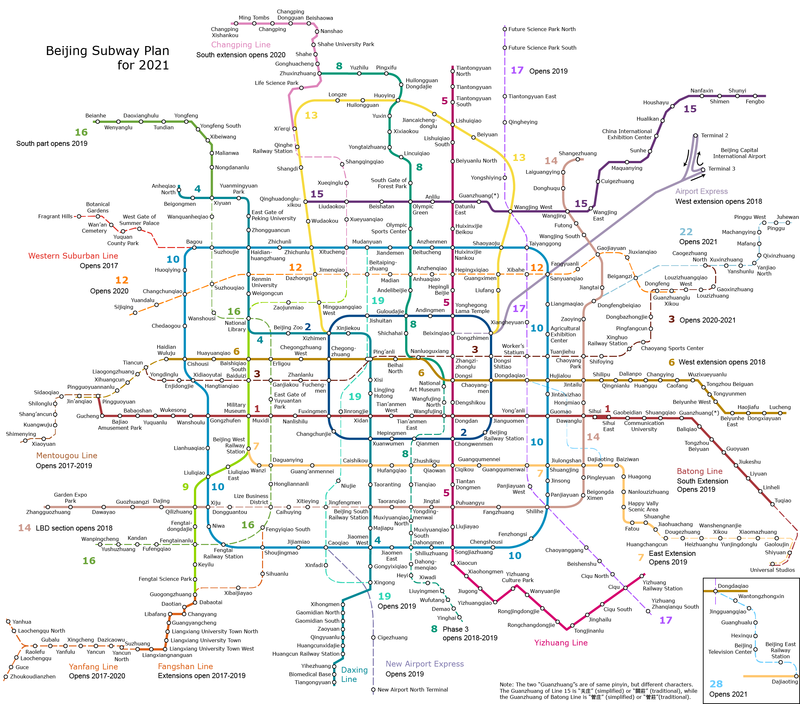 Among the 21 stations, 15 stations will be transfer stations, allowing for transfer to Lines 3 (still under construction), 4, 5, 8, 10, 13, 14, 16 (still under construction), 17 (still under construction), 19 (still under construction), the Changping Line, and the Pinggu Line. As if that wasn't enough good news, passengers shouldn't have to walk more than 100 meters to transfer at the majority of the new stations.
The new stations (from west to east) include the following:
Sijiqing
Yuanda Lu
Changchun Qiao (to Line 10)
Suzhou Qiao (to Line 16)
Renmin University (to Line 4)
Dazhong Si (to Line 13)
Jimen Qiao (to the Changping Line)
Bei Taipingzhuang (to Line 19)
Madian
Anhua Qiao (to Line 8)
Heping Xiqiao (to Line 5)
Guangxi Men (to Line 13)
Xiba He (to Line 17)
Sanyuan Qiao (to Line 10 and the Airport Express)
Fangyuan Li
Gaojia Yuan (to Line 14)
Jiuxian Qiao
Beigangzi (to the Pinggu Line)
Dongfeng (to Line 3)
Guanzhaung Lu Xikou (to Line 3)
The trains on the new line will travel at a speed of 80km per hour, and construction at Suzhou Qiao has already started. Since the trains will pass through 34 flyovers, adding a certain element of complication to the construction, its estimated that the entire line won't be completed and operational until 2020.
---
Photos: BJ News, The Beijinger, Wikimedia
This post first appeared on our sister site, the Beijinger. See more stories by this author here.
Email: tracywang@thebeijinger.com
Twitter: @flyingfigure
Instagram: @flyingfigure