A new Beijing express train that will allow commuters to travel from Beijing West Railway Station to Tongzhou in just 42 minutes is set to open before the end of the year.
The Municipal Development and Reform Commission approved the construction of the new urban-suburban auxiliary line yesterday as a way to relieve pressure on public transportation systems such as Line 1 and 6 on the Beijing Metro.
The suburban railway line will run east-west through the heart of the city, stretching a total of 38.8 kilometers.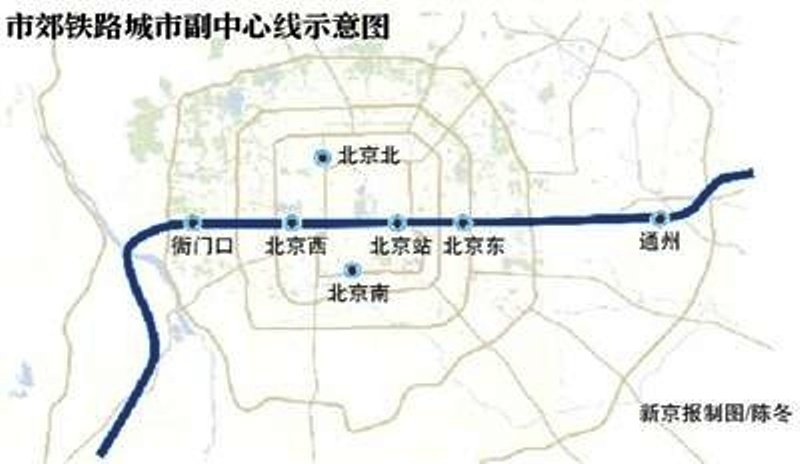 The line will consist of five stations (listed from west to east): Yamenkou (in Shijingshan), Beijing West Railway Station (Line 7 and 9), Beijing Railway Station (Line 2), Beijing East Railway Station (future CBD Line, currently located next to beginning of the Batong Line at Sihui Station), and Tongzhou Railway Station.
City planners say commuters will be able to travel from Beijing Railway Station in the downtown core to the eastern suburb of Tongzhou in just 25 minutes.
The new line is expected to become operational in just a few short months because it will reappropriate existing transportation infrastructure and facilities. The suburban railway line will make use of pre-existing lines such as the west suburban line, the underground crosstown line, and the Beijing-Harbin line for its stretch towards Tongzhou station.
Out of the five stations planned for this line, only Yamenkou will require new facilities; for this reason, the suburban railway line will temporarily not be offering service to its western terminal station when it opens this year.
The new line is the first of many suburban railway projects to be determined by the state and not the city. According to plans, Beijing's future cross-city transportation will consist of seven north-south lines and three east-west lines.
In other transportation news, Beijing finally began testing its very own maglev subway train on August 5.
The wheel-less S1 Line runs for 10 kilometers to the west of Beijing, starting at Pingguoyuan Station on Line 1. Unlike its predecessor in Shanghai, the Beijing maglev train was developed using domestic resources that resulted in last summer's unveiling of a maglev in Changsha. Designed to run at a medium speed, this technology is touted as being more environmentally friendly due to its noiseless operation and smaller energy requirements.