The day that we all love to dread is finally here; love because who doesn't love a holiday? And dread because every single one of China's 1.3 billion citizens certainly do love a holiday. It also means the hard realization of those Sunday work days, which if there truly was a god, would never exist. Best yet, 2018's calendar has been announced a full three weeks ahead of last year's release – someone in the Bureau of Time Management and Arbitrary Holiday Allowance is getting a promotion this year!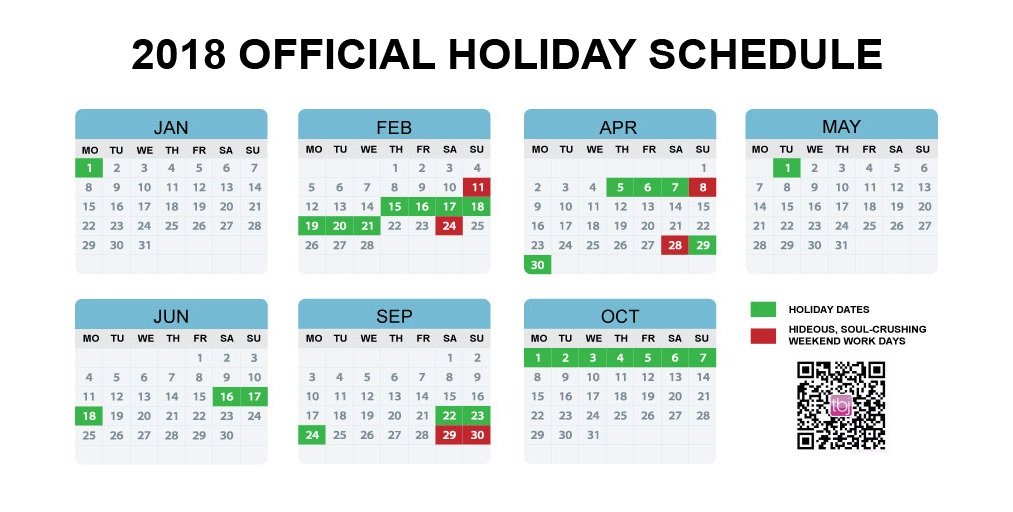 New Year's Day 2018: New Year's comes early this year, with our three-day holiday starting on Dec 30 and riding through to Jan 1, back to work on Tuesday. No make-up days.
Spring Festival/Chinese New Year: The usual seven-day affair of travel hell is this year accented with not just a pre-Sunday (Feb 11) but also a post-Saturday (Feb 24) make-up day for good measure.
Qing Ming Festival: The three-day Tomb Sweeping Fest kicks off on Apr 5 and finishes with a lovely makeup Sunday, Apr 8.
May Labor Day: Start the three-day May holiday with a nice Saturday workday (Apr 28) and then ride it out till the following Tuesday (May 1).
Dragon Boat Festival: 2018's Dragon Boat Festival falls a whole month and a half later than 2017's, and makes for a relaxing three-day holiday Jun 16-18, with no make-up day in sight.
Mid-Autumn Festival: Mid-Autumn Festival is not quite so forgiving, with a weekend and a Monday off (Sep 22-24) masked as a three-day holiday.
October National Day: Then comes the year's second Golden Week but not before you've toiled through a six-day work week, Sep 29 and 30 acting as a make-up buffer before the long run of Oct 1-7, a total of seven days off.
And with that, it's best to get planning your holidays and booking your tickets before they disappear before your very eyes. Roll on 2018!
Image: the Beijinger