Having served as the capital of China on and off for centuries, Beijing's food and food culture has absorbed influences from all around the country as courtiers, soldiers, and merchants flowed through the city serving the emperor and his extensive staff. This means that in any one street in Beijing you can find everything from Shandong cuisine-influenced fine dining to exotically-spiced dishes from the far western reaches of China. Needless to say, this can make choosing where to eat a daunting task for the uninitiated.
Rather than listing Beijing's best restaurants, we have picked out the dishes we think best represent food in Beijing and then given suggestions for where to eat them. Whether you are a first time visitor or an experienced foodie, these are the dishes you absolutely must not miss in Beijing.
Peking duck
The OG of Beijing dishes, Peking duck is the one culinary event you definitely shouldn't skip, no matter how long your trip is. Ducks are usually roasted over fruit wood until the skin is crisp and the flesh is juicy, before being sliced and served with pancakes, sweet bean paste sauce, cucumber, and scallions. Unsurprisingly, there are hundreds of restaurants around town serving duck from glitzy high-end temples of cuisine to down 'n' dirty local joints, but our favorite of them all is Siji Minfu. The duck ticks all the right boxes and the vibe is satisfyingly local. Be sure to book in advance or be prepared to queue.
Also try: Da Dong (for super-lean duck high end, modernist Chinese cuisine), Huajia Yiyuan (for a nice courtyard atmosphere that is popular with visitors)
Lamb hot pot (shuanyangrou)
The perfect dish for winter, Beijing-style lamb hot pot (sometimes translated as Mongolian hot pot, from whence the dish originated) features a mild broth boiled in distinctive conical copper pots heated with charcoal, into which diners dip thin cuts of lamb and vegetables. Once cooked, the lamb is often dipped in sesame paste before eating. Like many other traditional Beijing dishes, the southern and western areas of the city have the highest concentration of lamb hot pot places. Time-honored brand (laozihao) Dong Lai Shun is the best place for visitors to try this dish. There are branches all over town, but we tend to go to the Wangfujing APM Mall branch (good when combined with a trip to Donghuamen Night Market).
Also try: Manfulou (old-school imperial decor and a good location near tourist destinations like Jingshan Park)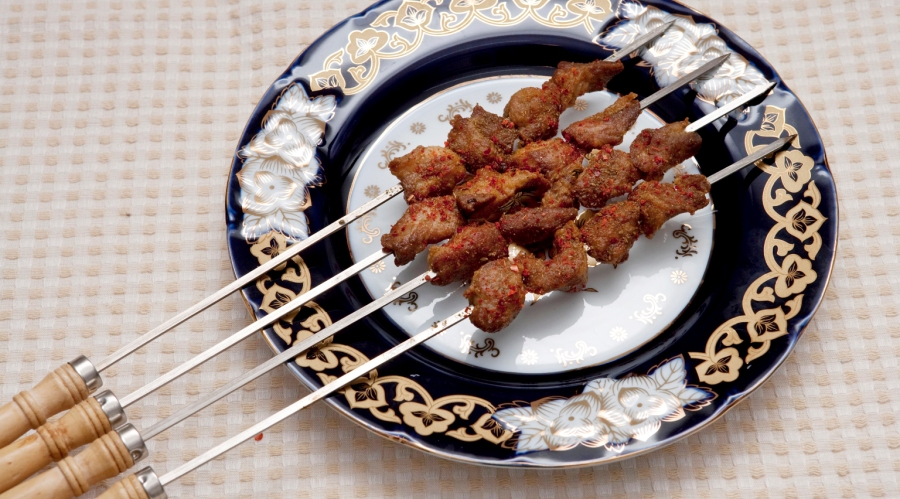 Lamb kebabs (chuan'r)
Summer in Beijing wouldn't be the same without the scent of cumin and hot lamb fat floating over street corners and hutongs. This smell comes, of course, from Beijing's many restaurants and stalls selling lamb kebabs, known locally as chuan'r. Originating in Xinjiang, the kebabs are spiced with cumin and chili. Lamb (and associated lamb offal) is most common, but you can also find chicken wings, vegetables, and even naan bread grilled with the same spicing. Old favorite Crescent Moon Muslim Restaurant in Dongsi Shitiao serves chunky lamb skewers alongside reliable renditions of other Xinjiang dishes such as da pan ji (chicken and potato stew).
Also try: Jianghu Weidao (new restaurant in Jiaodaokou serving classic Xinjiang dishes in non-classic surroundings)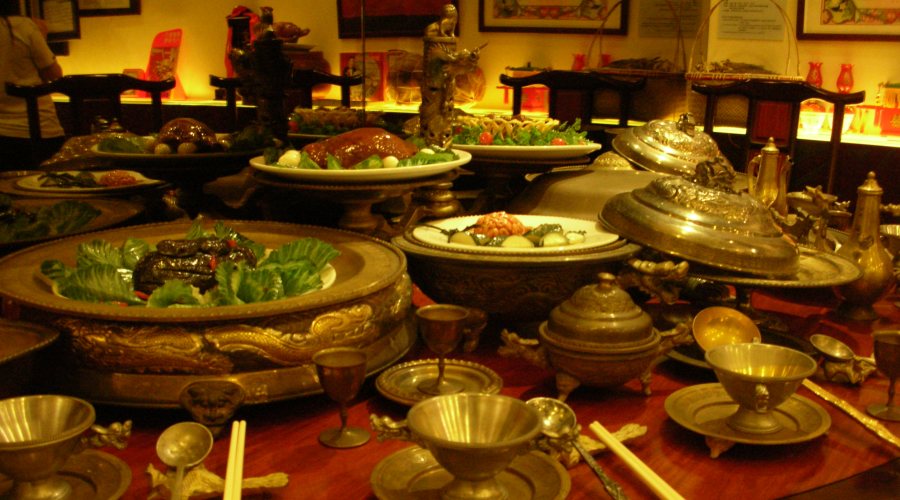 Imperial Cuisine
Originating from the kitchens of Beijing's former imperial palaces, imperial cuisine draws on influences from around China, particularly the cooking of Shandong and Jiangsu. Dishes feature elaborate cooking methods, complicated presentation, and expensive, rare ingredients. Imperial cuisine heavily influenced banqueting culture, particularly in Beijing, and although its popularity has waned in recent years, there are still a number of restaurants around town serving it. Located in Beihai Park, Fangshan Restaurant is probably the most famous of them all. The experience and decor are somewhat touristy, but for those who have already done their fair share of dining in Beijing, it is worth it for something different.
Also try: Najia Xiaoguan (for a more casual take on imperial cuisine with lots of meaty dishes including venison, rarely seen in Chinese cuisine)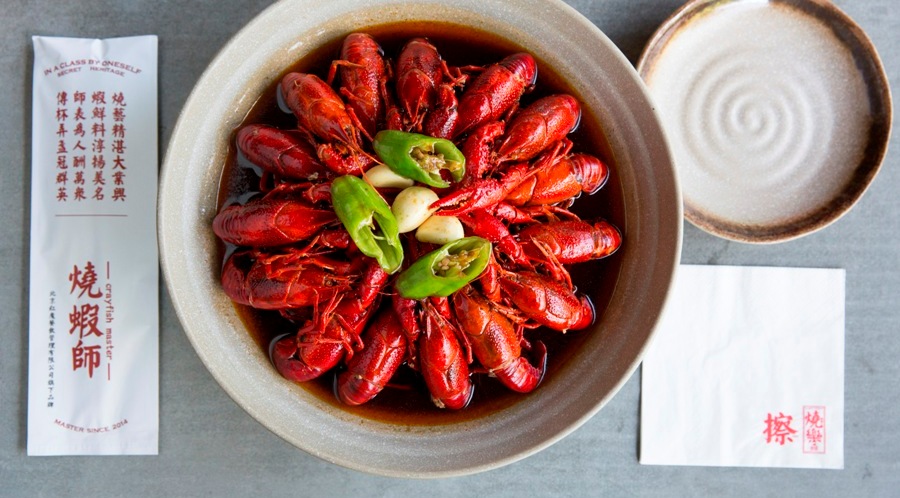 Mala crayfish
You may associate spicy and numbing flavors with Sichuan, but come summer these spicy crustaceans are the hottest (pun intended) dish in Beijing. Crayfish are farmed in areas such as Hubei and Jiangsu, before being shipped up to Beijing. The current most popular preparation sees the spiny beauties cooked in a broth laced with chilies, Sichuan peppercorns, and other dried spices. Don a pair of disposable gloves and get cracking to reveal the tender meat inside the shells. Ghost Street is the most popular destination for crayfish, and mammoth restaurant Huda attracts the crowds for its lip-tingling version and other spicy dishes. Be prepared for a long wait.
Also try: Huajia Yiyuan (six different styles, including non-spicy), Shaoxiashi (trendy restaurant also serving a selection of imported beers)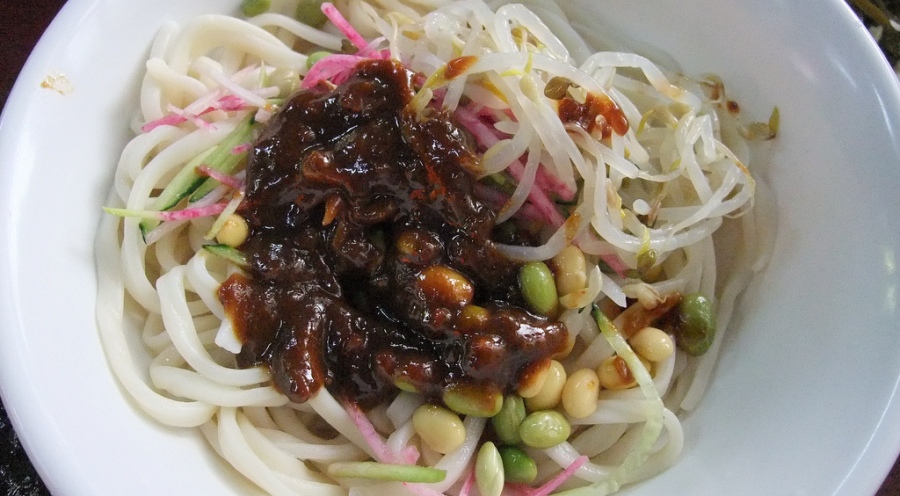 Zhajiangmian
It may not have the star power of Peking duck, but zhajiangmian is one of Beijing's most beloved dishes. Thick wheat noodles are mixed with strips of radish, cucumber, and other vegetables, all held together with a sauce made from diced pork belly and sweet bean paste. For a traditional dish like this, it makes sense to head to a more traditional part of town and Dashilan'r fits the profile exactly. Located in a small street just off the main Dahsilan'r drag, Siji Minfu Zhajiangmian attracts daily queues for their to-the-letter version of this dish.
Also try: Country Kitchen (Rosewood Beijing's northern Chinese restaurant serves up a mean bowl of hand-pulled noodles)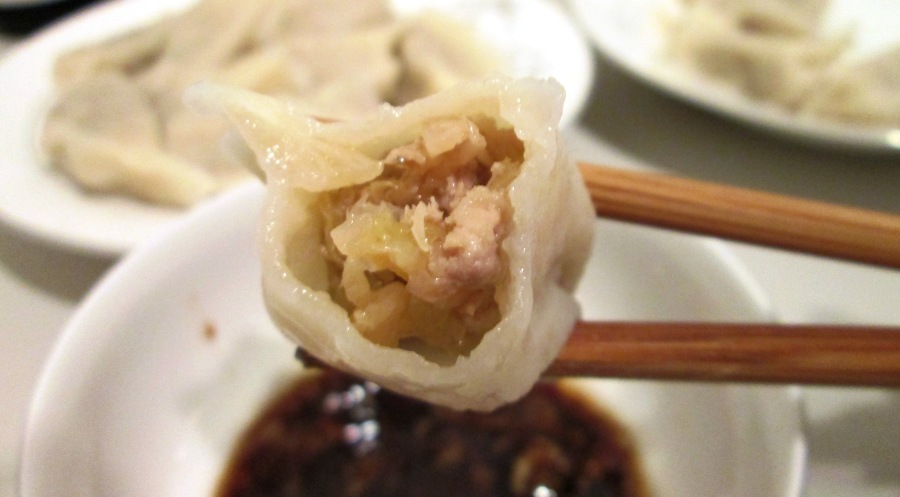 Dumplings
Dumplings are pretty accessible outside of Beijing (more so than good Peking duck anyway) but to our minds northern Chinese cuisine still has the lock on these carby delicacies. Dumplings, or jiaozi, usually come in two forms, boiled (shuijiao) or pan-fried (guotie), the former comfortingly simple the latter a perfect hangover cure. Our favorite dumplings can be found at Baoyuan Jiaozi Wu, located in the east part of the city, near the Liangmaqiao area. Baoyuan's dumplings are died with ingredients like spinach and red cabbage for a colorful experience.
Also try: Check out our roundup of Beijing's best dumpling restaurants.
Photos: Ken, Joey Guo, Flickr user pelican, Wikimedia, Flickr User Charles Haynes